Canada-based Solar Firm Reaches New Efficiency Heights With Perovskite Cells
Feb 15, 2023 11:21 AM ET
QD Solar announces 24% efficiency for spin-coated perovskite cells and 23.2% efficiency for slot-die coated cells. These certified numbers have been developed for large scale manufacturing.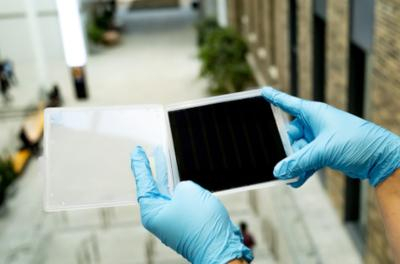 What happened?
Canadian firm QD Solar has developed perovskite solar cells with validated efficiencies of 24% for spin-coated perovskites cells and 23.2% for slot-die coated cells. These numbers were officially confirmed by MKS Instruments/Newport in Utah, USA. The announcement follows years of research by the company's co-founder and CTO, Dr. Sjoerd Hoogland, and his team, which is based in close proximity to the laboratories at the University of Toronto. The company has focused on the challenge of large-scale coating, allowing it to produce the high efficiencies it has achieved for small lab-sized samples on coating equipment used for large-scale roll-to-roll production.
Why does it matter?
The solar industry has been plagued by eroding single-digit profit margins due to worldwide competition and stagnated solar efficiencies. QD Solar's perovskite cells offer a potential solution to these problems, according to the company's CEO, Dan Shea. The new technology could allow solar panel manufacturers to charge premium prices on high-efficiency panels and double their profit margins. The results mark a significant step forward for QD Solar, which hopes to demonstrate the scalability of its technology, thereby attracting venture capital groups to invest in mass manufacturing.
What's next?
QD Solar's solar sheets are targeted to be drop-in compatible with standard panels, low-cost, lightweight, flexible, and with industry-leading power density. The company's focus on large-scale coating has proven successful, with its certified numbers demonstrating that it has developed a manufacturing process that not only yields high efficiencies for small lab-sized samples but more importantly, has been transferred successfully onto coating equipment used for large-scale roll-to-roll production. The technology could represent the next generation of bankable solar materials, addressing the solar industry's challenges of efficiency and profitability.
SOLAR DIRECTORY
Solar Installers, Manufacturers