Best portable solar power generators
Aug 3, 2022 09:49 AM ET
Our list of the best portable solar power generators includes:
A backup is often required, especially during power cuts and energy shortages. Gas and petrol generators are present in the market, but they produce loud noise and emit harmful gases such as Carbon dioxide and carbon monoxide. Moreover, they pollute the environment and need substantial storage for gasoline. Solar generators are designed to overcome these issues.
They capture the sun's radiation and change it into electrical energy stored in the battery for further use. The best generators in the market are portable, energy-efficient, and have maximum sockets and outlets for charging. With the development of solar technology, these products are are getting more affordable.
A solar generator must produce minimal noise and have a long battery timing and life. It should have a temperature-activated cooling mechanism to prevent overheating and damage. Minimal technical support is also a necessity and its parts must be protected even if not used.
A standard solar generator is composed of the following major parts:
A battery for storing and providing power
Many solar panels for capturing sun radiation

A small battery charger

An Inverter to convert DC into AC

A charge controller to regulate the flow of current.
What To Look for in a Solar Generator?
Customers should look for the following features while purchasing a generator:
Power requirement: It must fulfill the customers' energy requirements ranging from home appliances to commercial activities.

Power expandability: The generator's power must be expandable depending on its use.

Ports and electrical sockets: Potential buyers look for generators with many ports and sockets that can be used in different circumstances to power various devices.

Portability and mobility: The customers should look for portable ones that users move quickly from place to place.

Battery capacity: It should be enough to meet the power needs of the buyer.

The brand's reputation: The buyer chooses a brand that assures quality and has maximum warranty dates to prevent loss.
Generator weight & dimensions
The weight and dimension of the generator depend on power needs. Some customers need a source to charge their portable devices such as mobile phones, laptops, and other small audio and video tools. Some buyers need it for various purposes to provide energy to heavy appliances like air-conditioners, TVs, and other home appliances. We can divide dimensions and weight into two categories:
For small devices like phones, laptops, and other devices, the generator's weight must range from 3-10 pounds, and its dimension should be equal to 7.4 x 4.5 x 6.7 inches.

For charging a maximum number of small devices and heavy devices such as air conditioners and refrigerators, we need a generator weighing more than 30 pounds. Its dimension should or more than 16.4x 11 x 15.1 inches.

Solar panels included?
Different brands are available in the market that sells solar panels with generator. Mainly, buyers customize their solar panels according to their power needs. There are three different types of solar panels, which are as follows:
Monocrystalline Panels: Efficient and common.

Polycrystalline solar cells: Less efficient

Thin Films: Their efficiency is 50% less but is more durable and affordable.
Power rating and battery capacity
Power rating means how much power is transferred at a given time. It is the amount of electricity stored in the solar generator. Sun rays are absorbed in panels, change into electrical energy, then turned into a battery for storage.
If you have an increased battery capacity and a lower power rating, the battery can provide less power for an extended period. So, users must always note and take care of power rating and battery capacity for the smooth working of the generators.
Charge controllers
They are an essential part of the powerhouse. It regulates the current flow between panels and batteries. They take the current from the solar plates and charge the batteries. If no charge controllers are placed, the direct flow of current overcharges the battery, leading to permanent damage. Following controllers are generally used in generators:
Maximum Power Point Tracker (MPPT): It is innovative, heavier, and expensive and is used in power generators to manage the current flow.

Plus Width Modulation (PWM): It costs less and is simple. It is primarily used in small and portable generators.
Battery type
The battery is one of the essential components of the generator as it stores the electrical energy and then later provides it when needed. There are two types of batteries that are usually used in generators. They are as follows:
Lead-Acid batteries: are used for many decades. They are used to power automobiles. They cost less than Lithium-Ion batteries and have a short life span.

Lithium-Ion batteries: are new-tech batteries increasingly used to power light tools such as mobile phones and laptops. They are more expensive than lead-acid batteries and have a long life span.
How powerful are solar generators
The generator's power depends on two critical features, battery capacity, and AC converter. If the battery capacity is higher, it can provide more power to appliances at a time. Solar generators can be as powerful as generating electricity for a whole house. For example, the average power consumption of a home is around 30KW per day. If we divide it into hours, the consumer needs almost 1.25KW/h for a single day, which is equal to running a load of 1.25KW for one hour. So generator must be 2000KW with a battery capacity of around 2000Wh. From this example, we can assume that solar generators are as powerful as to run a house.
Nowadays, the generators have a battery capacity of 5100Wh with up to 6000 Watt surge. So we can conclude that solar generators' power ranges from charging simple devices to providing energy to a whole house. But it depends on factors and components of a generator, such as a number and size of the panels, battery capacity and quality, charge controller, and inverter. Generators' power can be enough to light up a whole house with all essential appliances running. Customers should buy high-quality batteries and panels.
How big a solar generator should you get
How big a solar generator we should get depends on the energy requirements of the consumer. If the power requirements include phones, laptops, and other small appliances, you need a small, portable generator with at least a 100-watt surge capacity. If your electrical appliances are fans, refrigerators, air conditioners, etc., you require a big solar generator with multiple ports and charging outlets. For this purpose, solar panels must be large enough to produce a power of around 2000 Watt to light up the entire house.
Some high-end generators have a capacity of 6000Watt. Another critical factor is the size of the panels. If a consumer needs more power, he has to buy a generator with giant plates. Wide panels absorb more sunlight due to their large surface area resulting in more energy supply. But this will make the mobility of the generator difficult.
How many years will a solar generator last?
The generator's life can be determined by scanning its components' features. The essential elements of the generator are solar batteries, panels, and inverters.
Battery: Lithium-Ion batteries have a life span of 100-500 cycles, which means an age of 2-5 years.

Inverter: last for 10-15 years.

Panels: have a life period of around 25-30 years.
As mentioned before, most of the generators are based on Lithium-Ion batteries and have a short life span of 500 cycles. However, some may have an exceptional lifetime, such as 2000 -6000 cycles. The life of generators also depends on battery life. Lead-Acid batteries have less life span while lithium-Ion batteries have more, ranging from 5-15 years.
How noisy are solar generators?
Considering the noise level produced by a generator's operation is crucial. Because loud noises are the leading cause of hearing loss, frequent exposure to moderate noise levels can induce hearing impairment. What about solar generators? Are they noisy?
The noise produced by a solar device is hardly audible because it lacks an engine, exhaust, or moving parts.. Most of them have a few moving parts internally that are negligible. It results in the reduction of noise levels. The solar-powered variant employs an inverter as opposed to gas and diesel-powered generators. The primary source of noise is not an engine but rather traditional generators.
The only sounds you might hear while using a solar generator are its cooling fans and a minimal buzzing sound coming from the inverter, which are particularly audible.
Can a portable solar generator power the entire house?
The answer would be "no." A portable solar generator cannot power a full house since it is not big enough. In times of power outages, you can utilize it as a backup supply for several electronics and appliances.
Off-grid portable power generators come in various sizes and power outputs, which may run major equipment like refrigerators and window air conditioners. It isn't easy to pick the best portable generator. The total running and surge watts must be calculated, and the duration of operation for each device must be determined.
Multiple factors determine the size of generator you need to power your entire home, including:
The number of appliances to be powered.

The capacity of the solar generator refers to how much power it can create in a single day.

The batteries' capability for storing

The typical quantity of sunlight your place receives or the occurrence of clouds an area gets.
What are the pros and cons of solar vs. fossil fuel generators?
Both the generators have pros and cons, as discussed in the table.
| | | |
| --- | --- | --- |
| | Solar generators | Fossil fuel generators |
| Pros | Solar generators are silent and make no noise | Despite being fairly compact, they have a significant amount of power output. |
| | They demand little maintenance | A simple operation (push start) |
| | It provides free and environmentally friendly energy production. | The weather does not influence the production of power. |
| Cons | The prices are high | Gasoline and coal burning contribute to air pollution. |
| | The power generation depends on climate conditions. | They are noisy. |

What is the best solar power generator to buy? Our list of top-rated solar generators on the market:
A portable emergency power generator is essential, especially one that doesn't require fuel and isn't wired into the grid, as evidenced by recent events.
Best off-grid living RV solar generator: BLUETTI Portable Power Station AC200P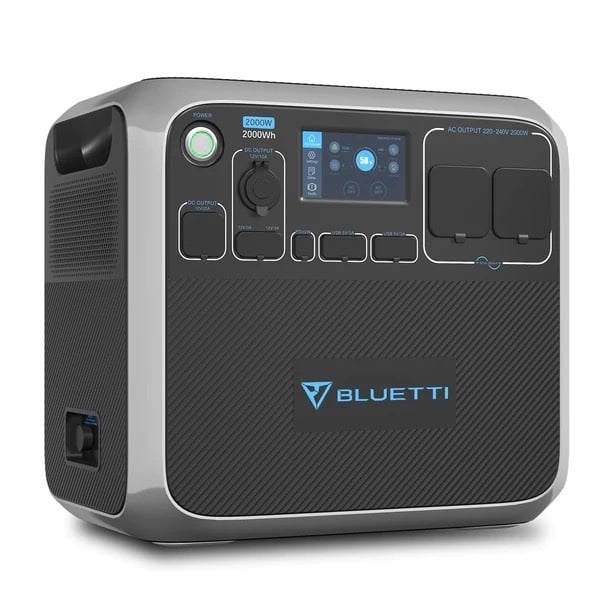 With an output of 2,000 watts per hour, the BLUETTI portable power station AC200P solar generator can power numerous powerful gadgets simultaneously. An intelligent temperature-activated fan maintains the cooling and quiet operation of the unit. Additionally, all of its ports and outlets have covers to keep them safe when not in use. It offers the following features and is appropriate for outdoor camping, RV travel, home use, etc.
Customers appreciated this power station for being an excellent value for the money in their Amazon evaluations. Many praised its significant battery life and user-friendly touchscreen. Despite the model's fan, some dissatisfied reviewers reported experiencing temperature errors.
Output
The unit has a total wattage of 2000W with a voltage value of 120 volts. There are a total of 6 AC ports, a standard USB-A/Type-C/Car port, two wireless charging pads, and a 12V/25A DC port.
Price
The product can be purchased for an asking price of $1399. It has a 24-month warranty.
Dimensions and weight
The item is 16.5 x 11 x 15.2 inches in terms of dimensions. It weighs a total of 60.6lb.
Pros
The product has the following advantages:
A touchscreen is available for setting adjustments

A powerful 2000W inverter is present.

The provider offers a 24-month warranty.

The batteries get fully charged in 2.5 hours by solar+AC or dual AC charging.
Cons
The demerits are:
Its asking price is high.

There is no solar panel included.
Jackery Explorer 1000 Pro Portable Power Station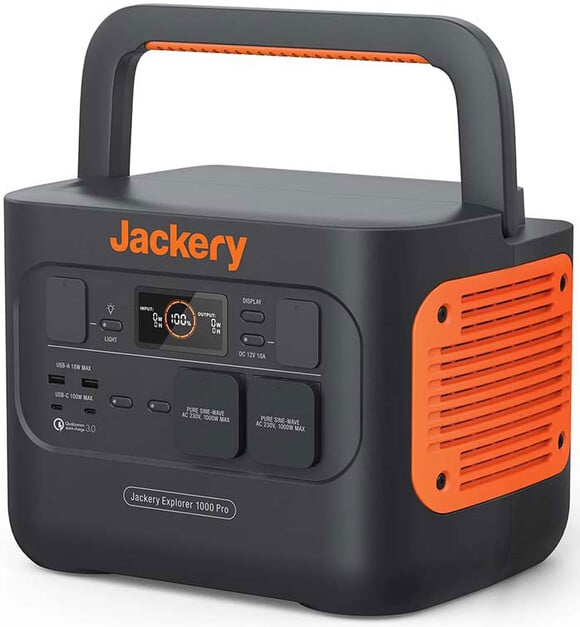 The Jackery solar generator comes in an affordable package with a 200W solar panel, perfect for outdoor activities like camping or tailgating during the upcoming football season. It also has an integrated battery of 1002Wh, which operates without noise.
The product is eco-friendly with zero emissions. Users can quickly start it with a simple button press and use it for multiple purposes such as home emergencies, camping, camping, van use, etc.
Output
Jackery can produce up to 1000 W in power and has a max capacity of 2000 W. It comes with a 60W USB type C power delivery option that is perfect for charging phones and tablets simultaneously so that everyone in your group can stay connected at all times.
Price
The powerhouse can be purchased for an average price of $2899. Buyers can also get on a payment plan via affirm at $192/month. There are no extra costs of maintenance and gas.
Dimensions and weight
Jackery is 14 inches in length, 10.4 inches in width, and 12.7 inches in depth. It weighs only 11 kilograms.
Pros
The power station has the following pros:
Lightweight

Over-voltage protection

Multiple USB ports
Cons
While the cons are:
The overall capacity is low

Slow charging time
Best solar generator for home backup: ITEHIL Portable Power Station, 500W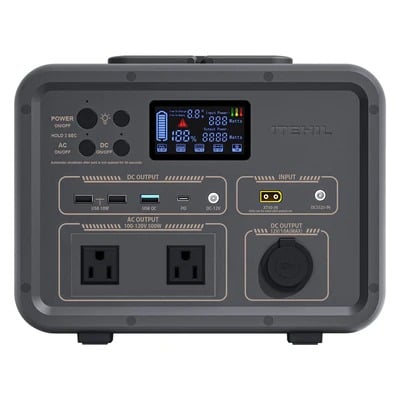 For camping, recreational vehicles, and power outages, the ITEHIL Portable Power Station is perfect. You can use a refrigerator or freezer, lighting, laptop or computer, television, and other small equipment for an extended period. The ITEHIL Portable Power Station will charge laptop from zero percent battery to complete 100% within 1 hour.
Output
Two 100-120V AC chargers can provide up to 700 watts of AC power. There are a total of 12V ports: 10A Car Port. Three USB-A Output.
Price
The power station is available for an asking price of $500.
Dimensions and weight
The battery and power module have the following dimensions: 10.8 x 9.1 x 8.3. The power module weighs 19.2lb.
Pros
The unit has the following pros:
LiFePO4 battery.

Portable design.
Cons
While the cons are:
No Wi-Fi compatibility

No USB-C charging.
Best solar generator for camping, outdoor RV, emergency: Anker 555 Solar Generator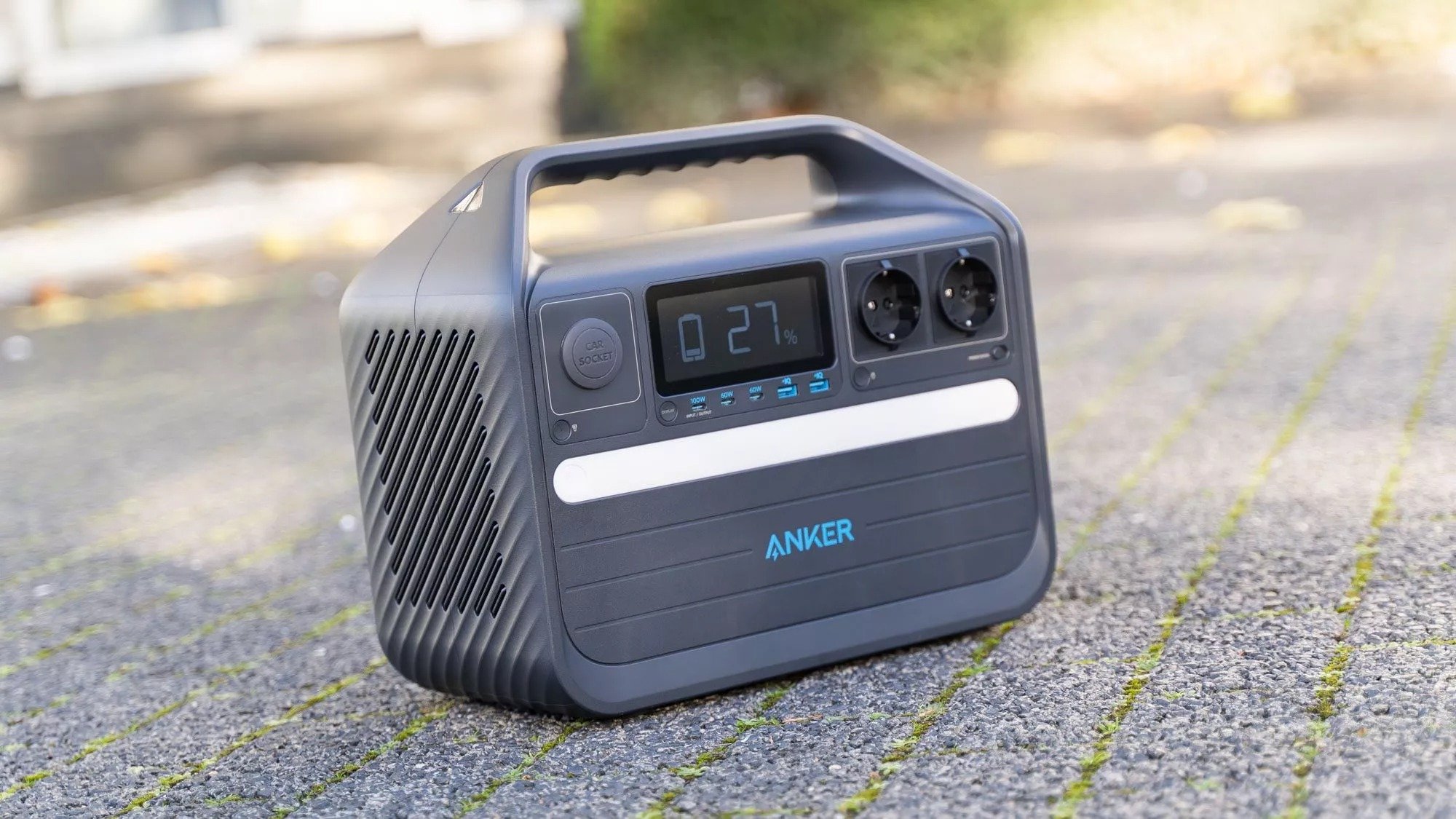 Fully recharge Anker 555 Solar Generator in 5.5 hours. It should provide about 55 phone charges, 14 for a laptop.
Output
The Anker 555 Solar Generator can deliver 1000 watts. Three high-speed charging USB C ports with a 100W max output.
Price
The Anker 555 Solar Generator is available for an asking price of $899.99.
Dimensions and weight
The battery and power module have the following dimensions: 56.9 x 20.7 x 1.8. The Anker 555 Solar Generator weighs 11lb.
Pros
The unit has the following pros:
Portable.

The Solar Generator offers enough power for many devices.
Cons
While the cons are:
Expensive.

Slow solar charging.
Best solar generator to power your refrigerator: Renogy Lycan 5000 Power Box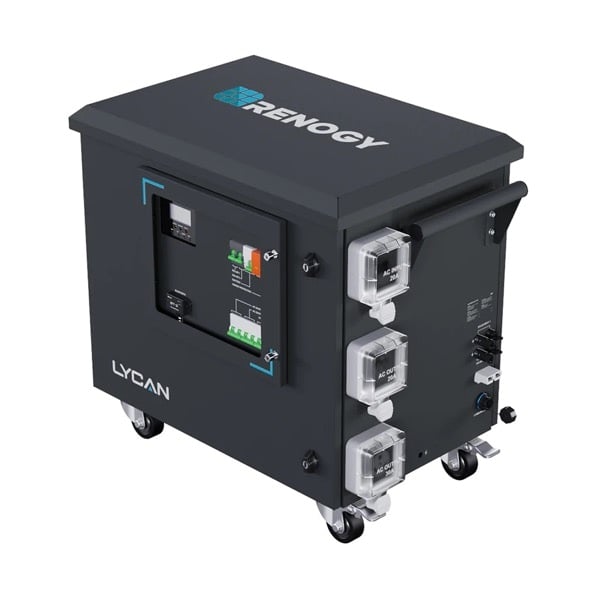 This top-of-the-line power box can be connected to your building's main switchboard for a 24/7, uninterruptible power supply, meaning you'll never have to worry about being left in the dark again. Additionally, the Lycan can go from 0 to 80% charge within an hour when connecting to both solar panels and AC outlets simultaneously - perfect for those times when you need a quick power boost.
Output
With a powerful output of 4.8kWh, the Lycan can easily handle most heavy-duty appliances and electronics. The watts have a max supply cap of 7 kWh and can be expanded up to 19.2kWh with the help of 48V 50Ah Smart Lithium Iron Phosphate Batteries.
Price
Lycan 5000 Power box is available for as low as $4419. There is also a 15% off available for a limited time.
Dimensions and weight
The Power Box is 28.5 inches in height, 32.9 inches in length, and 20 inches in width. It weighs 120 kilograms.
Pros
Lycan 5000 has the following pros:
Fast charging

Uninterrupted power supply

Grid equivalent AC supply to protect your electronic devices
Cons
While the cons are:
Most powerful & capacity 3000+ watt solar generator: EcoFlow DELTA Pro Portable Power Station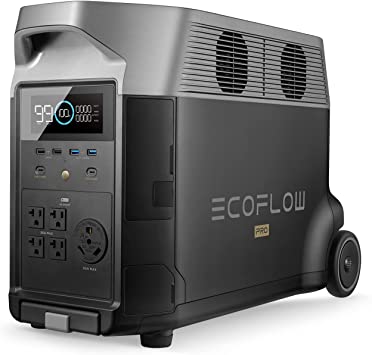 EcoFlow DELTA Pro Portable Power Station is a portable home battery with a 3.6kWh capacity that can be expanded to 25kWh with smart technology and your home circuits.
The DELTA Pro is expandable, so you can add additional batteries to increase its capacity.
Users can expect a full life of 6500 charge cycles. The portable power station can be controlled easily with the help of the EcoFlow application available on the mobile phone. It learns your energy usage to combat the high electricity bills and comes with a wheeled suitcase for easy portability.
Output
With 3.6kWh of backup EcoFLow DELTA Pro supports up to 6500W max charging speed via AC, solar and Smart Generator methods. Wifi, Bluetooth, and wired connectivity options are available to check out the current statistics via the app.
Price
EcoFlow can be purchased for an asking price of $3699. A 400W solar panel can be combined with your purchase to net a $199 discount.
Dimensions and weight
The power station is 25 inches in height, 11.2 inches in width, and 16.4 inches in length. It weighs only 45 kilograms.
Pros
EcoFlow has the following pros:
Smart energy management

20 ms switch over time

6500 charge cycles
Cons
While the cons are:
The charging time is a bit high at 1.8 hours
View on Amazon View on Amazon De View on Amazon Ca View on Amazon UK View on Aliexpress View on BangGood
Best budget solar generator: TACKLIFE P50 500Wh Portable Power Station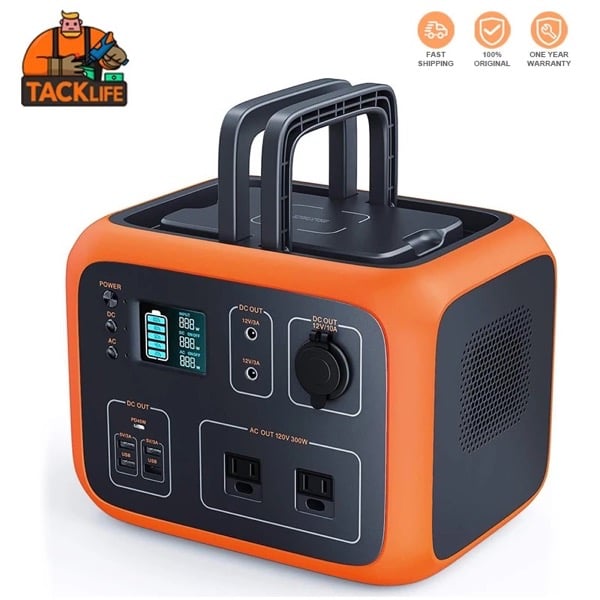 Tacklife, a company founded in 2015, has released several versions of premium power supply units over the past few years. The TACKLIFE P50 500Wh Tragbare Power Station meets all the international quality within an affordable budget.
It features 110V AC outlets and can charge various devices, including laptops, projectors, car pumps, etc. The maximum power point tracker comes with a built-in package. It results in 40% faster charging times.
Output
Due to its small size, the P50 can only produce 500Wh in power. There is a single 45-watt usb port to meet your charging needs.
Price
TACKLIFE can be purchased for an asking price of $370.8.
Dimensions and weight
The powerhouse is 10.2 inches wide, 7.8 inches tall, and 7.7 inches in length.
Pros
P50 has the following pros:
Extremely budget friendly

It is easy to move around

Suer friendly design
Cons
While the cons are:
Online shops with portable solar power generators
Summary: should I get a solar power generator?
Solar power generators can produce a continuous supply of electricity from solar panels. When natural disasters strike and the power goes out, people scramble to find ways to keep their cellphones charged, flashlights operational, and homes warm during the chilly evenings. Solar power generators are a great solution for these situations and other emergency power needs.
Whether you're living in an isolated cabin or just far from the city, having a solar generator means you could stay there indefinitely without relying on anybody for help or support. You can also use them during camping trips or when working on your property that's not connected to utility services.
See also: Best Portable Power Station | Portable Power Station Reviews
SOLAR DIRECTORY
Solar Installers, Manufacturers