Best portable power stations
Jan 11, 2023 02:19 PM ET
As you browse the top mobile power stations, you might wonder if they can power your TV, laptop, oven, or other devices. For that, we've included a performance chart for each product that details the station's capacity to run various home appliances and estimates how long it will last. Our list of top devices includes:
Should I buy a portable power station?
Portable power stations are worth your investment because they have many more outlets and capacity than power banks. They produce more electricity and let you run large objects over extended periods.
These electronic devices are helpful in various circumstances and give electricity when and where you need it, whether there is a power outage, outdoor camp, emergencies, etc.
What is a portable solar power station?
Portable solar power stations use solar panels as a source of energy. In contrast with power banks, they offer more output, allowing them to provide energy to anything from phones to home appliances. The device can be stored later or taken anywhere you need it after being charged by solar panels. They are offered in a range of sizes, features, and price points to meet your demands.
Best portable solar power stations comparison
The table below shows the comparison of various power stations.
EcoFlow Delta Pro

BLUETTI Portable Power Station EB55

Anker 757 Power Station

Bluetti AC200P

Anker 535 Portable Power Station

EcoFlow Delta Mini

Goal zero yeti 1400

Jackery Explorer 1000 Pro

Bluetti EB70

EcoFlow Delta 2

Jackery Explorer 1500

Bluetti

AC50S


3600Wh

537Wh

1229Wh

2000Wh

500Wh

882Wh

1425Wh

1002Wh

716Wh

1024Wh

1534Wh

500Wh

Phone

310 Charges

50 Charges

79 Charges

170 Charges

37 Charges

62 Charges

70 Charges

104 Charges

57 Charges

89 Charges

156 Charges

42 Charges

Laptop

57 Charges

8 Charges

17 Charges

28 Charges

7 Charges

12 Charges

23 Charges

14 Charges

9 Charges

16 Charges

21 Charges

7 Charges

LED Lights

337 h

47 h

110 h

176 h

44 h

77 h

125 h

90 h

68 h

91 h

135 h

45 h

Fan

82 h

15 h

35 h

56 h

14 h

24 h

39 h

28 h

21 h

29 h

42 h

14 h

Mini cooler

67 h

10 h

23 h

37.4 h

9 h

16 h

27 h

18 h

13 h

20 h

27 h

10+ h

TV

27 h

3 h

8.1 h

20 h

4.4 h

6 h

14 h

15 h

8 h

8 h

9 h

8.5 h
The list of the top portable power stations working on solar
The top mobile power stations that use solar energy are listed with crucial information about their features, size, battery life, benefits, and downsides. Whichever best suits your needs is up to you to pick.
Best Splurge: EcoFlow Delta Pro Portable Power Station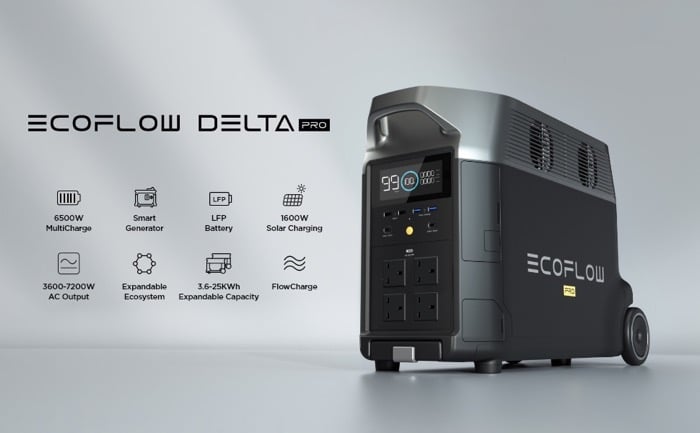 The EcoFlow Delta Pro is more than up to the challenge, whether you require power for off-grid camping, emergency battery backup for your home, or any other reason. Although this large machine weighs about 100 pounds, the built-in wheels make it simple to move. Because of the enormous 3.6 kilowatt-hour battery, it is pretty heavy.
Price: $3,699

Ports: 5x AC outlets, 2x USB-A, 2x USB-C, Car, 2x DC5521

Weight: 99 pounds

Dimensions: 25 x 11.2 x 16.4 inches
Pros
Several battery capacities

Ability to supply most gadgets with power

Wi-Fi and Bluetooth connectivity
Cons
Hefty and large

Expensive
View on Amazon View on Amazon De View on Amazon Ca View on Amazon UK View on Aliexpress View on BangGood
Best for Travel: BLUETTI Portable Power Station EB55
The finest travel portable lithium power station solar generator, the BLUETTI Portable Power Station EB55, 537Wh LiFePO4 Battery Backup, is ideal for full-time RV or off-grid life as well as emergencies.
the actual recharge time may vary depending on the weather, temperature, solar panel placement, angle, and location.
Price: Starting from $450.

Capacity: 537Wh

Weight: 16.5lbs

Ports: 2*AC Outputs, 1*DC, 1*PD USB-C, 4*USB-A ports

Dimensions: 10.9 × 7.9 × 7.8 inch
Pros
The company offers a 2-year hassle-free warranty

Good 537Wh power station

Multi-outputs for different power requirements
Cons
Power for travel needs only

Approximately 16,5 pounds, which is not the lightest solar generator available.
View on Amazon View on Amazon De View on Amazon Ca
Best Ultra-Powerful Capacity: Anker 757 Power Station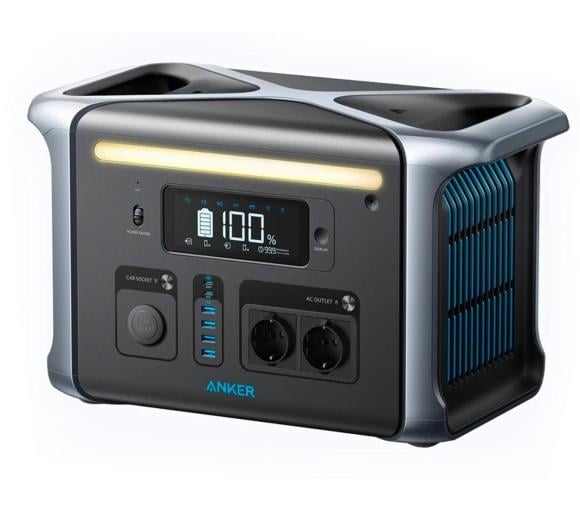 The 1500W AC inverter in the Anker 757 Power Station can provide all your outdoor camping needs, power outages, and other emergencies. It may be quickly charged using a solar panel (available separately), a carport, and an AC outlet while it is outside.
Price: $ 1299

Weight: 43.9lbs

Ports: 12v DC car outlet, one 100W USB-C, one 60W USB-C, four 12W USB-A ports

Dimensions: 18.2 inches (H) x 11.3 inches (W) x 9.3 inches (L)
Pros
LFP battery

Plenty of output sockets

Large LED light
Cons
View on Amazon View on Amazon De
Best off-grid living: BLUETTI Portable Power Station AC200P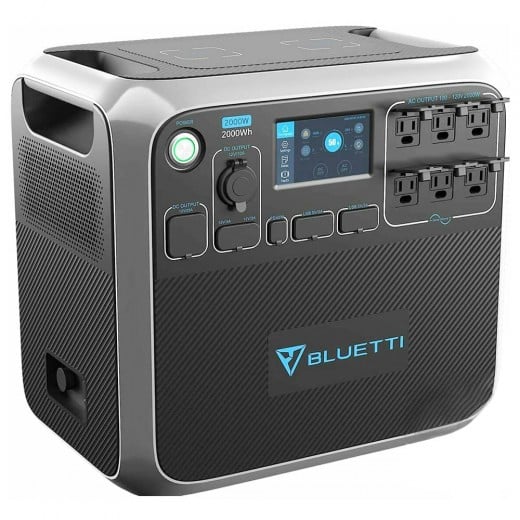 You can power most of your appliances, including blenders, ice coolers, radios, projectors, and more, with Bluetti AC200P. It is the ideal home backup system for an unplanned blackout, especially in some areas with unpredictable voltage.
Price: US$1,399.00

Battery capacity: 2000Wh(50V,40Ah)

Ports: USB-C Port: 1 x 60W Max, USB-A Port: 4 x 5V/3A, 12V* DC Outlets: 1 x 12V/25A (RV Outlet), 1 x 12V/10A (Car Outlet), 2 x 12V/3A (5.5mm Outlet)

Weight: 60.6 lbs (27.5kg)

Dimensions (LxWxD): 16.5 x 11 x 15.2 in (42 x 28 x 38.65cm)
Pros:
Efficient 2000Wh inverter

3500+ life cycles
Cons:
May lose charge even without any load
Best for laptops & phones: Anker 535 Portable Power Station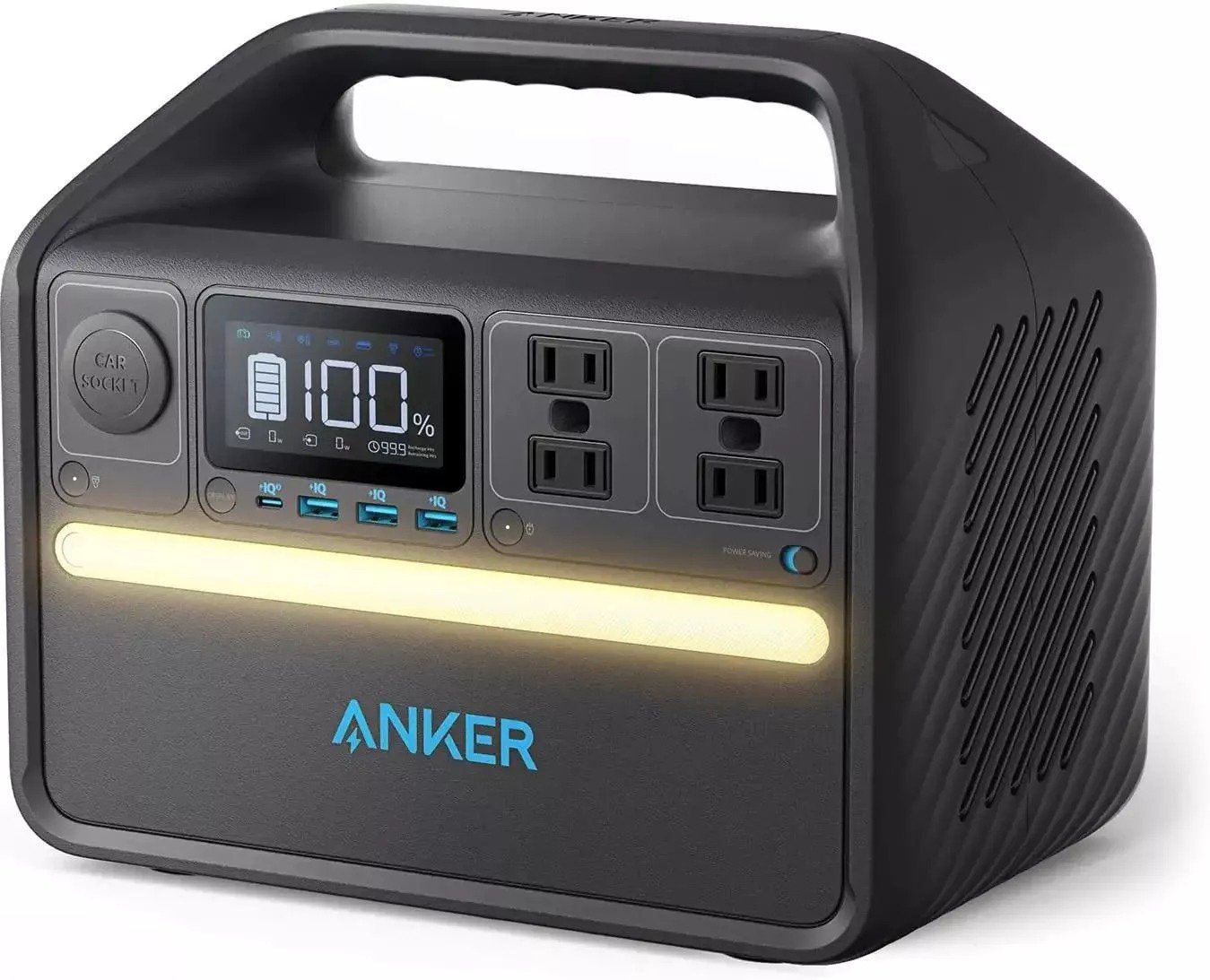 The fully portable power system can recharge to 80 percent in under 2.5 hours. The product is perfect for extended journeys where power availability is limited or nonexistent, a crucial element that sets it apart from other portable power devices.
Price: $579.99

500 Watts

3 USB-A ports, 1 USB C port

LiPo4 battery

Car charging cable
Pros
Compact design

Ideal for long trips
Cons
Not suitable for big appliances
View on Amazon
View on Amazon De
View on Aliexpress
Best Compact: ECOFLOW Delta Mini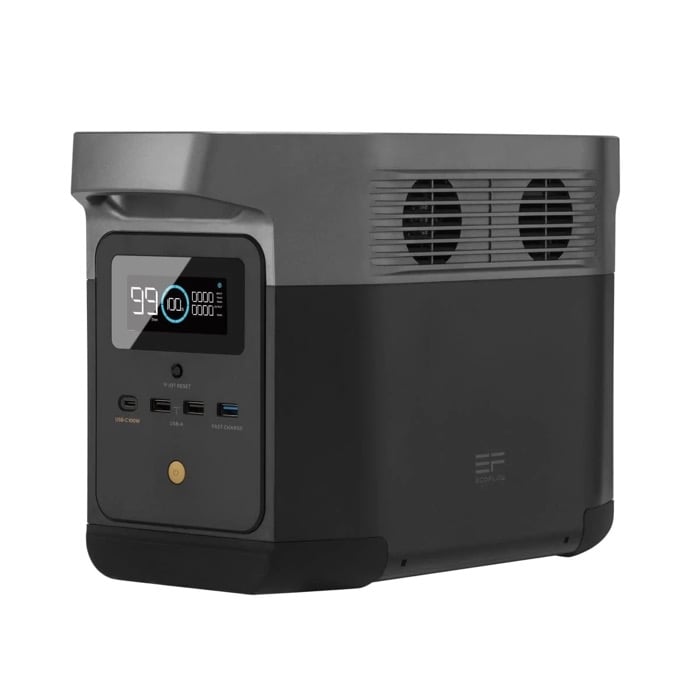 With its enormous continuous output, large battery capacity, and a wide variety of input and output ports, the ECO FLOW delta mini does an excellent job. It accomplishes all of that in a compact box that you can store in your closet for unexpected situations or bring in your car or recreational vehicle for a road trip.
Price: $749 on Amazon and $999 on REI.

Weight: 23.6 pounds

Ports: 5x AC outlets, 3x USB-A, USB-C, 12V car, 2x 12V DC barrel

Dimensions: 14.9 x 7.2 x 9.4 inches
Pros
It is light and compact

It has a fast charging option

Great mobile application.
Cons
They lack wireless charging

There is no emergency light
View on Amazon
View on Amazon Ca
View on Aliexpress
Goal Zero Yeti 1400 lithium portable power station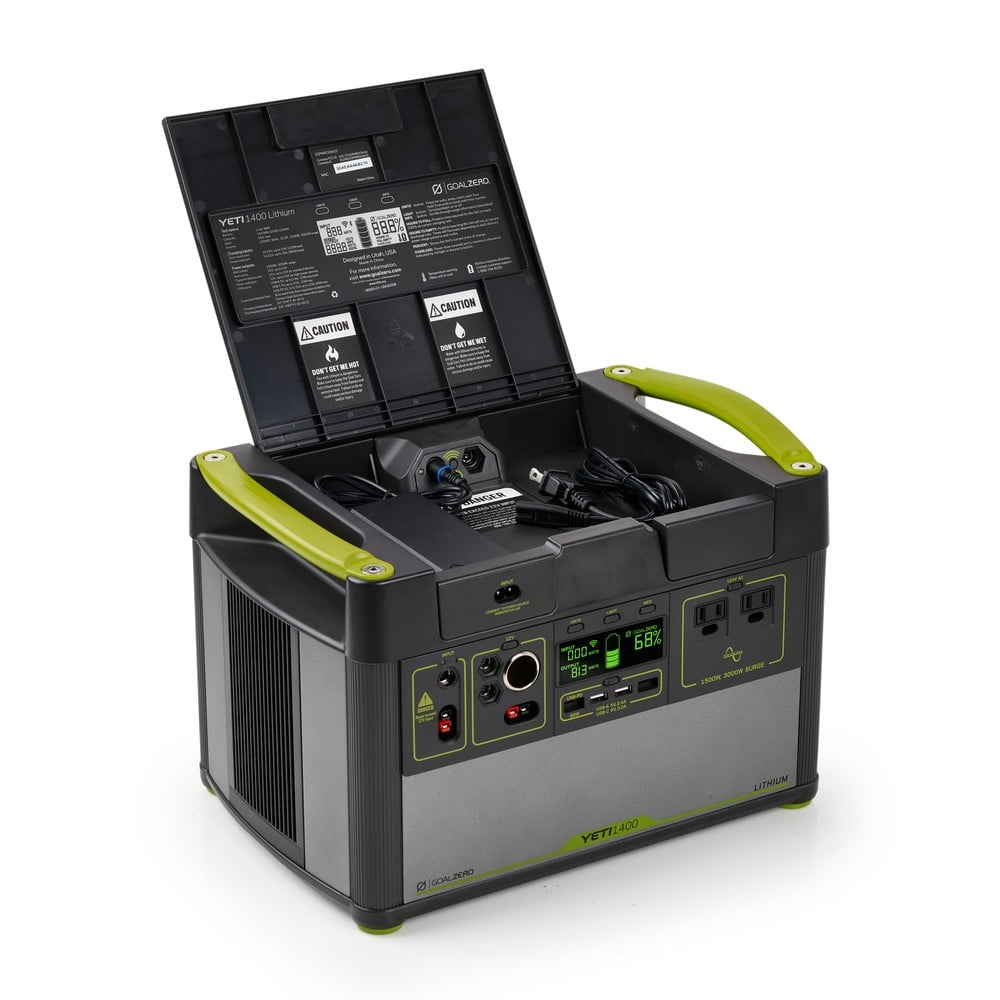 It enables you to power everything without noise, fumes, or fuel, including phones, refrigerators, laptops, and power tools. Connect a solar panel that is compatible with recharging from the sun. The size of the solar panel affects the charge time.
The power station has a total power capacity of 1425 watt-hours (132,000mAh/10.8V, 396,000mAH/3.7V) and multiple outlets (2.4A USB, AC, and 120W 12V) for charging up to 10 devices simultaneously.
Price $1,439.95

Wattage 1428 watts

Weight: 45.6 lbs (20.7 kg)

Dimensions: 10.1 x 15.3 x 10.4 in (25.7 x 38.6 x 26.4 cm)

Ports: 60 W USB C, 15W USB C, 2 (USB type-A ports).
Pros
It has increased power output

Various connectivity possibilities

They come with a lithium battery management system.
Cons
Best for RV and Camping: Jackery Explorer 1000 Pro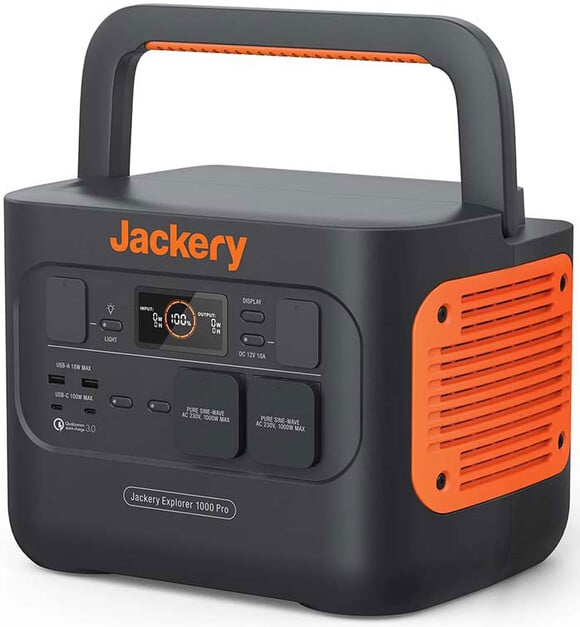 A battery within the Jackery Explorer powers its DC, AC, and USB connectors. Explorer 330Wh, 550Wh, 940Wh, and 1000Wh are available in the series. Additionally, there are also compact 160Wh and 240Wh units. The unit is perfect for various activities, such as outdoor recreation, camping, and even disaster preparedness. It is one of the best-rated lithium power sources on Amazon.
Price: $1049

Weight: 22 lbs

Ports: 3x AC outlets, 2x USB-C Power Delivery, 2x USB-A, 12V car

Dimensions: 13.1 x 9.2 x 11.1 inches
Pros
Plentiful power.

Built-in USB charging connections are seen on panels.

Lightweight and handy

Fast charging 1.8 hours
Cons
View on Amazon View on Amazon De View on Amazon Ca
Best for Emergencies: Bluetti EB70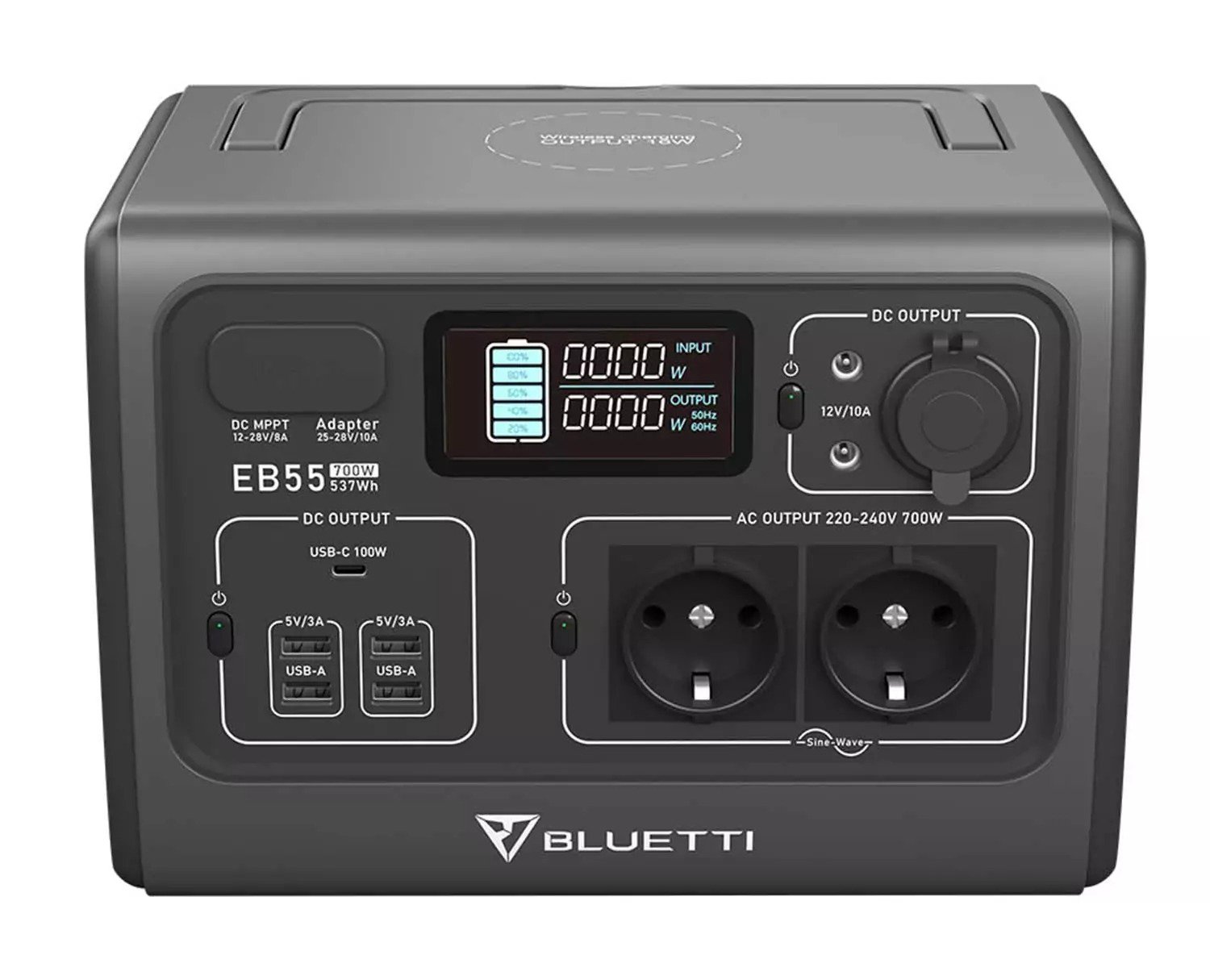 The finest portable lithium power station solar generator, the Bluetti EB70, is ideal for full-time off-grid life as well as emergencies.
It is designed in high-quality monocrystalline silicon cells, and the actual recharge time may vary depending on the weather, temperature, solar panel placement, angle, and location.
Price: Starting from $639.

Capacity: 716Wh

Weight: 9.7kg

Ports: 2 - 230V AC outlets, 2 -100W USB-C PD, 2- regulated 12V/10A DC outputs, 1 - 12V/10A car port

Dimensions: 12.6 x 8.5 x 8.7in
Pros
Ergonomic handle design

LiFePO4 battery

Multi-outputs for different power requirements
Cons
Power station Bluetti EB70 can be noisy
View on Amazon View on Amazon De View on Amazon Ca View on Aliexpress
Best for home use: EcoFlow Delta 2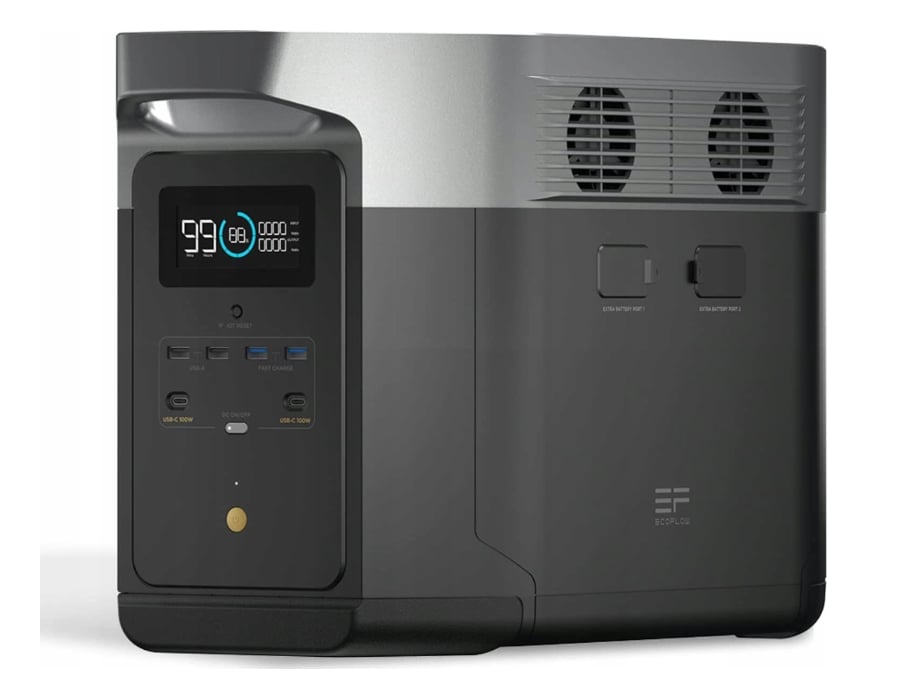 You get everything you need with the EcoFlow Delta 2 to create a dependable off-grid power system for any circumstance. It is the ideal size for operating necessities such as a refrigerator or freezer, lights, a computer or laptop, a television, and other small equipment for an incredibly long time. EcoFlow Delta 2 has LiFePO4 battery.
Price: $999

Output: 1024Wh

Number of outlets: 4 outlets

USB Ports: 6

Weight: 27 lbs (12kg)

Dimensions: 15.7 x 11.1 x 8.3in
Pros:
Two hours for a quick charge from 0% to 100%.

LiFePO4 battery

Compatible with External Batteries
Cons
Slightly expensive

It is not mobile friendly
Best portable solar power-efficient generator: Jackery Explorer 1500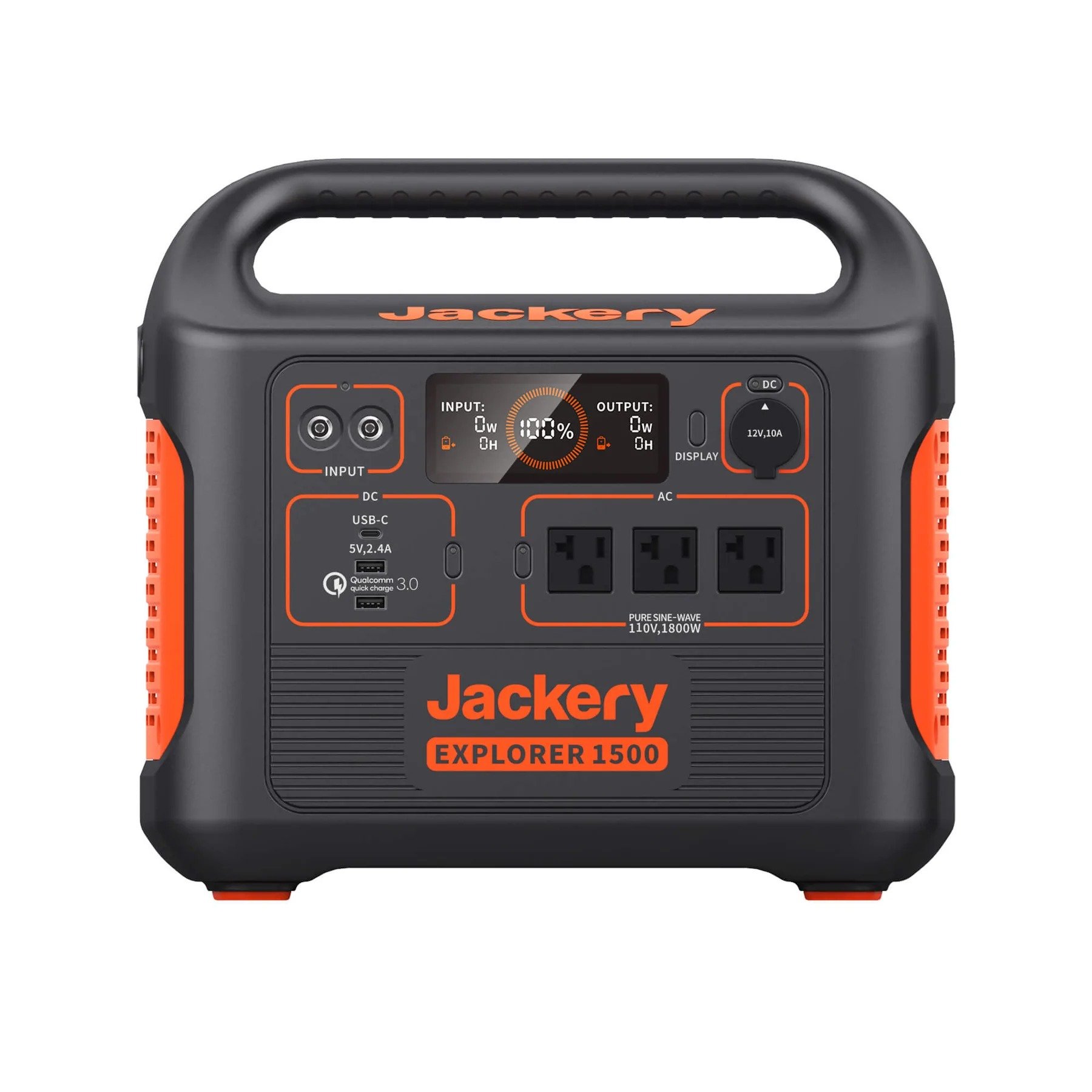 Jackery Explorer 1500 includes a massive solar panel that folds closed and can be easily carried away. It is the most powerful all-in-one energy storage solution ever created for emergencies, power outages, and off-grid houses.
Price: $1,699.00

Solar panel capacity: 1000 watts

Battery Capacity: 1534 watt-hours

Weight: 35.27lbs (16kg)

Output Ports: 3 x AC
Pros:
Easy to carry

Comes with automatic power saving settings.
Cons:
It cannot power big appliances.
View on Amazon View on Amazon De View on Amazon Ca View on Aliexpress
Bluetti AC50S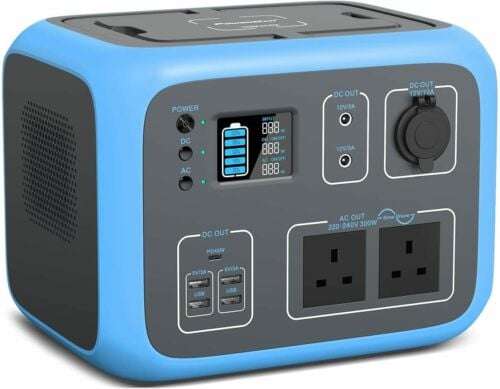 With a 500Wh lithium-ion battery cell that has over 1000+ life cycles built into it, the Bluetti PowerOak AC50S can power a variety of devices, including laptops (60 W, 7-8 times), smartphones (7 W, 50 times), vehicle refrigerators (45 W, 9 Hrs), and C-PAP machines (60 W, 8 Hrs), among others. It is always ready for any unexpected power outage, indoor or outdoor.
Several alternative power outputs are available from the Bluetti PowerOak AC50:
1x 12V DC car cigarette lighter charger

4x 12V DC USB chargers

2x 230V AC mains power plug sockets

Price: $322.99

Wattage: 300watts

Weight: 5.89 kilograms

Total power outlets: 2

Dimensions: 29.5 x 19 x 19.5 centimetres
Pros
Over 1000 life cycles

2 AC main power plugs
Cons
What to look for in a portable solar power station?
A portable power station allows you to travel without restrictions and gives you peace of mind, with access to renewable energy in an emergency.
Knowing how a device operates and identifying its various characteristics are essential before choosing one from a given product line. It would be best if you think about the following factors before making a purchase:
Capacity

Battery operation

Outputs and inputs

Design

Price
Battery type and capacity,
Capacity should be your top priority when looking for a portable power station. This tells you how long the battery will survive when supplying 1 watt of electricity to a device. The longer you can power your devices, the more watt-hours you have.
In addition to the product's general safety, stability, and environmental impact, the type of battery used significantly impacts how long it lasts. Consider the "recharge time," which refers to how long it takes to recharge a battery when it is plugged in fully.
Design, weight & dimensions
The portability of the power station is determined by the design, weight, and dimensions. Examine the product's construction and materials to evaluate its reliability and durability. The fact that there are typically color options for the many models on the market also plays a role.
What's in the power station kit?
Look into the company's warranty; most power stations have a 2-year warranty, while some have a 5-year policy. Connecting wires are typically included with portable battery packs. It is advisable to make sure the included cables meet your needs if they do come with connecting cables.
Inputs & outputs, Compatibility:
Buy a portable battery pack with enough ports for the number of your devices. You should also take into account the unit's total AC Output, which determines the energy load a power station can handle.
How do you connect solar panels to a portable power station?
Solar panel installation is simple for an RV but a bit difficult for a home. The size of the unit may affect the installation process.
You can do it yourself for an RV or camping trip. Connect your devices and appliances to the proper inputs, such as DC, AC, and USB, while the generator is being charged. Keep in mind to properly read and follow the instruction manual.
If the generator serves as the primary power supply, you can plug appliances directly into it. Connect the generator to the power source if your house is plugged into the grid.
Where is the best place to buy a portable power station?
Obtaining a selection of brands locally is frequently challenging. Buying them online is the best option if you are busy or require a completely hands-free experience. You can compare many brands to find the best that meets your requirements.
You may find practically every brand of portable power station on Amazon, or you can browse the official company websites for the best deals.
How powerful are solar generators
It is possible to power an entire house for two to eight hours with a large-size solar generator with an inverter rating of 2000 watts or above and a battery backup of 2,000Wh to 10,000Wh. However, the backup time can be extended by lowering the house load.
The most potent solar generator currently available is the EcoFlow DELTA Pro. Both the 3600W pure sine wave inverter continuous power output and the 3600Wh LiFePO4 battery capacity are remarkable.
How big a solar generator should you get
Calculate the total number of watts you consume each month. You can determine the required generator power by adding 10% or 20%.
Your needs will decide the size of solar generator you need. Small electronics like computers, phones, and lights can be powered by a small generator (less than 1,000 watts).
Generators can power larger appliances like a refrigerator or microwave with a power output of 1,000 to 3,000 watts. Larger solar generators with more than 5,000 watts of power are needed to power an entire house
How many years will a solar generator last?
Solar-powered generators typically last 25 to 35 years, depending on the type and quality. The investment generally pays off in the long run. Additionally, many solar generators come with warranties, so you can have them replaced if something goes wrong.
How noisy are solar generators noisy
There is no noise. A solar generator won't produce noise as a traditional fuel-powered generator would. It has no moving parts, so the only noise you might hear is from the inverter, which is barely audible.
Can a portable solar generator power the entire house?
An average home consumes 877kwh every month. That is roughly 30 kilowatts per day or 10,649 kWh per year. 30 kW is equal to 30,000 watts. The largest commercially available solar generators, such as the Bluetti AC200P, have a 2000-watt capacity. 2000 watts can power many gadgets, but that is hardly enough to run a standard air conditioner, which needs 1800 watts.
A strong generator and enough batteries are needed to power an entire house. Solar panels must be mounted on the roof as an additional power source.
What are the pros and cons of solar vs. fossil fuel power stations & generators?
Both the generators have benefits and drawbacks
| | | |
| --- | --- | --- |
| | Solar generator | Fossil fuel generator |
| Pros | It doesn't require any maintenance, supervision, or fuel | It is not affected by the weather. |
| | Ecologically safe. | Longer life span. |
| Cons | It only works best in sunny weather. | They are reliant on external fuel sources |
| | Short life span | Contributes to noise and air pollution. |
Online shops of portable power stations
Summary: should I get a portable solar power station?
Having a portable power station can be life-saving during a power outage. You can use it indoors or outdoors, and the product is fully autonomous, fuel-free and silent. They don't use any fossil fuels and are friendly to the environment. The ideal uses include shortages, outdoor activities, camping, and emergencies. You must decide which appliances are necessary because portable generators cannot power a complete house but can save you in a far-from-home environment.
See also: Best Portable Solar Power Generators | Portable Power Station Reviews
SOLAR DIRECTORY
Solar Installers, Manufacturers