Top Hydrogen Fuel Cell Companies & Stocks
Hydrogen and fuel cell stocks are a risky investment option, but they have their own supporters. Read the article to learn more about fuel cells and what other fuels they can use instead of hydrogen, whether fuel cell and hydrogen stocks are worth investing, and which companies are top in the sector.
Get Premium Hydrogen Stocks Expert Analysis
Investing in Hydrogen and Fuel Cell Stocks
Hydrogen technologies have been known for more than two decades already. However, there has always been some obstacle preventing the gas from becoming a feasible renewable resource of clean energy. That is why, very few investors consider hydrogen stocks as an attractive option.
Get Premium Hydrogen Stocks Expert Analysis
Although hydrogen is a green energy source, it is associated with a range of practical issues. First of all, the chemical element doesn't exist in nature in the form of fuel and has to be produced, which makes hydrogen fuel cell products too costly. For instance, hydrogen engines are up to ten times more expensive than normal motors. Besides, the infrastructure of hydrogen fueling stations is not developed yet, and this keeps hydrogen technologies from being adopted, too.
However, all of this can change. Before the coronavirus pandemic caused the oil crisis, lots of firms had been developing the solutions supposed to bring the time of hydrogen tech closer.
IEA predicts that H can soon become a feasible green energy source.
The optimistic forecasts caused Ceres Power's stock price to rise by 57% over first two months of 2020, although the firm didn't become profitable. PLUG's and BLDP's stock rose by 300% during a year (as of February, 2020). However, they did not make profit, either.
According to CWR's CEO, both energy storage and fuel-cell technologies are crucial for shifting toward more eco-friendly sources of power, and the stock price increase proves that the worldwide tendency to reduce CO2 emissions will bring advantage to H tech (including the cement and steel production).
Moreover, a few industrial giants (such as Cummins and Bosch) have invested around 1 billion USD in the firms manufacturing fuel cells during the latest several years. For example, Weichai Power Company Limited (the biggest Chinese manufacturer of diesel engines) is a stakeholder of BLDP and CWR.
Luxembourgian financial company Thematica states that H has attractive prospects in the long term, while the new hydrogen-based products are being commercialized.
However, not all investing companies are so optimistic. Some of them state that the current situation is very similar to what was happening before the turn of the millennium. At that time, automotive giants began investing in fuel-cell techs, which attracted much attention to the firms focused on hydrogen production. Due to this, BLDP's stock lifted to the record-setting price of 165.05 as of Sept., 2000. In just 2 years, the figure fell under 15USD, because there was no consumer demand.
According to Panmure Gordon's specialists, this pause in the stock price run is quite reasonable, because a gulp of air is needed to continue the race.
ROTH's analysts say that the considerable stock price fluctuations are caused by investment funds' concentration on ESG. They predict this to continue for multiple years.
Investors are concerned if the enthusiasm about hydrogen and fuel cells is well-grounded.
Tortoise Capital Advisors' managers propose to invest in the firm generating renewable electricity and predict benefits from vastly demanded no-carbon power required for clean H production in the European countries.
As for Ceres's CEO, he pins hopes on Asian countries who are planning to power millions of cars by hydrogen. The chief executive believes that this will allow H to compete with other technologies faster than expected. It happened similarly with LIB, when the Asian volume production led to cost reduction by over 80% per kWh during the last decade. He adds that those countries who expressed interest in the battery technologies are interested in fuel cell tech today.
SOFCs by Ceres are now used to extend the range of Weichai's natural gas-powered buses. The Chinese engine maker manufactures around 600 thousand motors annually. The CEO states that now the technology is viable, because the consumer demand is much stronger today than it was two decades ago.
What You Have to Know Before Investing in Hydrogen and Fuel Cell Stocks
Fuel cell companies have been attracting investors during the last 3 months of 2019 due to FCEL stock boosting by over 400 percent, BE – by more than 200 percent, BLDP and PLUG increasing by double digits.
However, there are certain issues that need to be solved, and investors have been disappointed by fuel-cell manufacturers over the years. Below, we have listed the key points to be considered before choosing this sector as an investment option.
1. Not all fuel cells are clean energy systems
Fuel cells are usually thought of as green. However, it's not absolutely true. The cells made by FCEL or BE use bio-gas and natural gas as fuels. Even in case of using hydrogen, it is commonly generated from natural gas instead of clean energy.
Maybe a fuel cell will become totally green someday. The devices manufactured by such firms as BLDP and PLUG can use clean energy to produce hydrogen. However, green H infrastructure is underdeveloped for the time being, because such ways of producing hydrogen are not cost competitive today. In order to become competitive with conventional methods of H production, the cost of clean H generation has to fall to 2USD per kg from 3.5USD. Around 70 billion US dollars have to be invested in H technology during the current decade to catch-up with other low-carbon sources of energy. For this purpose, electrolyzers need to become more capacious, fueling and distribution systems require much investing, and gap pipeline networks have to be upgraded.
That is why, so far natural gas is used as the main source of fuel.
2. Very few fuel cells can run without batteries
Most people think that a fuel cell and a battery vehicle are in conflict with one another. There's a grain of truth in it, since vehicles can run either on fuel cells or batteries charged from the power grid.
However, a FCV's wheels are anyway powered by batteries. The electrons released by a fuel cell do not commonly move directly to an engine. Batteries act as intermediaries – they provide power on demand and accept electrons emitted by fuel cells.
There is some contradiction about this – advanced batteries help fuel cells, but at the same time they are competitors in EV market.
3. Fuel cells are not suitable for passenger cars.
There is a false belief that a fuel cell can turn the passenger car industry upside down. Such giants as Hyundai, Toyota and Honda were making efforts for introducing FCVs. However, they have failed to succeed in the automotive market. Even the main supporter of FCVs – Toyota – is currently investing in e-cars rather than cars powered by fuel cells.
Around ten years ago, it was doubtful which one of the two would win in the passenger car industry battle. FCVs had longer distances and shorter charging periods compared to e-cars. However, most of these issues have been solved – modern electric cars (especially Tesla's) have 300mi-long ranges and can get charged for additional 60mi during around three min. Moreover, charging time is getting still shorter and drive ranges continue to increase.
Innovative batteries are good for FCVs. However, they're still better for e-vehicles, which is likely to assist the e-car industry in the fight against fuel-cell passenger cars.
4. Battery back-up power provides strong competition
The strongest competitors for both the automotive and fuel cell markets are back-up power supply systems by Tesla and other battery manufacturers. Energy storage systems and batteries are added to clean energy parks and are purchased by Australian, Californian and other utility companies throughout the globe.
With storage system improvement, onsite back-up power supply is improving, too, and responds faster compared to a fuel-cell technology. Again, a battery is competing a fuel cell. And again, it is likely to win.
5. Fuel cell technology has a potential for long haul trucks
Though there are hardly any prospects for a fuel cell in the passenger car market, it is a promising tech for long haul vehicles. Short charge time is vital for trucking business, where each wasted minute is a revenue loss. Toyota, Hyundai and Nikola Motor are investing in fuel-cell long haul transportation.
All of the above giants develop their own fuel-cell technologies instead of relying on small fuel-cell firms. However, when it comes to long haul trucks, they engage smaller companies with low unit volumes.
Anyway, even in case fuel cells succeed in winning the long haul transportation market, it does not mean bright future for the fuel cell stocks available today.
The Best Hydrogen and Fuel Cell Companies and Stocks
There are quite a few hydrogen and fuel cell stocks offering a long-term growth potential. As we've mentioned above, investing in such stocks is rather risky, because they do not turn a profit so far. However, you may consider buying the shares of some of the below firms to try the sector.
FuelCell Energy (NASDAQ: FCEL)
The company concentrates on cell manufacturing for stationary applications rather than for EVs, which is thought by some specialists quicker to adopt widely. FuelCell's green power stations are twice more efficient than the fossil fuel-powered ones. Moreover, its solutions don't release any harmful emissions, because they are fueled by clean biogas.
On the 12th of June, 2020, the firm reported that its revenue surpassed the forecast by 21 percent. However, its EPS turned out 7¢ per share less than had been expected. This resulted in the stock price rise by 20 percent. But FCEL's shares gave back most of the gain later. Anyway, the firm is projected to start generating profit in a couple of years or even sooner.
The firm's Advanced Technology has a strong balance sheet – it reported a 200 thousand USD profit in Q1 of 2020, which indicates continuous harvest of FCEL's cooperation with its partner – ExxonMobil Corporation.
However, this collaboration has its disadvantage, because there is direct impact of oil price on ExxonMobil. It is doubtful that Exxon's stockholders will accept investments in FCEL, while the former is struggling with dividend payouts.
All of this proves that hydrogen companies are risky to invest in. Anyway, the firm has performed quite well in late spring and summer of the current year. There was a moment when its share price rose by more than 200 percent. Though it dropped sharply on the following day, FuelCell's stock has continued gaining.
FuelCell has Neutral POWR rating. It is graded 'B' in the Trade category, and its 1-year price return is almost 1,000 percent.
FuelCell Energy (NASDAQ: FCEL) stock prices →
Plug Power (NASDAQ: PLUG)
The company whose headquarters are located in the United States is worth considering while choosing the leading hydrogen stock. It has agreements with Amazon.com and Walmart Inc using its technologies for powering forklift trucks. This provides the firm with an intriguing use-case, especially with the falling oil demand.
However, PLUG has yielded no profits over its 23-year trading period. In spite of the impressive revenue increase from 14mln USD to more than 250mln during a year, the company makes money fly.
Nevertheless, both Barclays Capital Inc and S&P Global Market Intelligence forecast this to change. The former has issued its initial rating of PLUG's stock, setting a price target at 7USD (while the average share price target is 6.4USD, which is a 15-percent rise). The latter expects the stock to generate profit in three years from now.
The company is a designer, developer and seller of hydrogen-based fuel-cell products. It delivers its alternative-energy solutions for residential and commercial use worldwide. The firm has good prospects of emerging as a pioneer in hybrid fuel cell-battery technologies. PLUG's systems are replacing the outmoded lead acid batts in lorries and other transport facilities.
The firm ranks 18 among 57 competitors in the industrial-equipment category according to POWR. It is A-graded in the Peer and Trade categories, and B-graded in the Buy and Hold category. Its price returns over 1, 3 and 5 years exceed 100 percent.
Plug Power (NASDAQ: PLUG) stock prices →
Ballard Power Systems (NASDAQ: BLDP)
In the current year, Ballard's stock has risen by more than 90 percent. The Canadian company announced having delivered more than 670 megawatts of polymer electrolyte membrane fuel cell products. However, this has not impacted the firm's net income so far.
BLDP reported that neither its top- nor bottom-line expectations were met in Q1 of 2020. The revenue grew by more than 30 percent YOY and constituted 24mln USD.
The firm reported a gross profit of 22 percent and a cash reserve of 181.6mln USD. Ballard projects that the tax rebates and incentives introduced by European, Chinese and US governments can influence hydrogen fueling infrastructures favorably.
However, BLDP's net income fell from 4¢ to 6¢ per share loss.
All of this demonstrates that the firm is still suffering from one and the same issue. If it doesn't implement its technologies in heavy vehicles, it will continue struggling to profit.
Ballard Power Systems (NASDAQ: BLDP) stock prices →
Bloom Energy Corporation (NYSE: BE)
In case the firm obtained 5 percent of the clean energy market, it could accumulate almost 9bln US dollars. Though it may sound like a utopia, such a scenario is not impossible. Bloom's served available market is nearly 200bln USD. The electrical company is now holding 0.5% of the market share, and the percentage is increasing by approximately 45 percent YOY.
Beside electric power, Bloom's activities include servicing, installing, and production. BE's stock is POWR-rated rather high – Industry Rank with 'B', solid Peer and Trade Grades, ranked in the top half in industrial-equipment category, and the price returns are positive (the 6-month price return constitutes 37.22 percent, while the 3-month return is 61.39 percent).
The stock price is targeted by the analysts at 18.5USD on average , which means over 100 percent rise. The highest price target is 20 dollars.
Bloom Energy Corporation (NYSE: BE) →
Full List of Top Hydrogen and Fuel Cell Companies
Pearl Hydrogen
Sunrise Power
Nedstack
Horizon Fuel Cell Technologies
How Fuel Cells Function
Fuel cells convert chemical energy of fuels (commonly H or hydrocarbons) and oxidizers (usually O) to electric power by means of oxidation-reduction reactions. Such cells work in the way very similar to batteries. However, in contrast to batteries, the energy is not stored inside of fuel cells, so they cannot be emptied.
A fuel cell requires a constant source of H and O (commonly gaining them from the air). Otherwise, the electrochemical reaction cannot be sustained. As for a battery, it commonly gains the energy from the metal or oxide ions, which are contained inside a battery (the only exception is a redox-flow battery). A fuel cell is capable of generating electric current constantly (unless there is no oxidizer or fuel supply).
Types of Fuel Cells
Though most of us imply hydrogen, while talking of fuel cells, the latter go beyond hydrogen. Fuel cells are a set of allied techs, lots of which produce electric power from various hydrocarbons instead of hydrogen. Below, we describe how different types of fuel cells work.
Polymer-Electrolyte-Membrane Fuel Cell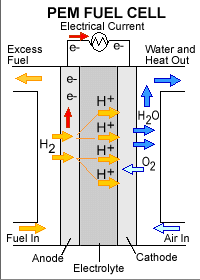 Also known as Proton Exchange Membrane fuel cells. The most widespread type. It operates at a relatively low temp (approximately 80 degrees Centigrade, or 176 degrees Fahrenheit), which makes PEM cells quick-to-start and durable. However, precious metals (such as platinum) are required for a catalytic reaction. Such metals are very costly and susceptible to hydrogen fuel's admixtures.
The most common use of such cells is EVs, though stationary application is also possible. PEMFCs are particularly marketable for material-handling equipment like forklift trucks in a warehouse. They do not release any harmful gases from tail pipes and are perfect for in-door applications. Due to quick start and long runtime, they are optimal for heavy-duty engines.
PEMFCs used in e-vehicles commonly have an efficiency of 60 percent, while the efficiency of their cheaper counterparts for stationary power systems is only around 35 percent.
This type of cells is produced by such firms as Ballard Power Systems, PLUG, ITM, and Proton Power.
AFC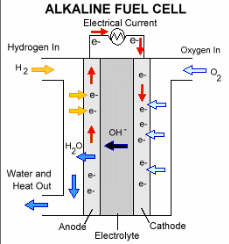 Sometimes referred to as Bacon fuel cell in the honor of its developer, it contains KOH dissolved in H2O for electrolysis. This makes it possible to use various common inexpensive metals instead of noble metals used in PEMFCs. The efficiency of an Alkaline Fuel Cell is among the highest – about 60 percent when used in aerospace. The drawback of such a cell is its high sensitivity to CO2 exposure. Both H and O used in AFCs need expensive purification. AFC Energy PLC is an example of a company developing Bacon fuel cells that convert waste products of industrial production into usable electric power.
Molten Carbonate Fuel Cells (MCFC)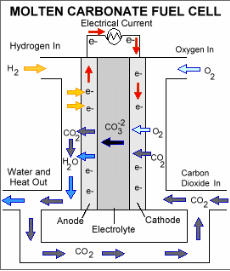 A Molten-Carbonate fuel cell uses a suspension of high-temp salt mixtures in inert ceramic-matrix composites for electrolysis. The operating temperature of 650 degrees Centigrade (around 1.2 thousand degrees Fahrenheit) makes it possible to use a non-noble metal on both positive and negative electrodes for a catalytic reaction. This allows to reduce costs significantly. The average electric power efficiency of such a cell is 45-50 percent. This figure may be boosted up to 85 percent if the qualitative byproduct heat is captured and used for driving turbines or in other cogeneration technologies.
The main pro of this type of cells is that it doesn't need any external reforming. It is suitable for internal conversion of a variety of hydrocarbon feedstocks (liquefied petroleum gas, biogas, or natural gas) to H for production of electricity. In contrast to alkaline or polymer-electrolyte-membrane fuel cells, an MCFC is not sensitive to CO and CO2.
The con of such cells is their short life. Heat and electrolyte corrosion lead to rapid component degradation.
FuelCell Energy is among the companies selling molten-carbonate fuel cells mainly for stationary applications.
Ceramic/Solid Oxide Fuel Cells (SOFC)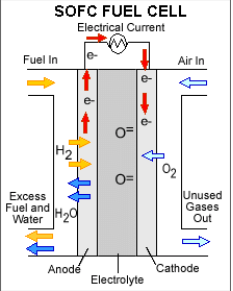 Because solid ceramics are used for electrolysis, this technology is also referred to as a ceramic fuel cell. The operating temp is still higher compared to the molten-carbonate fuel cell technology – roughly a thousand degrees Centigrade (1,830 degrees Fahrenheit). That is why, just like in molten-carbonate fuel cells, an inexpensive metal can be used for a catalytic reaction and as an internal fuel reformer to hydrogen. This allows considerable cost reduction.
A solid oxide fuel cell is characterized by extreme fuel flexibility. Similar to the above type, it is insensitive to oxides of carbon. Moreover, a SOFC is more tolerant to a high concentration of sulphur. Thanks to such a tolerance, both coal and hydrocarbon can be used as fuels.
The extremely high temperature makes ceramic cells less durable. Besides, heat shield is required for keeping the heat and protecting workers. The more advanced options have lower operating temperatures (under 800 degrees Centigrade). They are more durable but compromise power output.
One of the firms that commercialize ceramic fuel cells is Ceres Power Holdings listed on the London Stock Exchange – a developer of a lower-temperature solid-oxide fuel cell. Its operating temp ranges between 500 and 600 degrees Centigrade, due to which stainless steels can be used, making the components more durable. Besides, such a cell can be started more quickly compared to counterparts.
SAFC
Just like PEM and SOFC, SAFCs convert gases which contain H and O into electric power and release water as by-product. In a solid-acid fuel cell, solid acids are used as electrolytes. Under low-temperature conditions, the molecular structures of such materials are ordered (as in the majority of salts). At a higher temp (from 140 up to 150 degrees Centigrade for cesium hydrogen sulfate), the structure of some of the solid-acid materials transition into high disorder. This makes them more conductive by a few orders. The first POC caesium bisulfate-fueled solid-acid cells were created two decades ago. The moderns products are fueled by CsH2O4P, their lifespan reaches thousands of hours. The operating temperatures range in the middle – 200-300 degrees Centigrade.
PAFC
The first PAFCs were developed almost 60 years ago. A phosphoric-acid fuel cell uses phosphoric acids as nonconductive electrolytes for passing the positively charges ions of H from anodes to cathodes. The common operating temperature ranges between 150-200°C. In order to prevent energy waste, the heat has to be applied for other usage (for example, production of steam for air-conditioners or other heat energy consumers). Application of thermal energy in combined heat and power systems can make PAFCs 80-percent efficient (compared to average 40-50 percent). The liquid acids used in such cells cause electron flow from anodes to cathodes via external electric circuits. In order to catalyze the generation of ions on anodes, Pt has to be used. The main drawback of a PAFC is the usage of phosphoric acids as an electrolyte, which makes the components contacting the acid oxidize or corrode faster.
Electrolyzing, Fuelling, Storing
Because H doesn't exist in nature in a pure state, a fuel cell is not enough for powering hydrogen economy. Many firms take efforts to create hydrogen by means of either electrolyzing or splitting H2O into H and O with the help of electricity, while others are focused on fuelling and storing.
Hydrogenics is a developer and seller of electrolysers for hydrogen production. ITM is involved in selling commercial electrolysers for H production in hydrogen fuel stations, for industrial application, or for adding to natural gas pipeline networks. Quantum Fuel Systems focuses on selling various alternative powertrains as well as H tanks. HyperSolar developes the photovoltaic systems for direct usage of solar energy for hydrogen production from H2O. FuelCell is a developer of fuel cells generating hydrogen and electric power from a number of hydrocarbons.
Get Premium Hydrogen Stocks Expert Analysis