How to choose a solar installer
Going solar is a complicated process, and choosing the best installer may be the most difficult part. To help you select among the variety of solar companies available, we have prepared a list of recommendations and questions to be asked. Follow each step to find a trustworthy and reliable installation specialist.
How to Choose the Best Solar Panel Installation Company
Selecting a proper installation specialist seems to be the most difficult part of going solar. Solar products are easier to compare due to numerous technical characteristics. As for installation specialists, it can be hard to define which ones are more reliable than the others. In order to help you take the right decision, we have collected pieces of advice and recommendations to follow while looking for a solar provider.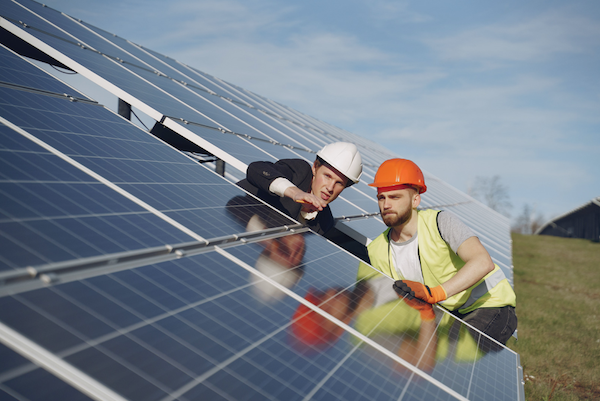 Don't get nervous
Most of us have hired specialists to take care of minor works about the house like electricity or plumbing, some even experienced larger repairs. However, very little people have an idea how to find a solar contractor. Going solar is more complicated than fixing a tap of course, but there's nothing scaring about it. Generally, the process of picking a specialist follows the same principle: you have to investigate the firm you're going to hire as well as the products they offer and examine the contract thoroughly. After you have picked a few options, call the company representatives to inspect your roofing and ask them a number of questions.
Make a list of solar installers to compare
In order to start comparing different companies, we recommend you listing all the solar contractors working in your area. You may either create a file on your computer or write down the firms by hand – it's up to your liking. The good approach is enumerating local as well as nationwide solar providers available where you live. To begin with, look for 'solar installers' and your region name in your preferred search engine. As soon as the listing has been prepared, specify the details you will find out about each company using the following guidelines.
Do not compare by price only
Price comparison websites may be perfect for hotel reservation or car rent, but they are of no use when you are looking for solar companies. The main drawback of such resources is that they compare the offers based on their pricing, while underestimating the rest of parameters.
Installing solar is a complicated process, it includes getting permissions from local bodies. Good solar contractors will do most of this work for you. Those companies whose service is priced considerably lower compared to counterparts should make you cautious because you may encounter hidden pitfalls. However, the most expensive quotes do not mean the best either.
Many installers claim they can prepare a quotation based on satellite pictures of your house. Special software is really helpful in terms of estimating how your roof is pitched and oriented as well as which objects will cast shadows on your panels. This allows calculating the expected power output of the PV array. However, no satellite photo can provide the full picture.
A diligent installer will come to your place to inspect the site in order to estimate the state of your rooftop (whether it is strong enough to house a heavy solar installation, if there're any drainage problems that require fixing, etc.), the capacity of your electric board that will be loaded by several additional kilowatts of energy produced by PV modules, the surrounding plants that are likely to grow and cast shadows in future, and so on.
Get a number of quotes
The principle is the same as with any project – the more commercial proposals you receive the better. Beside giving you an opportunity to compare prices offered, this way you are able to estimate the credentials of various contractors.
Some installers may try to persuade you that your home is perfect for a solar installation though in reality it is not. A trustworthy specialist will inform a homeowner of any possible issues instead of just selling their product. In case most of the companies you have contacted say you better not install a PV array, while someone is insisting everything will be fine, we recommend you thinking of some alternative options (for example shared solar projects).
Another thing you have to compare is what kind of equipment the providers use and how they mount the panels to the rooftop. If solar modules are not installed properly, this can lead to roof leakage and cost you a fortune, negating all the savings from generating solar energy. In case your installation company neglects the question of how the mounting is done, it is a sign you should continue the search.
Compare the financing options offered
A solar energy system installation can be financed differently: through cash payment, loans, leases, and PPAs. Check if the contractors you have chosen propose the preferred payment method or select the ones who offer a number of ways to pay for the installation.
It is up to you which financial scheme to pick, but we strongly recommend you not to fall for leasing or power purchase agreement. Some large solar companies will try to encourage you to choose one of these programs because they are more profitable for them. However, your RoI will be reduced, if you give in. The main con of such options is an escalator clause increasing the cost of power for you (even if utilities don't raise the price).
Choose between small and large solar companies
National installers are likely to be well-established, provide longer warranty, multiple financing ways and various post-installation services. However, local contractors usually know regional permission and rebate programs better. Besides, as they don't have as many clients as big firms, they may provide their services in a quicker way.
While choosing between the small installers, check whether the firm you are inclined to pick is experienced enough. Some companies have extended their business to solar projects just recently. You can verify this by asking an installer directly, through resources like Better Business Bureau or websites of license boards. The firms with long-term track record both have more technical competence and it is more probable that they will still be working in a few years in case the installation requires warranty repair.
Find out about licenses, certifications and insurance
Make sure your chosen solar company has the necessary credentials. The expertise in solar installation business should be approved by the corresponding certifications and licenses. The North American Board of Certified Energy Practitioners is the most recognized certificate for photovoltaic installers in NA. A trustworthy solar provider has to install NABCEP-approved systems, and its personnel should include NABCEP-trained experts.
The types of license and insurance required differ in different regions. In most of the US, solar installation companies are to be licensed as general contractors, electricians, home performance or improvement contractors. Besides, any installer must provide at least general liability insurance. The US homeowner can learn which licenses are required in their area at IREC's website. Note that requirements for solar PV and STE differ. If you know the license No. of the company, it can be verified on-line.
Look for reviews at reliable resources
Apart from being certified and licensed, a solar installer has to be helpful for the customers with every stage of going solar. A good specialist will assist a homeowner to obtain a permission, select PV panels with suitable specifications, apply for a tax credit, and so on. In order to learn the way solar companies deal with their clients, look for customer feedbacks. At least you will get to know if there are any complaints and how the installer solves the issues.
While some resources are known to be paid for posting positive or negative comments, there are more reliable websites like bbb.org or yelp.com. Google reviews also seem to be impartial, so you may check them as well.
Ask what warranties are provided
PV systems consist of multiple elements, and all of them have to be warranted by a producer. Ask your installer about every warranty provided.
The installer's workmanship and component warranties guarantee the installation company will repair or replace faulty components of a solar system for free during this period.
Solar modules are covered by two types of warranties. The product warranties last 10-25 years, while performance warranty is usually 25-year long. PV panel's output decreases with the course of time, so performance warranty guarantees that a product will generate a specified percentage of electricity by the end of the warranty period.
Warranties for solar inverters commonly range between 10 and 25 years.
The mounting system should also be covered with a 20-year warranty minimum.
Solar batteries are an expensive part of the system, so make sure they have a durable warranty period. For example, Brightbox by Sunrun and Powerwall by Tesla are warrantied for ten years.
Avoid sales pressures
Sales representatives often get additionally paid for every deal, so it is quite normal that they do their best to sell as many goods and services as possible. However, there are some aggressive selling techniques, showing that the number of products sold is more important for the seller than quality.
Be careful, if solar company salespeople:
apply door to door or telesales marketing techniques, in particular to elderly people
persuade clients to take a lease or sign a power purchase agreement
push you for signing an agreement before you have read it thoroughly
insist that your house is suitable for photovoltaics, when other specialists have an opposite opinion
Ask for customized quotes and ask additional questions
Choose approximately half a dozen solar providers you like most of all and ask them for personalized price quotations. Honest and professional installers will want to visit your home in person for accurate calculations. In the process of a personal meeting, we recommend you to interview the representative as follows (if any of the below questions haven't been asked yet):
Whether they can help you with locally required permissions and approvals
What size of an array you need, taking into account your electricity consumption
Which warranties they provide for the whole system and components and how to claim a manufacturer's warranty after the installer's warranty period is over
If the installer is licensed and certified accordingly
Whether any incentive programs are provided locally
Whether you are eligible for net energy metering scheme and if there are any fees charged for meter installation
Price of each component and labor cost should be specified individually
If there are any payment schedules and what the payment due date is
Ask for a detailed solar site plan to show you where PV modules, inverter, switches, and meters will be placed
Request to calculate the estimated power generation and compare it with your consumption
Let the installer explain the specifications of all the components and a mounting system
Wonder about necessary pre- and post-installation inspections
Which ways are available to track the solar array production – on an inverter display or remotely (via site or web application)
Whether your PV system has to be additionally maintained and how much it will cost to reinstall the system in case of a rooftop repairing
If any subcontractors are involved for some parts of work and whether they are qualified enough