Sunworks, Bright Power installing 657-kW solar system on California apartment complex
Oct 26, 2019 07:47 PM ET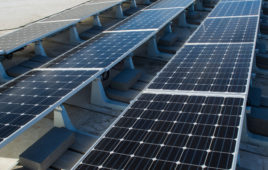 Sunworks, a provider of solar power solutions for agriculture, commercial, industrial (ACI), public works and residential markets, has been awarded an EPC contract to develop a 657-kW roof-mount PV solar project for a Southern California residential complex in partnership with Bright Power.
"Bright Power has proven to be an excellent partner to collaborate with and our opportunities with them continue to expand," said Chuck Cargile, CEO. "Together, we are seeing increasing opportunities in the commercial market as real estate developers and property managers are turning to solar as a cost-effective way to improve energy efficiencies, reduce operating costs and, most importantly, upgrade facilities for their residents. This retrofit project at a long-standing apartment complex in Southern California will provide clean renewable energy to 390 units, helping residents to reduce their utility costs, upgrade and modernize complex common areas while advancing sustainability initiatives for the community."
Sunworks was contracted by Bright Power, an energy and water management company that provides solutions to building owners and operators across the nation. Specializing in multifamily apartment buildings, Bright Power works with building owners to increase their net operating income through energy and water savings while decreasing the negative impact on the environment. Sunworks' dedicated, in-house construction team will manage all of EPC services for this project while Bright Power conducted the original schematic design and sizing of the solar array.
Construction is expected to commence in Q4 2019 and be completed in 2020.
"We have a turnkey process for helping property owners identify energy and water inefficiencies and offer a fully integrated solution to design, build and implement solutions into their existing operations," said Aron Weis, Bright Power's director of retrofit installation, western region. "Sunworks continues to be a valuable partner to help our clients maximize the efficiencies and value of solar."
SOLAR DIRECTORY
Solar Installers, Manufacturers