EV Charging Robots By Volkswagen Revealed
Dec 30, 2019 07:08 PM ET
The Volkswagen group has hinted that it is searching for a charging robot for EV. These are mobile charging robots that will make electric vehicles autonomous.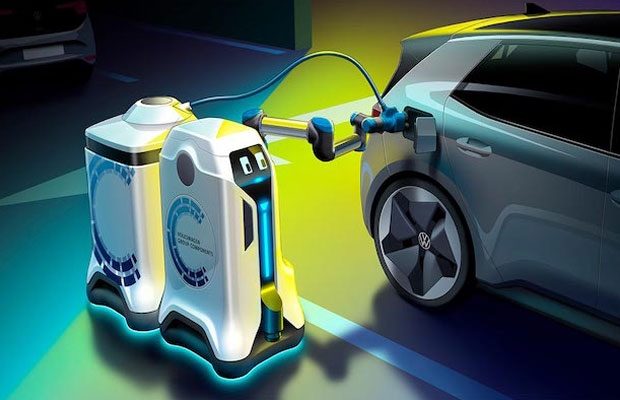 The robot which started at V2x communication can drive itself to a vehicle that needs a recharge. It opens the charging socket, connects to the plug and decouples. It means that the charging process will take place without human interaction.
The robot brings a mobile storage device to the EV and charges its battery. The mobile storage device is allowed to stay with the car during the charging process. As this takes place the robot will move around to detect and charge other electric vehicles. As soon as the charging is accomplished, the robot collects all the charge storage devices and takes them to a charging station.
According to the Volkswagen Group development head Mark Moller, the EV charging robot will be revolutionary when it starts offering charging services at different facilities. It will charge cars in underground parks, storey car parks because of its ability to bring the charging infrastructure where the car is parked. It means that the firm will avail charging to every car park without necessarily having to develop a complex infrastructure.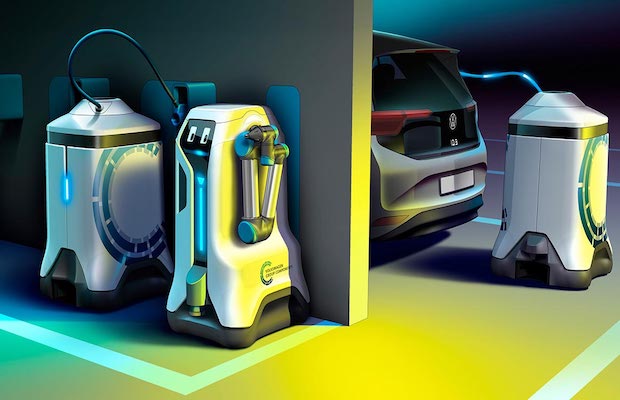 The group said that it is a visionary prototype is capable of being turned into a reality if the right conditions are maintained. Besides, the group is researching approaches to assemble charging infrastructure. It has already developed several products including the DC wall boxes and flexible quick charging stations.
The robot will be fitted with cameras, ultra sensors and scanners to allow it to carry out the charging process autonomously.