Best Solar Landscape Lights
Sep 20, 2022 01:27 PM ET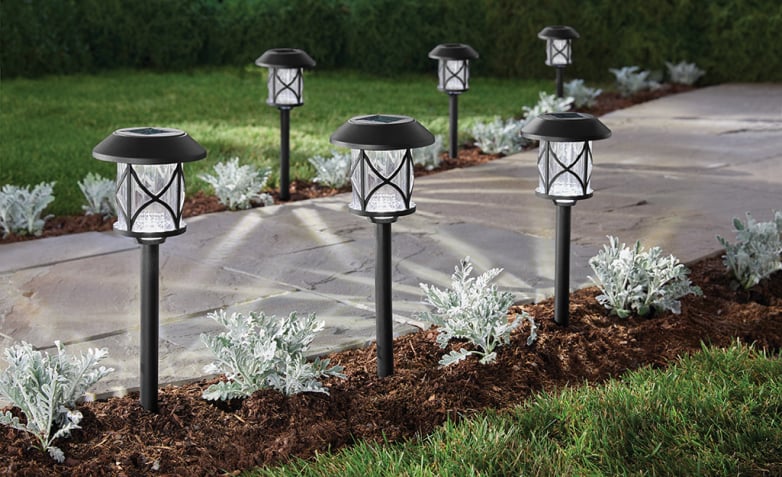 The demand for solar landscape lights is on the rise. People are increasingly utilizing these lamps to light up outdoor spaces, thanks to their many advantages. Besides improving how your patio, driveway, or walkway looks, the lights will help you save on energy and money. They are sold in several local stores and contribute to keeping the environment clean. Lighting systems like solar powered landscape flood lights continue to play a significant role in brightening rural regions where electricity is inaccessible. We invite you to read this solar landscape lights review to learn more about these products and identify the best landscape lights on sale.
How well do solar landscape lights work?
Solar landscape path lights rely on free sun energy to work. Since the landscape lights are used mainly at night, solar panels have time to gather adequate sunlight before dark. The sun's energy is then converted to electricity and used to keep the lamps on overnight. However, the lamps' run time can reduce significantly if trees or buildings block the solar cells. Rainy, cloudy days may also lessen the efficacy of the lights, leading to lower run times at night. Operating periods during winter may decrease by 30-50 percent unless the lanterns are tailored for winter.
The integration of LEDs increases the functionality of solar powered landscape lights. When energy circulates appropriately via the LEDs, then more electrons fill holes. Consequently, they can generate more photons and high brightness output.
How long do solar landscape lights last?
The lights can serve you for an extended period. For example, its batteries can work without requiring to be replaced for up to forty-eight months. Even when you need new batteries much later, there's no hassle because the batteries are both user and price-friendly. The shelf-life of LEDs is longer. They can operate effectively for a decade or so. When the bulbs can no longer keep a charge to light up your home, now it's time to buy new ones. However, it is worth noting that the longevity of landscape solar lights is subject to how well you care for them. If you are reckless, then these lights will work for you for a very short time.
Are solar landscape lights bright enough?
There have been concerns among critics that solar landscape lights do not supply sufficient radiance. Although these concerns are genuine, they are misleading. You need to be aware that manufacturers now equip lamps with LED bulbs that can emit massive amounts of light. They hardly generate heat and consume very little electricity. It would also interest you to discover that LED bulbs utilize about a tenth of the power of an ordinary bulb and are nine times more effective than neon bulbs. The brightness of outdoor solar landscape lights mainly depends on the lumens counts. When the number is higher, the lights will be brighter. The opposite is true. So, checking the lumens is the key to determining the brightest solar landscape lights when shopping.
Why do solar lights stop working?
Solar lights may stop working for several reasons.
Worn-out batteries
Even though these batteries may work for a long time, they will still expire. In such cases, their performance will deteriorate and eventually cease functioning altogether. The solution is to purchase new batteries. A pull tab may also cause your solar lights to stop working. This is especially true for newly bought lights. The tabs act as an insulator protecting the batteries during transportation and storage. You need to take out this tab for your lamps to function again.
Water intrusion
At times, water may leak through the solar panels and accumulate inside. This may, in turn, damage the interior connections and wiring, causing the lamps to break down. It is also likely that the solar panel is not getting adequate sunlight hence the malfunction. Dirty panels or a wrong location that blocks light from reaching the panels may cause this.
Faulty components
We cannot overlook the possibility of faulty components as a cause for malfunctioning solar lights. If one or more of the interior or exterior features of the lamps become damaged, then they will not work as usual. For instance, the solar lights will fail to switch themselves on if the sensors get destroyed. In this case, you will have to switch them on yourself. Another option is to get in touch with the manufacturer to fix the sensors.
How to choose the best solar landscape lights?
It is vital to consider several factors when determining the best solar powered landscape lights for your household. We explain them in detail below:
Purpose
Know the reason for wanting the solar lights before you go out shopping. Do you want the product to provide security, or do you want it to beautify your landscape? If you have the latter function in mind, then decorative solar landscape lights are an ideal fit. In short, identifying the reason for shopping will help you pick the perfect design with all the necessary features.
Operating time
Ensure you know the time the lamps take to absorb light and how long they will stay on from dusk to dawn. Good quality solar landscape lights charge for approximately six to eight hours in broad daylight. This charge is adequate to power the lamps for a whole night. Be careful not to buy lights with short run times because you may not get the most out of the product.
Light bulb type
Another vital factor to keep in mind is the type of bulb the lamps utilize. Choose LED bulbs as they are associated with bright solar landscape lights. They also save on energy and are cost-friendly. However, if you want a softer glow, go for lamps that use amber LED lights.
Type of battery
Solar landscape lights may use one of these batteries; nickel-metal hydride, nickel-cadmium, or lead acid batteries. Each has unique characteristics and may differ based on shelf-life, charge time, weight, etc. Therefore, we advise that you select batteries that will serve you for a long time and give you value for money.
The type of the solar panel
Contrary to what you may think, solar panels are not the same. They primarily differ in terms of longevity and efficiency. Thus, we recommend that you select solar lights whose panels have a durable cover and high conversion efficiency.
The capacity of batteries
Generally, the measurement of battery capacity is in mAh. As you shop, look for high capacity power cells. The best solar powered landscape lights will not only work longer but will also offer bright light. Batteries with lower capacity tend to have a shorter life cycle and lower run time.
Materials used
Go for solar powered landscape lights made of durable and weatherproof materials. Since the lights sit outdoors, it is advisable to ensure they will not be damaged by adverse weather patterns like rain and snow. On that note, purchase lamps made of any of these materials; cast aluminum, stainless steel, or ABS plastic. Furthermore, ensure the lights have a 45 IP rating or more.
Lighting settings
A majority of solar landscape lights include multiple lighting modes. This enables you to avoid monotony. As such, you can change the modes regularly to influence the mood around your environment. The lights can create a romantic, warm, or celebratory feeling. Choose what you like based on the settings available!
Best outdoor solar landscape lights
Are you searching for the best rated solar landscape lights? Look no further. We outline and describe some of the top lamps we believe will meet your nocturnal lighting needs below:
KUXY Modern Solar Landscape Lights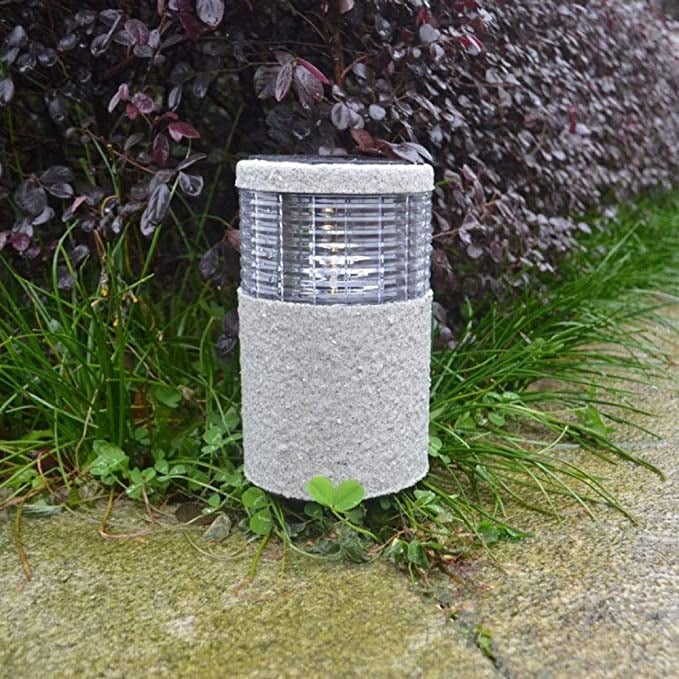 Specifications:
Color: warm yellow light
Material: plastic and rolling sand resin
Charge time: 6-8 hours
Battery: 2x1.2V 600mAh
Size: 11.5CMX H19.2
Reasons to buy:
Waterproof means you can use in wet environments
Beautifully designed
Energy-efficient keeping you lighted longer
Easy installation
Reasons to avoid:
New users may experience challenges installing it
Run time is dependent on the sun
Features
KUXY Modern Solar Landscape Lights' stylish design and warm yellow color enable it to radiate a soft glow to brighten and add warmth to your space. Its LED cool light brings out a combined color effect, creating a beautiful romantic environment for your garden, pathway, patio, balcony, or courtyard.
The solar landscape lights are IP44 waterproof, a sign it can endure all weather patterns throughout the year, including snow, rain, and hail. Since the lights are hard-wired, the vendor includes installation hardware. You can use the manual to set the lamps up effortlessly, even with little or no electrical knowledge.
The lights have a solar panel to change the sun's energy into electric energy. This power is then kept in the batteries to be used later at nighttime to supply light. Even better, these lamps will consume less power than electric bulbs, so you will save vast sums of money in the long term.
ZQDDBA Starburst Swaying Solar Landscape Lights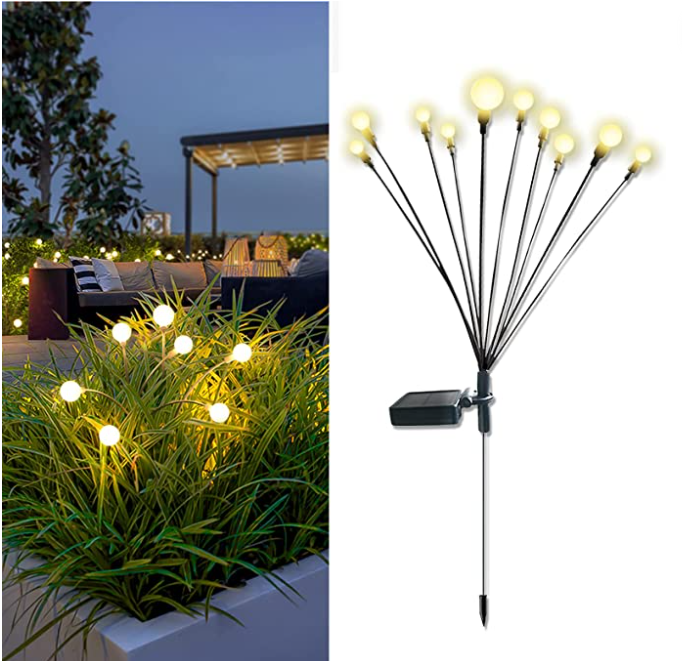 Specifications:
Color: warm white
Material: ABS/PVC/aluminum
Charge time: 5-6 hours
Battery: rechargeable batteries
Size: 26 inches in height
Reasons to buy:
Reliable customer service is available
Waterproof
It can act as a lovely gift
Easy to use
Reasons to avoid:
It may not be as bright as electric bulbs
Run time may reduce during cloudy days
Features
ZQDDBA Starburst Swaying Solar Landscape Lights offer an appealing firefly scene which is a great approach to adding a natural firefly oasis to your topography. They swing with the wind to create a peaceful environment in your space. You can install the lamps in your garden or even gift them to friends or family during New Year, Halloween, or Christmas.
These are among the best solar landscape path lights on sale on Amazon, thanks to their water and heat-resistant nature. They work in all meteorological conditions. Therefore, you don't have to worry about the lanterns malfunctioning under extreme heat or rainy conditions. They will still manage to take up light and function well for the entire night.
ZQDDBA, the brand behind these solar powered landscape lights, is reliable. It strives to satisfy its customers and respond to all queries within 12 hours. Rest assured that the manufacturer will address all of your concerns regarding the product in less than a day.
Amikadom Solar Led Route Lighting Landscape Lights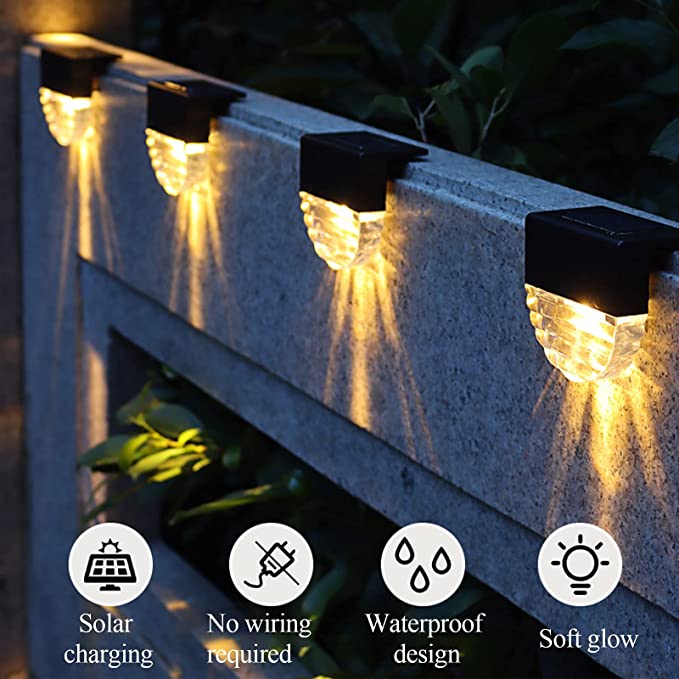 Specifications:
Color: yellow
Material: acrylonitrile butadiene styrene (ABS)
Charge time: 8-10 hours
Battery: 200mAh
Size: 38 x 6 cm
Reasons to buy:
Made up of durable material
User-friendly
Saves on energy
Has many uses for a guaranteed value for money
Reasons to avoid:
Long charging period
Features
The lamps fit into the category of some of best solar led landscape lights since they are created with strong waterproof materials and have good insulating properties and high rigidity. They also have multiple functions, so you can install them on patios, gardens, walkways, or pathways.
Amikadom Solar Led Route Lighting Landscape Lights require no wiring or electricity, meaning that you can install them easily. You only need to charge them for 8-10 hours immediately after purchase for the batteries to reach their full capacity. After that, the lights will serve you efficiently and for a long time.
The solar lights depend on sunshine to offer illumination. They usually switch themselves on at dusk and use potential energy to brighten your environment.
Homlpope Solar Led Route Lighting Landscape Lights

Specifications:
Color: multicolor
Material: acrylonitrile butadiene styrene (ABS)
Charge time: 8-10 hours
Battery: 1.2 V/ 200mAh
Size: 41 x 10 cm
Reasons to buy:
Can withstand all weather conditions
Made with durable materials making it durable
Suitable for different landscapes
Has peak performance
Reasons to avoid:
It relies on sunlight, which can be unavailable at times
Features
Homlpope is one of the top rated solar landscape lights you can set up almost anywhere. For example, they are ideal for walkways, gardens, patios, or landscapes. The product doesn't need any wiring or electricity to function. The light the lamps receive from the sun is enough to get them going.
They are powerful solar landscape lights that will serve you for many years due to the materials' durability. You can rest easy, knowing they won't get damaged or need unexpected maintenance. Moreover, the materials are weather-proof, indicating that the lanterns can endure unfavorable weather patterns and still function efficiently.
Solar Led Route Lighting Landscape Lights can attain peak performance when you install them in locations where they can access direct light from the sun. Allowing the lamps to charge for 8-10 hours before using them for the first time also ensures they operate at maximum capacity. As such, expect them to remain on the whole night.
Generic Solar Led Route Lighting Landscape Lights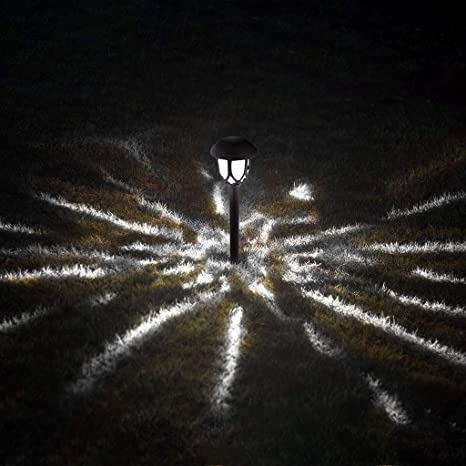 Specifications:
Color: yellow
Material: silicone
Charge time: 8-10 hours
Battery: 1.2 V/ 200mAh
Size: 41 x 10 cm
Reasons to buy:
Have a long run time
Durable materials
Weatherproof
Easy to use and set up
Doesn't require wiring
Reasons to avoid:
There are no after-sales service
Features
The product can be termed one of the best solar power landscape lights, owing to its multiple functions. You can utilize it in beautifying your gardens, walkways, patios, and driveways, just name it.
Generic Solar Led Route Lighting Landscape Lights do not have any wiring requirements; they also don't need electricity to work. This makes them easy to set up and use. However, ensure the panel can obtain light directly from the sun by setting it up correctly. Subsequently, the product's batteries can reach optimal capacity and radiate your home for long hours at night.
The lighting system is made of silicone material. Therefore, it can absorb and store as much energy as possible, enabling it to light up your home for eight hours max. The material is also resistant to weather. This means that bad weather conditions like rain or snow cannot shut down the lamps.
Summary
Solar landscape lights undoubtedly add aesthetic value and security to your household and help reduce the greenhouse effect. The lanterns can provide sufficient brightness because most of them include LED bulb lights. In addition, they are long-lasting and can serve you for years without getting damaged. You must maintain the lamps properly and ensure they have the recommended features before purchasing them. The above-listed landscape lights are high-quality and have desirable characteristics, so consider buying any one of them.
SOLAR DIRECTORY
Solar Installers, Manufacturers