Invesco Solar ETF (TAN)
Invesco Solar ETF (TAN) - stock price, quote and news
Invesco Solar ETF (TAN) General Overview
This exchange traded fund follows the performance of MAC Global Solar Energy Index. No less than 90 percent of the Fund's total assets are invested in securities (which include American and global depository receipts) comprising the index tracked.
Get Premium TAN Expert Analysis
The underlying index includes solar energy companies. Computation of the index is based on net returns withholding the relevant taxes for investing non-residents. Both the ETF and the index under tracking are subject to rebalancing every three months.
The ETF is non diversified. The index tracked provides exposure to the stock exchange-listed firms in the developed countries deriving a considerable portion of their revenue from the production of components for solar generating systems. This includes enabling technologies and ancillary services.
The ETF is open-ended, non-marginable, it is not short-sold.
Below, you can find some general information and statistics, as well as analytical data.
Summary Information
Stock Exchange Listing: NYSE Arca
Ticker: TAN
Inception Date: the 15th of April, 2008
Issuing Company: Invesco
CUSIP number: 46138G706
iNAV: TANIV
ISIN: US46138G7060
The Underlying Index: The MAC Global Solar Energy Index
The Index Ticker: SUNIDX
The Index Provider: MAC Indexing
Get Premium TAN Expert Analysis
ETF's Details
Number of Holdings: 32
TAN's Top Holdings
Geographical Allocation
Sector Allocation
IT – 67.38 %
Utilities – 26.81 %
Real Estate – 3.48 %
Industrials – 2.33 %
Market Capitalization and Style Allocation
Mid Cap Growth – 25.65 percent
Small Cap Growth – 20.11 percent
Mid Cap Blend – 19.52 percent
Small Cap Blend – 13.65 percent
Large Cap Blend – 10.38 percent
Small Cap Value – 7.35 percent
Mid Cap Value – 3.34 percent
FactSet's Analytical Report
Invesco Solar ETF provides exposure to renewable energy sector. The Fund is focused on the firms specializing in solar power. This way, the ETF cuts out a considerable part of a broad clean energy market. Invesco concentrates on pure plays whose revenue is mostly earned from solar energy, thus underweighting the more diversified firms. As a result, the Fund's portfolio is characterized by great concentration and consists of a small amounts of companies. The ETF focuses on USA-based and Chinese firms, allocating most of its finances in small-cap companies. In spite of considerable spreads, the liquidity is quite adequate. But there is a lack of secondary liquidity, and the creation/redemption process can lead to price fluctuation. The fee charged is rather high although the solar-stock short-interest strength mostly allows the Fund to lend the stocks out and get sufficient earnings for paying the fee back a few times. However, the income from securities lending is quite changeable.
MSCI ESG's Analytical Report
The exchange traded fund is rated as BBB (average) by MSCI ESG, scored at 5.59 from ten. MSCI rates the funds based on their portfolio resilience to long term ESG risk/opportunity. The highest rating is AAA and the lowest is CCC. The best-rated ETFs are comprised of firms that manage financial issues related to ESG factors strongly. Such firms show better resilience to ESG disruption.
The percentile rank shows the fund's quality score compared to the peer funds. Invesco's ranking among peers is 41 and among all the funds within MSCI's rating is 42.
MSCI's Factor Box and FaCSTM
FaCSTM is a standard way to evaluate and report the equity portfolio factor characteristics (this includes exchange traded funds). Factor Box consists of six factors determined by MSCI as historically providing the return premiums. The groups of factors are shown vertically, while exposure to the factor is shown horizontally.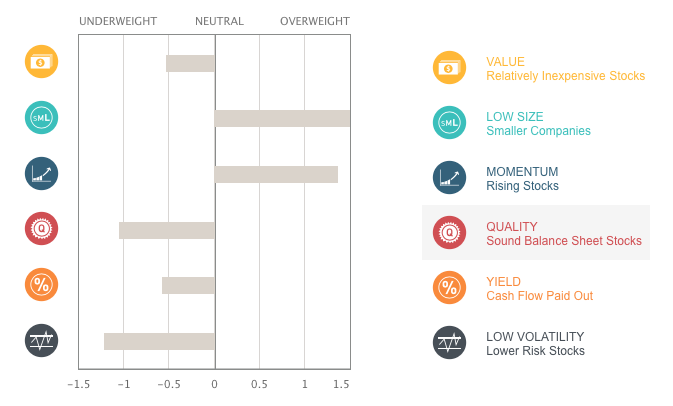 Ranking by US News
By evaluating 31 exchange traded funds in the Miscellaneous Sector, US News has selected the fourteen top-rated funds with passive management for long term investment. The ETFs are ranked relatively to these best suited funds.
Invesco is currently ranked twelfth with the overall score of 2.2 out of ten. The bid-ask spread is evaluated as good, while such factors as costs, portfolio diversity and tracking error are assessed as typical.
Read also:
Top Solar Stocks | Top Solar indices | Top Solar Energy ETFs | Energy Commodities