Western Sydney Uni launches new solar racecar to contest 3,000km challenge
Aug 7, 2019 12:31 PM ET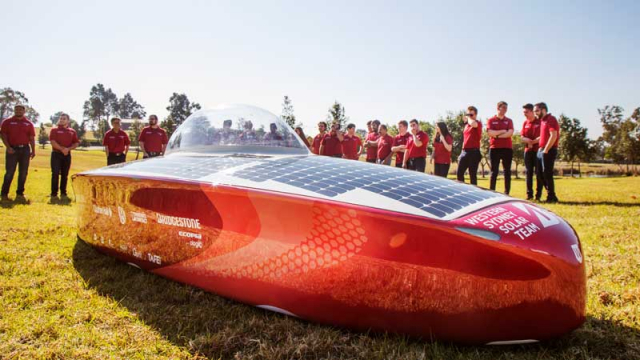 Students from Western Sydney University has unveiled its latest solar racing car that it intends to enter in the gruelling 3,000km World Solar Challenge from Darwin to Adelaide through Australia's searing heat this October.
The Unlimited 3.0, which is made from a carbon-fibre honeycomb and has a custom-made lithium-ion battery pack, is a red vision of hope for the team which went from underdog status to become the first non-American winner of the 2018 American Solar Challenge.
It is the third solar racing vehicle developed by the WSU Solar Team, which was founded in 2012 by 4 engineering students and now includes 22 students from a range of faculties including engineering, industrial design, computer science and visual communications.
In 2013 it competed in the biennial World Solar Challenge race in the first generation Solace, completing 2,891km of the 3022km race, and in 2015 came in 10th in the 2nd generation Unlimited.
The third generation Unlimited 2.0 saw the team compete in the 2018 American race coming first in four out of five legs and overall winner.
Team manager and engineering student Max Mammone said the team has put in over 30,000 hours to develop the latest incarnation of their solar racing car, and the team understandably is very proud of their result.
"By bringing the production in-house we have been able to push the boundaries of sustainable design even further," said Mammone .
"Unlimited 3.0 is aerodynamically optimised with highly efficient solar cells that will power the entire 3,000km journey using the same amount of energy as a household kettle."
The Unlimited 3.0 will this year be entered in the Challenge Class, which requires entrants to race in a high-end single-seater designed for endurance and efficiency.
Western Sydney University Vice-Chancellor and President, Professor Barney Glover AO, congratulated the students on the launch of the Unlimited 3.0 and for their contribution to solar power innovation.
"The unveiling of Unlimited 3.0 is a testament to the ingenuity and dedication of the Solar Car Team and reflects Western Sydney University's commitment to providing real-world learning opportunities in STEM," said Professor Glover.
Bridgestone World Solar Challenge Event Director, Chris Selwood AM, said in a statement that it is exciting to see the WSU team's progress from its early days of solar racing car design since 2013.
"From very humble beginnings, this team has gone from Australian underdog to genuine contender and is one of the spearheads of this year's Australian charge. Western Sydney University's considerable investment in home-grown Australian green-tech innovation and young talent is to be commended," said Mr Selwood in a note by email.
SOLAR DIRECTORY
Solar Installers, Manufacturers