SunVolt Portable Solar Power Station Review
Aug 28, 2022 05:02 PM ET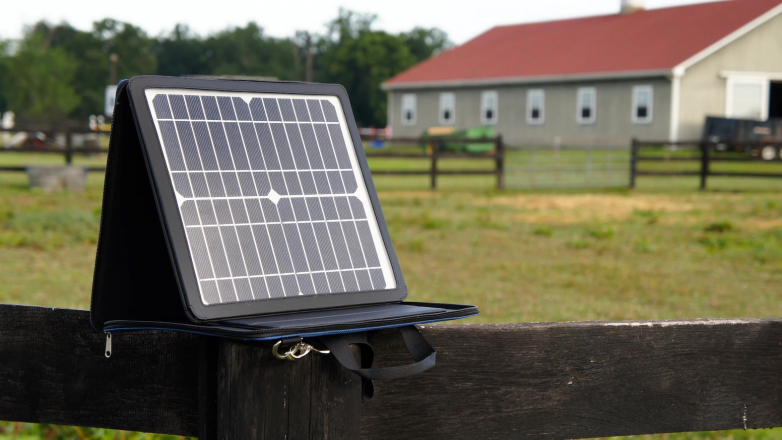 Solar energy is an inexhaustible, free, and powerful natural resource available in the world. While the bulky and complex solar panels can restrict our ability to benefit from solar energy, SunVolt power station is different. It is a compact unit that is portable, sleek, and highly efficient, SunVolt portable solar power station optimizes energy from the sun to ensure that your devices are never out of charge.
SunVolt Portable Solar Power Station Specification
| | |
| --- | --- |
| Dimension | 13*12*1.5 inches |
| Design | Solar power station |
| Solar | 10W, 15W |
| Weight | 4.3lbs, 1.9kg |
| Input and output included | USB charging ports, micro-USB, and mini USB. |
| Panels included/What is in the product kit | Solar panel, regulation circuit, USB charging ports, carrying case, user manual. |
The main component of SunVolt portable solar power station is the solar panel, charging circuit, and carrying case. The carrying case is made of a double-stitched, shoulder-strapped nylon material. The material is strong and highly resistant to weather elements. The compact casing also features neoprene non-slip pads to keep it steady on top of any surface. It has multiple pockets, perfect for your tablets or any other device you could be charging.
What Devices are Compatible With SunVolt?
The solar power unit is compatible with electronic devices like phones, tablets, and laptops requiring 5V power. The power unit has an energy-regulated circuit to ensure that all the devices are safe. SunVolt portable solar station can charge several devices at the same time. The energy output speeds are even and fast as with any standard power outlet.
All the supported devices can use USB charging ports and micro and mini USB plugs. The 10W model has two charging ports, while the 15W model has three. SunVolt portable power unit is easy to charge with solar energy. You simply set it up with the angle setting slots to face the direction of the sun. Based on customer feedback, find below the advantages and disadvantages of SunVolt portable solar power station.
Pros & Cons
Advantages/ Reasons to run it

Portable

Sleek design

Charge several devices concurrently

Quiet

Multiple charging options

Disadvantages/Reasons to avoid it

Expensive

Doesn't power heavy-duty devices

Doesn't have own battery storage
If you need to store some of the energy tapped by the SunVolt solar generator unit, you can use lithium polymer batteries. The solar unit is an ideal addition that will ensure you never have a dead battery! It will cover your small-scale energy needs. There is no better way to recharge your devices than using the sustainable energy freely available from the electromagnetic radiation from the sun.
What SunVolt Power Station is Perfect For
It is best for powering your devices outdoors or at home. If you like hiking, boat fishing, team-building events, or road trips, SunVolt is your best friend. It will enable you to have all your devices fully charged. You can also use the power unit to light your place during power outages and cut on the high cost of electricity.
Our SunVolt Power Station Verdict
The electric power grid may not get it right all the time. It can be worse during storms, heavy downpours, or technical hitches. While such situations can mean lost business or a missed deadline, SunVolt portable solar power station will come to your rescue. Its portability and sleek design make it an ideal and dependable power backup. If you find SunVolt portable solar power set effective, please leave us a review below.
See also: Best Portable Power Station | Best Portable Solar Power Generators | Portable Power Station Reviews
SOLAR DIRECTORY
Solar Installers, Manufacturers