SunUp provides a backpack-hugging solar-power solution for hikers
Oct 29, 2019 10:25 AM ET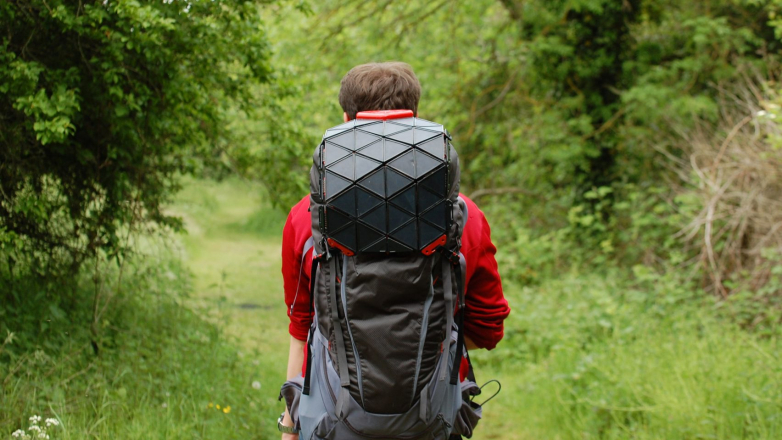 The best of rigid and flexible solar panels combine in SunUp, a product for outdoor adventurers invented by Brunel University design graduate Bradley Brister.
The problem, as keen hiker Brister describes it, is that currently people heading off-grid need to choose between a solar-powered charger that is effective and one that is durable.
Rigid solar panels, which are made of monocrystalline and polycrystalline silicone, are the most efficient, but they easily break.
The flexible options, made with a thin film of amorphous silicone, withstand rougher conditions but are much less effective.
"Solar panels are primarily designed for stationary use and current attempts at making them durable and convenient enough for use on the trail have fallen significantly short," said Brister.
His solution in SunUp is to combine a number of small polycrystalline solar panels with flexible joints. The system is designed to sit snugly over a backpack, but it can also be draped over other surfaces, such as the top of a canoe.
This way, SunUp users can enjoy the efficiency of a rigid solar-panel with the robustness of a bendable one.
"The actual technology driving this project isn't anything new, however, the way it is combined is unique," the designer added.
Brister completed SunUp as his final-year project in the Product Design Engineering bachelor's course at Brunel University, which had its students collaborate with the outdoor-equipment brand The North Face.
The designer paid particular attention to the hinge mechanism. He built the system's circuits into these metal hinges so the joints are conductive and won't work-harden over time.
"Each module is interlinked by a conductive hinge with no mechanical deformation when in use so it doesn't have the usual issue of only bending 5000 [times] before snapping," Brister told Dezeen.
"The design can theoretically be flexed and bent indefinitely or at least until the surfaces just wear down," he explained.
Brister tested his prototype in the field and hopes to develop it into a more modular product in the future, so that users can customise the panel arrangement.
The product has some modularity already, since it is easy to replace any broken panel without replacing the whole system. It currently has a 4000 milliamp Hour (mAh) battery that charges within 12 hours.
SunUp was one of two runners up in the UK heats of the James Dyson Awards, which recognise the best in student design and engineering from around the world.
The national winner was Lucy Hughes with her MarinaTex compostable bioplastic – a compostable alternative to single-use plastic made from fish waste.
SOLAR DIRECTORY
Solar Installers, Manufacturers