Solix Sprayer: 95% Reduction in Herbicide Use
Aug 22, 2023 03:18 PM ET
Solinftec's partnership with American cooperatives promises over 95% reduction in herbicide application for sustainable production.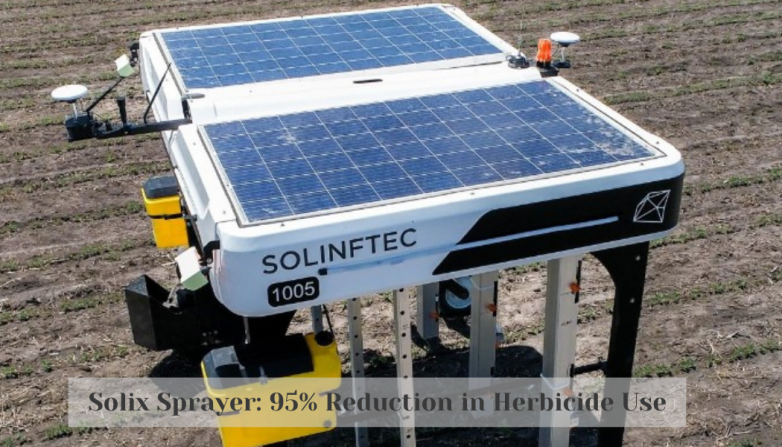 Solinftec, a US-based and Brazil-founded agricultural firm, has partnered with three American cooperatives - Co-Alliance, Carroll Service Company, and Premier Ag - to test its solar-powered robot, Solix, in the American Corn Belt. The robot promises a big reduction in the volume of herbicides applied compared to traditional methods. After testing and witnessing a reduction of over 95%, they have acquired additional units to use in their fields. Cost is likely to be a hindrance in large but developing countries like India.

The Solix Sprayer is powered by four solar panels and can cover up to 50 acres per day. It has a 12-gallon tank capacity and a 40-foot spray boom that includes cameras that can spot issues. Machine learning and AI are used to identify weeds and spray, with wind speed recommendations and optimal windows for spraying provided by the Alice AI platform. It also provides reports on crop populations, weed identification and densities, and insect identification. Its precise herbicide application eliminates weeds at their early stages and prevents drift, ensuring sustainable production from pre-planting to harvest.
Can Solix's Solar-Powered Robot Reduce Herbicide Use In Corn Belt?
Benefits of Solix's Solar-Powered Robot:
Reduces herbicide use by 95%, allowing for a more sustainable production

Powered by four solar panels, capable of covering up to 50 acres per day

12-gallon tank capacity and a 40-foot spray boom

Cameras used to spot issues

Machine learning and AI used to identify weeds and spray

Alice AI platform provides wind speed recommendations and optimal spraying windows

Provides reports on crop populations, weed identification and densities, and insect identification

Precise herbicide application eliminates weeds at their early stages and prevents drift
SOLAR DIRECTORY
Solar Installers, Manufacturers