Solar-Powered SUV Drives Morocco: From Mountain Peaks to Desert Dunes
Oct 17, 2023 04:06 PM ET
Experience the future of driving: the world's first off-road solar-powered SUV designed by a team of Eindhoven University of Technology students, tested in Morocco. 710km range with a top speed of 145km/h, light-weight and ultra-efficient. Don't miss out!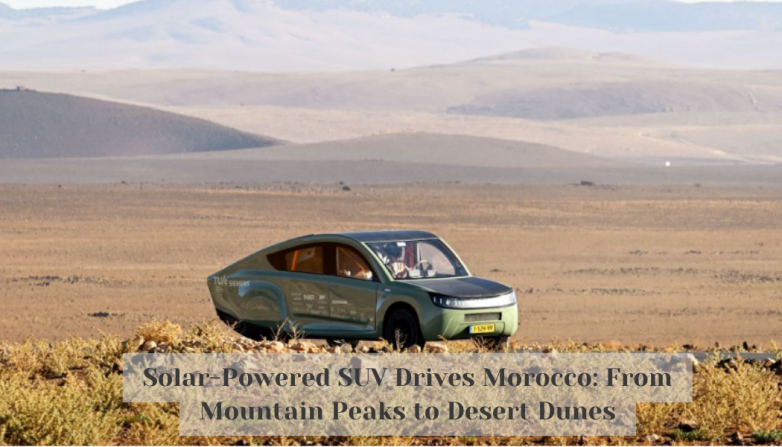 A team of students from Eindhoven University of Technology (TUE) have designed the world's first off-road solar-powered SUV, which they tested in Morocco earlier this month. The khaki-green car uses solar panels on its roof to charge its electric battery, with a range of up to 710 kilometers (441 miles) in good weather, and 550 kilometers (342 miles) off-road. It has a top speed of 145 kilometers (90 miles) per hour, and features a lightweight design and ultra-efficient solar panel converters. The vehicle was tested on a range of terrain from Morocco's northern coast to its Saharan Desert, with a setback when the steering system broke, before they made the repairs in a local workshop. The team hopes the concept could be mass-produced in the future.
Can the World's First Solar-Powered Off-Road SUV be Mass-Produced?
The TUE team are looking for partners to help further develop and commercialize the project.

The team is currently looking at ways to reduce the weight of the vehicle further and to improve the efficiency of the solar panel converters.

The team also needs to make sure the SUV can withstand the extreme weather conditions that come with off-roading.

The team needs to secure funding to help scale up the project and make it more viable for mass-production.

The team must also consider the cost of production and the potential market for the solar-powered SUV.

Finally, the team must ensure that the car meets the safety standards for mass-production.
SOLAR DIRECTORY
Solar Installers, Manufacturers