Solar-plus-storage grid parity sweeps through top EU markets
Aug 7, 2019 04:31 PM ET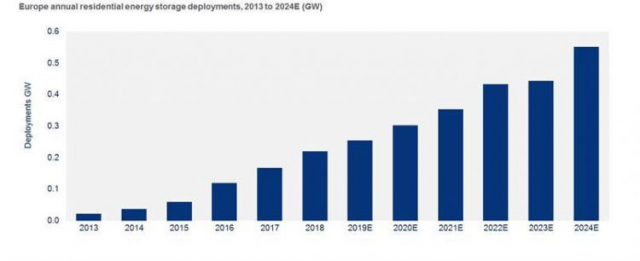 The costs of residential solar-plus-storage have already dropped or will only take a few years to drop to nation-wide grid averages across key European markets, according to Wood Mackenzie.
Storage systems installed across Europe's homes will boom by a factor of five to hit a cumulative 6.6GWh by 2024, the firm predicted in its latest analysis.
The update, released on Tuesday, expects the annual pace of continent-wide additions of residential energy storage to double by 2024, rolling out 0.5GW/1.2GWh by that year.
According to Wood Mackenzie's Rory McCarthy, the momentum will be driven by the "economic tipping point" residential storage is experiencing, particularly around solar-collocated systems.
These hybrids are, the senior research analyst explained, fast leaving behind the "challenges" of past years and approaching grid parity status across major European countries.
Contacted by PV Tech, McCarthy noted the milestone – meaning system costs are equal to the average power prices paid by households – was already reached this year in Germany and Italy.
The former, also the EU's currently undisputed top PV market, continues to lead thanks to its "world-leading" incentive programme from 2013 but is now "slowing down", McCarthy said.
Germany's looming solar feed-in tariff cap could kick in by 2022 and see the country's residential storage slump further starting in 2023, the analyst noted.
Meanwhile, Italy's conducive policies will push it in the opposite direction, added McCarthy, who expects "significant growth" going forward in the Southern European state.
Spain jumps ahead while France, UK trail behind
According to Wood Mackenzie, the shift in economics of European residential storage will see the segment transition from "emotive purchase" to "sound investment decision".
The firm estimates that Italian and German systems will achieve a positive net present value or NPV – meaning investments will trigger a positive return – in 2021 and 2022, respectively.
According to the firm, the economic improvements will gradually spread from the two markets to others in Europe, but the transformation will not reach all equally fast.
Spain, for one, looks set to become a residential solar-plus-storage hotspot. High irradiation could help the country's hybrids hit grid parity in 2020, Wood Mackenzie believes.
Noting Spain's "damaging" past solar policies, McCarthy said: "New government thinking – with a nudge from the European Commission – means the country will embrace self-consumption."
For their part, French and British residential solar-plus-storage will fail to hit grid parity by 2024 as systems remain costly and policies unsupportive or undeveloped, the analyst pointed out.
As Wood Mackenzie noted, cost efficiency gains will not save European residential storage from having to address its "challenging" customer proposition.
"We think one of the greatest barriers to entry are high upfront costs," McCarthy said, pointing at firm's estimates that storage systems can add 93% to the average costs of German residential solar.
Providing solar-plus-storage at no upfront cost from the supplier could help, McCarthy argued, adding: "However, this will only be feasible in regions where there is a positive investment case."
SOLAR DIRECTORY
Solar Installers, Manufacturers