Silicon Soars to Record 36.1% Efficiency
Sep 27, 2023 01:25 PM ET
Discover the record-breaking efficiency of Fraunhofer ISE's silicon-based multijunction solar cell: 36.1%! Their breakthrough nanocoating design and silicon TOPCon layer stack are perfect for limited-space applications like solar-powered cars, products & drones.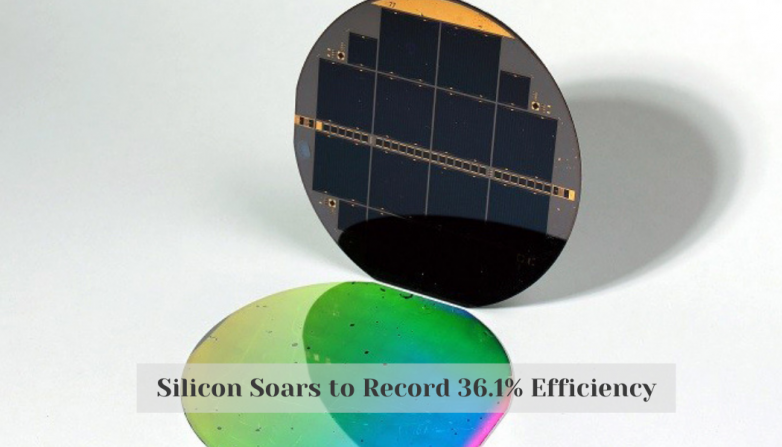 Researchers from the Fraunhofer Institute for Solar Energy Research (ISE) and NWO-Institute AMOLF (Amsterdam) have set a new efficiency record for a silicon-based multijunction solar cell achieving 36.1% efficiency. The research project was funded through the Fraunhofer ICON program and was a collaboration between ISE and AMOLF. A high efficiency cell design developed at Fraunhofer ISE called "silicon TOPCon" was combined with two semiconductor layers composed of gallium indium phosphide and gallium indium arsenide phosphide also developed at Fraunhofer ISE. The layer stack was then coated with a metal/polymer nanocoating designed at AMOLF and fabricated jointly at AMOLF and Fraunhofer ISE. This new light management design is applicable in other types of solar cells such as silicon-perovskite multijunction solar cells.
The new ultra-high efficiency solar cells are more expensive to fabricate than conventional silicon solar cells, but offer great benefit for applications where the available space is limited and a large amount of solar power must be generated within a small area. Applications include solar-powered electric cars, consumer products, and drones.
What Benefits Do 36.1% Efficient Solar Cells Bring?
The Benefits of 36.1% Efficient Solar Cells Include:
Improved performance in limited space applications such as electric cars, consumer products, and drones

Highly efficient nanocoating designed at AMOLF and fabricated jointly at AMOLF and Fraunhofer ISE

More efficient layer stack made of gallium indium phosphide and gallium indium arsenide phosphide

Cost-effectiveness for applications that require a large amount of solar power per area

Improved light management design with silicon TOPCon, applicable in other types of solar cells
SOLAR DIRECTORY
Solar Installers, Manufacturers