PVH releases new Axone Duo dual-row single-axis solar tracker
Aug 9, 2019 05:25 PM ET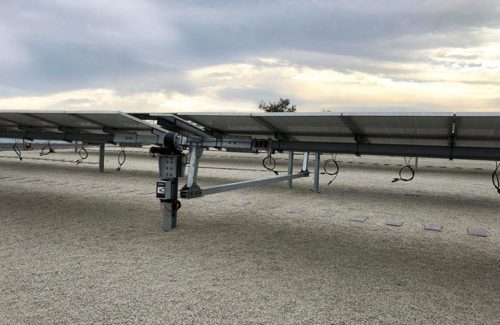 PV Hardware has introduced its new dual-row solar tracker, Axone Duo, which combines features of its Axone and Monoline mounting products. This confluence results in a tracker with a better balance of controllers and motors between the two types of photovoltaic trackers, establishing a single row of up to 128 modules for each solar tracker.
Axone Duo's configuration reduces wind load, which avoids possible accidents on terrain prone to it, and its extendable posts let it better adapt to irregular contours. Each post will be nailed to the depth permitted by the ground conditions and then corrected by screwing the second piece to a greater or lower height so that all posts are aligned to the rotation tube.
Axone Duo is a single-axis tracker with central driveline architecture in dual row configuration, and it's built for maintenance and cleaning. The system has openings every two rows to allow easier access, with maintenance performed similarly in independent row trackers.
"Thanks to the common components of any model of tracker we develop (slew drive, moto, controller, the post heads, the splices and the u-bolts), customers reduce time and cost in their projects, which guarantees success in the energy production of the plant," PVH said in the product release announcement.
SOLAR DIRECTORY
Solar Installers, Manufacturers