PV ModuleTech 2019: Interview with Frédéric Dross, VP Technology Americas with DSM
Oct 28, 2019 03:04 PM ET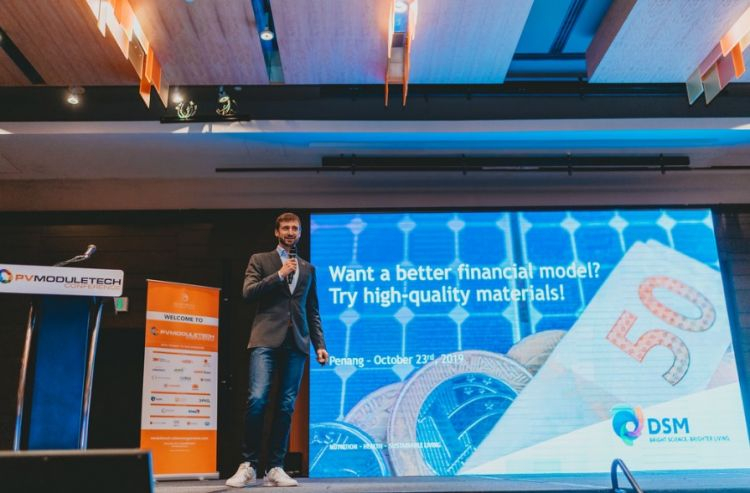 At the recently held 2019 PV ModuleTech conference, held in Malaysia, PV Tech talked with Frédéric Dross, VP Technology Americas with DSM after his presentation that highlighted PV module materials for performance and reliability.
DSM has now supplied the industry with a significant volume of AR coatings and backsheets. What are the major end-markets and application types where the materials are most commonly applied?
Frédéric Dross: "Our materials are suitable for all climates. As a matter of fact, with 70GW of installed capacity, our leading Anti-Reflective coating has been de facto installed in all sorts of climates. The backsheet properties are today an eye-catcher for developers in search for reliability in the most extreme environments. We received the TuV Rheinland All Quality Award for desert application, so the backsheet is very well suited in desert environments found in India, China, North-Africa, or the Middle-East. In addition, and with the same formulation, we also have an extremely low water vapor transmission rate and excellent resistance to hydrolysis, which is obviously very attractive for very humid environments, such as floating PV. But beyond these specific applications, the co-extrusion process enables to keep the price point competitive, even for backsheets made of the most durable materials. We truly believe that most backsheet will be co-extruded in the future. And being "future-proof" is an essential part of our strategy as DSM."
During PV ModuleTech 2018, you mentioned that about 9% of failures seen in extended field studies could be traced back to backsheet issues. Is this still the case today, given that module technologies have been changing considerably?
"Absolutely! The latest reports even show an increase of backsheet failures prevalence. Who has not heard by now of a dramatic example of entire sets of backsheets cracked open in the field? When cost pressure is on, one of the easiest ways to cut corners is to reduce the material quality. A module with lower quality materials will look exactly the same on day 1. It will even flash the same in factory. But only materials with the right intrinsic properties will withstand the harsh environments where we install solar PV today.
A key part of the talk at PV ModuleTech 2019 will be on correlating material selection with financial and technical models used by developers to estimate the value of a project and/or the PPA price. Is this still something that is a work-in-progress, and where is the bottleneck in terms of owner/operator awareness today?
The idea that materials play a major role in durability, although intuitively trivial, is actually relatively new in the PV scientific community. Since the Jet Propulsion Laboratory research on PV reliability in the mid 70's, much attention has been laid on testing (with e.g. thermal cycling chamber test) the final product: the PV module. This holistic approach carries undeniably some benefits, but also shows some limitations: the PV module is too complex of a system to accurately predict its degradation. Material science, however, has been maturing for many decades and the ageing mechanisms of materials are known and reproduceable in a lab environment. The complex PV module reliability issues can be split and diced into simpler material science reliability questions. Independent Engineers are now analysing material test data to opine on financial assumptions such as project useful life or yearly degradation. Even the IEC Committee picked up this idea and launched a series of standards (IEC 62788-x-y) evaluating the quality of different BOM materials separately."
What impact has bifacial operation on material selection and field testing – is this making the case more strongly for fully understanding module assembly and site yield/reliability?
"Harvesting the rear-side light is a brilliant way to boost the resource and is most likely the future of utility-scale PV. But we have to keep in mind that bifacial PV is still at a lower level of maturity than its big brother monofacial. The optimum design is far from being demonstrated and the additional constraints are being discovered by EPC contractors on the go. New device structures also trigger new degradation modes, such as PID from the rear side, or LeTID, or even excessive delamination; which remain to be fully understood. The rapidity at which the industry is making this shift is a bit worrying. We don't know yet what matters when selecting bifacial components; one thing is clear though, the rear side transparent layer plays an important role in durability with both glass and backsheets having their pros and cons. The race is on."
What other topics were addressed at PV ModuleTech 2019 this year?
"As PV plants are conquering more and more land, newer projects are pushed to even harsher environments. A good example of that is the fast-growing market of floating PV, pushing back the PV plants on to water beds. At the same time, PPA prices keep breaking records, so much so that industry experts publicly question the feasibility of some projects. Only very careful procurement, down to the material level for the key components, can yield modules living up to the extremely aggressive technical assumptions behind these record PPA prices."
Finally, what topics would you like to see greater discussion on?
"Anti-reflective coatings are flying today below the radar of most developers and IEs. Module buyers take it for granted that an ARC will last for the entire duration of the project. In some cases that may be true, but we also know that this is not always the case and that some ARCs degrade within the first few years of the project. The ARC is responsible for 3-4% of additional energy generation. An ARC degrading linearly within 10 years will therefore be responsible for 0.3-0.4% degradation rate on system level. That is at least half of the expected degradation rate of systems installed today. It is time for the community to understand that there are big differences in quality and durability of different ARCs. With the cost of ARC being such a small portion of the cost of a module, the saying "penny-wise, pound-foolish" has never been so true!"
SOLAR DIRECTORY
Solar Installers, Manufacturers