PowerOak EB150, 1500Wh Portable Power Station Review
Aug 11, 2022 02:54 PM ET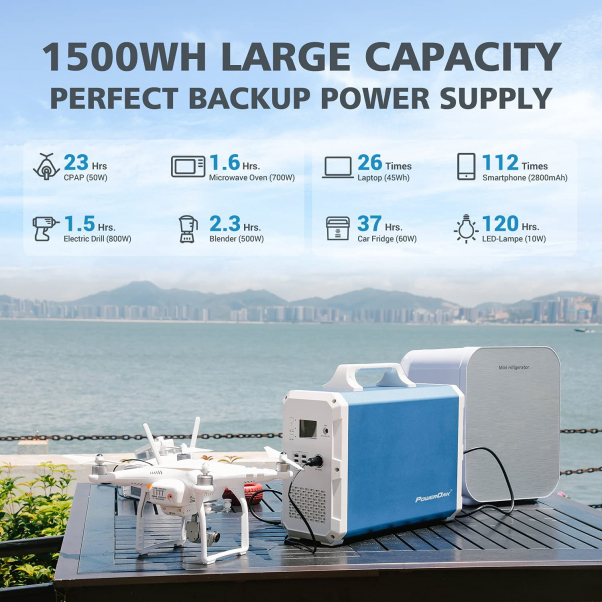 PowerOak PowerOak EB150, 1500Wh, offers quiet and clean power. It is effective due to its strong combustion for lower emissions, making it good for the environment. A power charge from 0% to 80% can be attained within 3.5 hours, making it among the fast-charging apparatus. Full charge is possible in just 5.5 hours.
Options are also available for the PowerOak Portable Power Station at 400Wh, 500Wh, and 2400Wh.
PowerOak EB150, 1500Wh Specification
| | |
| --- | --- |
| Battery type | Lithium Battery |
| Battery capacity | 1500Wh |
| Lifespan | 2500 and above cycle life, Charge after 3 months |
| Dimensions | 37.1 by 16.5 by 36.6 centimeters |
| Design | Designed with a display screen and with LED indicator lamps. Comes with a cigarette lighter port and cooling fans. |
| Solar | 500W |
| Weight | 37.9 pounds |
| Inputs and outputs included | 2*230V pure sine wave AC outlets, 4 by 5V/3A USB, USB-C (45W), 12V/9A for a car port. |
| Panels Included/ What's in the product kit? | AC wall charger, a solar charging cable, user manual |
Devices Compatible With PowerOak EB150, 1500Wh Portable Power Station
PowerOak EB150, 1500Wh, is compatible with many devices, some of which need a lot of power. The compatible devices include the Notebook, a LED lamp, CPAP, a mini fridge, TV, laptop, household dryer, and blender. Others are a coffee maker, a projector, a drone, and a washer.
Advantages/Reasons to run it.

Best when looking to power several devices that could draw a lot of energy – Up to 8 charging ports.

Fast charging for its high capacity

Fully charged at 7-8 hours through a wall outlet or 5-5.5 hours for twin SP200 solar panels at 200W.

Suitable for those getting off the grid for a prolonged period or longer stay at a camping site. You won't have to worry about running out of charge.

An intelligent cooling system will keep the power station in pristine condition after prolonged use – no need to worry about breakdowns.

Disadvantages/Reasons to avoid it.

It may not be the best in terms of portability. With its weight, some users may find it challenging to carry along for a weekend trip.

It is not the cheapest option around since it comes at a premium due to its power output.

Not suitable when seeking power options for small devices. You have to look for cheaper and lower-power alternatives.
What PowerOak EB150, 1500Wh Is Perfect For?
PowerOak EB150, 1500Wh is the best if you are looking for that extra power supply to run medium to power-intensive gadgets. Perhaps it could be your small business, at home, or simply when considering several days at a camping site. The power station will be a plus when getting off the grid as well.
PowerOak EB150, 1500Wh Summary and Verdict
PowerOak EB150, 1500Wh fits the bill for varying power needs. Its 1000W is the right for high-power consuming devices. You won't have to worry about overrunning the power station or having the equipment shut down due to lack of capacity.
While the weight could be a little bit hectic for a weekend out, it is still within a good portability range for a camping activity. In fact, you will almost find it a portable device for some highly intensive use when frequent movement is not needed. The power station is a high recommendation for such needs and will guarantee value for money.
See also: Best Portable Power Station | Best Portable Solar Power Generators | Portable Power Station Reviews
SOLAR DIRECTORY
Solar Installers, Manufacturers