Poland Shines Bright with Solar: Former Coal Mine Now Home to EU's 2nd Largest Solar Facility
Sep 27, 2023 01:19 PM ET
Poland opens its second-largest solar farm at former coal mine, producing 220 GWh of clean energy annually to power 100,000 homes and reduce CO2 emissions. Renewables to provide 51% of electricity by 2040, with a nuclear power plant to be operational by 2030s.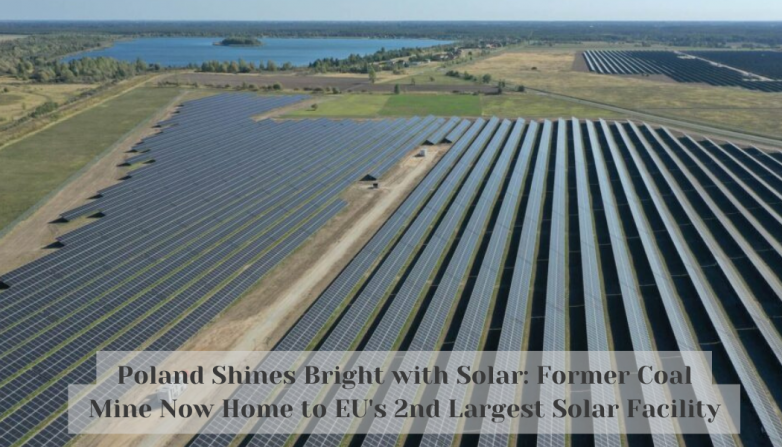 Poland has opened its second-largest solar farm at the site of a former open-pit coal mine in Przykona municipality, 70 km northwest of Łódź. The 200 MWp facility has 308,000 bifacial photovoltaic panels and is capable of generating 220 GWh annually, enough to power 100,000 households and prevent 208,000 tonnes of CO2 emissions yearly. Last year, Poland installed almost 5 GW of solar capacity, the third-highest in the EU. To reduce reliance on coal and increase energy security, the government is aiming for 51% of electricity to come from renewables and 23% from nuclear by 2040. Its first nuclear power plant is planned to be operational by the 2030s.
What Is Poland's Newest Solar Farm Capable Of?
The solar farm covers an area of 600 hectares, making it one of the largest in Europe.

The photovoltaic panels are mounted on steel frames that are up to 10 meters tall.

The solar farm is expected to create up to 500 jobs in the region.

It is estimated that the solar farm will save up to €25 million in energy costs over its lifetime.

It will also provide energy to the local community as well as to the national grid.

The solar farm is equipped with advanced monitoring and control systems to optimize energy production.

It is also equipped with a battery storage system to ensure a stable power supply in the event of cloudy weather or power outages.

The solar farm is connected to the national grid and will be able to provide energy to the entire country.
SOLAR DIRECTORY
Solar Installers, Manufacturers