Online marketplace Sun Exchange powers solar projects in South Africa
Oct 2, 2019 01:34 PM ET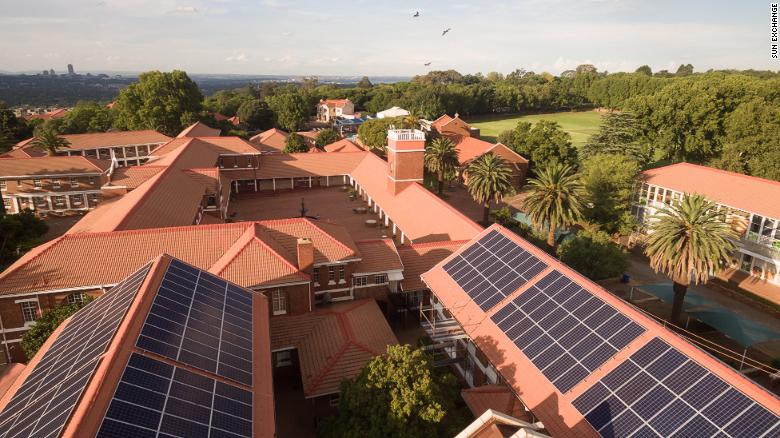 Imagine living in drizzly London or icy Montreal but making money from the sun shining in Cape Town.
That's the premise behind Sun Exchange. It sells solar cells (the parts which make up a solar panel) to online buyers around the world and leases them to schools and businesses in South Africa. The buyers then receive monthly payments based on how much electricity is used.
Abraham Cambridge, the startup's founder, had the idea when he moved to South Africa in 2014 to work as a solar engineering consultant, after six years running a solar installation company in his native UK.
"When I got here, I realized there were no solar panels on any of the roofs," says Cambridge.
He says one reason is that the country doesn't offer the same kind of subsidies to install solar power that are available in Europe and the U.S. "There's this huge funding gap for commercial and industrial-scale power plants," he says.
Sun Exchange hopes to close that solar funding gap and connect people to clean energy.
After two years developing Sun Exchange in his spare time, Cambridge quit his day job and used crowdfunding to help raise money for a prototype website, and then a pilot project -- a 15 kW solar plant for The Stellenbosch Waldorf School, which launched in April 2016.
"Ten years ago, the only option of owning solar panels was to own a whole system on your roof and that's a very high barrier to entry," Cambridge says. "It makes owning a solar panel something that's no longer reserved for the upper middle class, but something that is accessible to everybody."
How it works
Once Sun Exchange approves an installation project, it offers individual cells for sale through its online marketplace at about $6 each. After all the cells for a project are sold, the entire system is installed. Cell owners then are due to receive monthly payments from Sun Exchange for the lease period of 20 years.
Buyers can expect a 10% to 15% annual return, although this varies from project to project, Cambridge says.
With Sun Exchange, schools and other solar power users pay as they go for the energy they use. The rates are typically lower too, according to Sun Exchange.
"The whole point of this is it gives things like schools immediate access to lower-cost clean energy," says Cambridge. "And without them having to pay a penny upfront."
More than 9,000 people in 145 countries are now signed up to Sun Exchange as buyers or leasers on its platform, the company says. Its 580,000 solar cells power over 1 megawatt of solar panels at 14 locations, including schools, supermarkets and a wildlife center.
Last year, the company generated $100,000 in revenue. The company makes money by adding a percentage onto the cost of each cell. It also charges the projects using the solar power a service fee of 10% to 20% of gross lease payments.
Accessible investing -- and divesting
Solar cell owners can be paid in South African Rand or even
bitcoin
. "We've got a truly global user base purely because of the financial system we're using," says Cambridge.
In 2017 and 2018, Sun Exchange received over $2.1 million in seed funding. Currently, the startup is running a crowdfunding campaign on Uprise.Africa, where people can buy equity in the company so it can expand to other countries in Africa, such as Ghana, Kenya and Tanzania. So far, it has raised over $100,000 of a $467,000 target.
People who want to divest their money away from fossil fuels are helping make Sun Exchange more popular, Cambridge says.
Currently, about 77% of South Africa's primary energy needs are provided by coal, according to the South African Department of Energy.
"South Africa is warming at twice the global average with regards to climate change," says Cambridge. "There's children in the schools that are very aware of what's going on. They don't want their world to be powered by coal, they want to be going solar."
SOLAR DIRECTORY
Solar Installers, Manufacturers