New Lithium Batteries by WECO
Feb 26, 2021 10:31 AM ET
WECO is a middle east based tech company that has recently unveiled a lithium battery solution that offers dual voltage without any hardware change. It can operate as low voltage when placed in parallel and serves as high voltage when placed in series.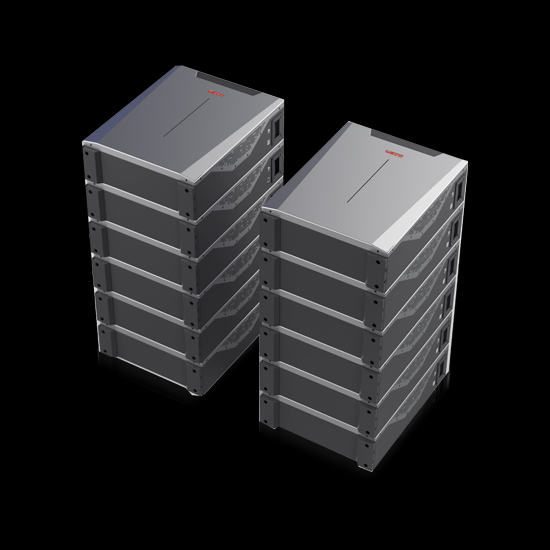 The dual voltage is possible with the help of an embedded battery management system and a dual circuit. These operate with the need for an additional battery management unit. The batteries can be mounted in different configurations. Mainly they can be mounted against walls or placed in a stack configuration.
Advantages
The dual-voltage battery known as 5K3 Low Voltage (LV)/Hight Voltage (HV) is an advanced lithium module for industrial and home energy storage systems. It has the following advantages
One product for both applications LV and HV.
High capacity due to the expandable structure of the batteries.
Wireless connectivity for real-time monitoring, remote intervention.
Fast connection HV and LV.
Ease of installation ( Stackable, Wall mounted, Floor mounted)
Price in line with existing single voltage batteries
Structure of the batteries
The physical arrangement of batteries allows it to operate as both high voltage and low voltage,
Dimensions. The Three basic modules are interchangeable according to the need. These are
LV and HV single module
LV Stackable
HV Stackable
Low Voltage and High Voltage single module
Battery Capacity of system

53 KWh

Nominal Voltage of Single module (V)

52 V

Application

Dual Voltage ( LV/HV )

Expansion

· 16 in series ( up to 9 clusters in parallel with High Voltage Box)

· 10 in parallel without WE-Hub

· 100 in parallel with WE-HUB

Cluster Net capacity (KWH)

· High Voltage; 748 KWh

· Low Voltage: 520 KWh

Voltage Range (V)

48.5-1000

Net Capacity Ah

110 Ah

Usable Capacity AH

105 Ah

Dimensions ( Width*D* Height) mm

576*461*156

Design Life

15 Years (25 degree Celsius)

Cycle Life

Greater than 7000 cycles, 25-degree Celcius
It includes the following features:
Pre-Charge
LV fuse, HV fuse
Dual battery management system (BMS) for both HV and LV
Multi BMS Firmware management.
Four protection levels with High Voltage (HV) box
3 steps adaptive charging logic
Mobile app for remote monitoring and control.
Low Voltage Stackable

Battery Modle

2

3

4

5

10

Battery capacity ( kwH)

20,4 KWH

15,6 Kwh

20,8 Kwh

26 Kwh

52 Kwh

Voltage range (V)

48.5 to 58.4 Volts

Dimensions

(Widht*Diameter*Height)

(mm)

576*461*322

576*461*644

576*461*805

576*461*805

2 x 576*461*805

Weight (kilogram)

104 Kg

156 Kg

205 kg

260 kg

2 x 260 kg

Design Life

15 Years (25 degree Celsius)

Cycle Life

Greater than 7000 cycles, 25-degree Celcius
High Voltage Stackable

Battery Module

4

5

6

7

8

8+8

Battery Capacity (kwh)

20,8

26

31,2

36,4

41,6

83,2

Voltage (Recommended)

200 Min

232 Max

250 Min

290 Max

300 Min

348 Max

350 Min

406 Max

400 Min

464 Max

800 Min

928 Max

Dimensions

(Width*Diameter*Height) mm

576*461*644

576*461*805

576*461*966

576*461*1288

576*461*1288

2(576*461*1288)

Weight (kilograms)

208

260

312

364

416

2 x 416

Design Life

15 Years (25 degree Celsius)

Cycle Life

Greater than 7000 cycles, 25-degree Celcius
Chemical composition of batteries
The lithium-ion batteries inside the 5k3 LV/HV module give the best performance and highest number of cycles ( greater than 7000 at 25 degree Celsius) due to WECO's optimized chemical composition. Lithium-ion batteries use lithium iron phosphate (LiFePO4) as material for electrodes. The ambient operating range is between -20 to 45 degrees Celsius. Lithium-ion batteries use nanographene to improve the stability, duration, and performance of electrodes.
WECOs Expansion
WECO is currently operating a production line in China. It plans on expanding by activity the production line at their facility in Florence, Italy. Their first batch was sold across Europe in July of 2020, But from November 2020, the 5K3 HV/LV batteries made it's way to the USA. WECO plans on expanding and continue delivering high-performance dua-voltage 5K3 batteries.
Comparison with batteries employed today
Using a dual voltage switchable battery, the opportunity cost of choosing a battery becomes zero. There is no need to compromise on High voltage or low voltage using 5k3 (LV/HV) batteries. The price of these batteries is in line with the single voltage batteries. Rather than choosing two batteries, the same battery can be used for both industrial and domestic purposes.