Microsoft, Lightsource BP Spark Solar Revolution in Poland
Sep 25, 2023 01:34 PM ET
Microsoft and Lightsource BP have signed a landmark solar PPA in Poland, furthering Microsoft's mission to become 100% carbon-free by 2025 and carbon negative by 2030. Experience the power of renewable energy as Lightsource BP aims to facilitate a shift to a carbon-free grid.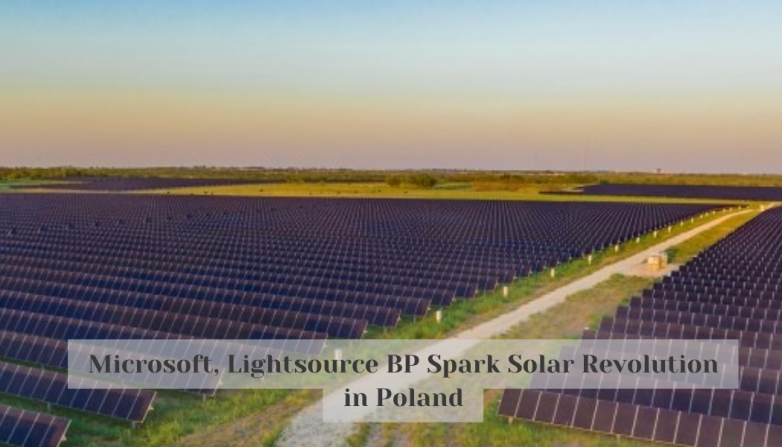 Microsoft and Lightsource BP have signed a significant solar power purchase agreement in Poland, marking their inaugural venture into the country's renewable energy landscape. The long-term PPA will facilitate the delivery of carbon-free electricity to the Polish grid from a 40 MWac solar project. This is in line with Microsoft's goal of sourcing 100% of its energy from renewable sources by 2025. Kareen Boutonnat, CEO of Europe and APAC at Lightsource BP, emphasized the pivotal role solar power has in Poland's energy transition. Adrian Anderson, General Manager of Renewable and Carbon-Free Energy at Microsoft, stated that this deal is part of their commitment to become carbon negative by 2030.
What Role Does Solar Power Play in Poland's Energy Transition?
Solar power accounts for less than 1% of Poland's energy mix, but that number is certain to grow in light of this deal.

Poland's energy transition is largely dependent on renewable sources such as solar, making the Microsoft/Lightsource BP PPA an important milestone.

In order to meet targets such as Microsoft's carbon-negative goal by 2030, Poland must increase its production of renewable energy.

The agreement between the two companies sets an important example for other businesses to follow, as corporate renewable energy procurement is becoming increasingly popular.

This deal is reflective of a larger trend in renewable energy procurement in Poland, with solar energy at its forefront.

Utilities and grid operators are implementing solar energy on a larger scale, as more businesses enter Poland's renewable energy market.

With this agreement, Microsoft and Lightsource BP are helping to drive the energy transition and push Poland closer to its renewable energy goals.
SOLAR DIRECTORY
Solar Installers, Manufacturers