Mexico needs domestic PV-making push, minister says at plant launch
Aug 14, 2019 04:48 PM ET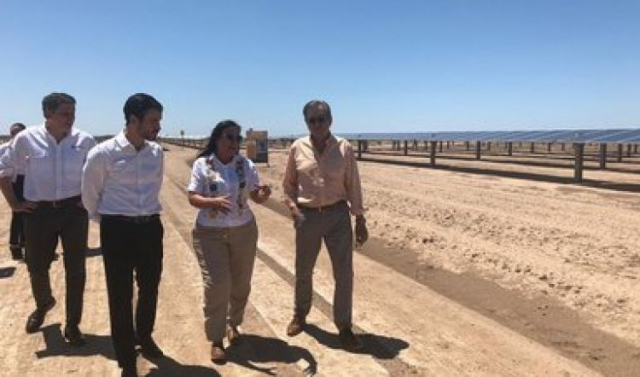 Mexico should aim to nurture a national solar industrial ecosystem to ensure it captures the full benefits of the renewable technology, a top government official has said.
Rocío Nahle, named energy minister after president Andrés Manuel López Obrador was elected last December, used a PV launch event this week to call for a full solar supply chain in Mexico.
At the opening of 162MWp La Orejana, Nahle said the country needs to focus on "national content" and set up an industrial ecosystem to ensure panels can be manufactured by Mexicans.
The goal, she was quoted in a statement as saying as she visited the site in the Sonora state, is to ensure "everything" – innovation, technology, added value – stays in Mexico.
Old auction winner is powered up in Sonora
The minister's statement came as she toured 162MWp La Orejana alongside Adrián Katzew, CEO of the developer – Zuma Energía, owned by private equity outfit Actis – responsible for the project.
The installation began construction in November 2017, after reaping power purchase agreements with state-run utility CFE at Mexico's second long-term auction.
The plant, requiring a total investment of US$131 million, was bankrolled between American financiers Bancomext, Banobras, Nafin and Nadbank.
The 353GWh-a-year park, built across 338 hectares, features 500,000-plus panels, 5,567 solar trackers and 55 inverters. It is designed to power more than 220,000 households.
Renewables 'can count' on AMLO's support
For Mexican solar, the ministerial blessing comes as the industry navigates an uncertain phase under the new government, with tender cancellations and question marks over old auction contracts.
At La Orejana's launch, minister Nahle said renewable projects both public and private can count on the support of López Obrador's administration.
The minister – a chemical engineer by training – acknowledged her government's energy policy is "different" to that of its predecessor Enrique Peña Nieto, who legislated for sweeping reform.
Different, she added however, does not mean a "constrained, compressed or inhibited" policy, but rather a will to ensure "order" and "balance" so that production and construction remain equitable.
SOLAR DIRECTORY
Solar Installers, Manufacturers