'Landmark minute' in Europe as sustainable electrical energy surpasses fossil fuels for first time
Jan 25, 2021 01:31 PM ET
Despite making strong gains against coal and also gas, Europe's renewable resource growth needs to expand faster to reach the EU's climate targets, according to brand-new research study.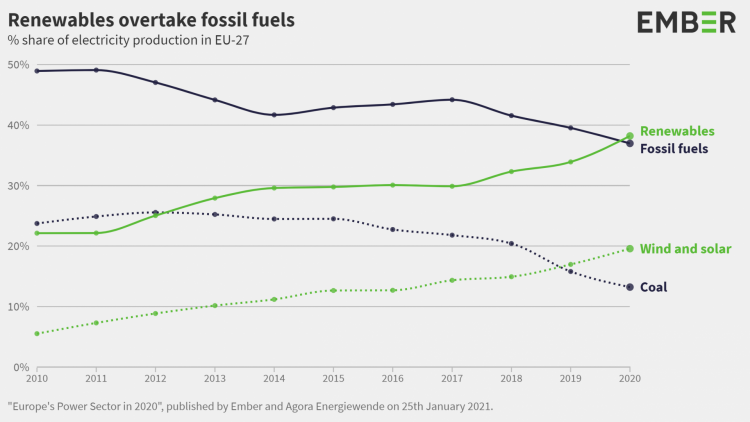 Europe saw its "greenest electrical energy year on record" in 2020, with renewables creating 38% of the continent's electrical power in 2020, a new report from brain trust Agora Energiewende and Ember states.
Called 'The European Power Sector in 2020', it discovered that one fifth of power was created by wind and also solar plants, while coal power generation fell to simply 13% last year, compared with 26% five years ago. Nevertheless, solar power still makes up just 5% of Europe's energy mix, the report claimed, up from 3% in 2015.
Europe's solar market grew by 11% throughout 2020, adding 18.7 GW of installments with Germany, The Netherlands. Spain, Poland and also France leading development.
The quote follows a week of reports anticipating a quick scale-up in solar power deployment throughout vital European markets in spite of COVID-19 setbacks. Last week, BloombergNEF specified that in between 150GW as well as 194GW of solar PV would be installed this year, while late last year the International Energy Agency named solar power the "brand-new king" of power markets, mentioning that in every year between 2022 as well as 2040 even more solar would be released than the year prior to. An additional report from software firm Pexapark claimed that power acquisition agreements in Europe's solar sector can surpass 10GW of capability by the end of this year, complying with a "craze" of company deals in markets such as Spain.
Solar composed 144TWh of electrical energy provided to Europe in 2020, up from 125TWh in 2019. Wind and also solar electricity integrated increased by 51TWh in 2020 to 504TWh, however Patrick Graichen, the director of Agora Energiewende, claimed the rate of development would require to double in order for the EU to get to carbon neutrality in its power supply. According to Ember's Vision or Division report released in November last year, national energy and climate plans in Europe presently amount to an ordinary development price of only about 72TWh/year.
Dave Jones, senior power expert for Ember and also the lead author of the report, called 2020 a "landmark moment" for Europe's environment objectives, including that countries are "relying upon wind as well as solar" to guarantee that fossil fuels are terminated.
The report claimed that, although it is "encouraging" that wind and solar raised by 51tWh in 2020, it would need to be around 100TWh each year in order to meet environment targets by 2030.
It claimed that "EU nations require to step up their 2030 commitments significantly".