Jackery Explorer 500 Portable Power Station Review
Aug 26, 2022 05:13 PM ET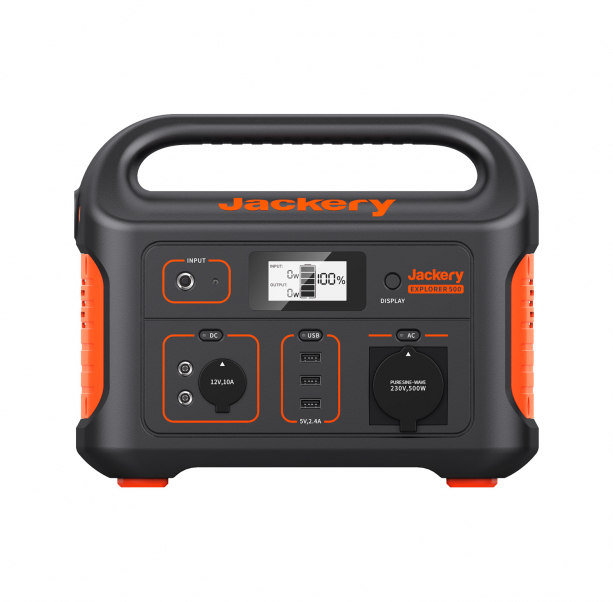 This Jackery Explorer model is a 500 watts power station. As such, it is most suitable for providing power to small home use devices, including cameras, laptops, cell phones, and small TVs. The power station shuts off if devices draw a lot of power.
Main Specifications for Jackery Explorer 500
Battery type

Lithium-ion, Pure sine wave inverter

Battery capacity

518 watt-hours

Lifespan

Charging is recommended after 3 months

Dimensions

30.1 by 19.3 by 24.2 cm, weighs 6kg

Design

Super rugged design. Display, input, and outputs are situated on the front panel for easy monitoring and control.

Material

Plastic

Solar

Charge time of 9.5 hours at maximum solar power

Weight

13.32lbs

Inputs and outputs included

DC input for charging, standard 110V AC port, 2 12V/7A DC outputs,

3 USB-A outputs, 12V output ports, 2 6.5mm 7 amp 12V sockets.

On and off switches for USB outputs, DC, and AC.

Panels Included/Included in the product kit

Car charge cable, AC adapter, user manual
Other options available for the Jackery Explorer are Explorer 300, Explorer 1000, and Explorer 1500.
What Devices are Compatible With Jackery Explorer 500?
Jackery Explorer 500 is compatible with small personal and household devices. They include cameras, cell phones, laptops, and small TVs.
Main Pros & Cons of Jackery Explorer 500
Advantages

Has several USB ports and outlets – that allow charging several small devices simultaneously.

No more disruptions due to interrupted power supply since you can keep every gadget charged for emergency purposes

Living in very high temperatures? Explorer 500 runs in temperatures as high as 40°C and lows of 0°C.

It's eco-friendly. Take advantage of the solar and charge the Explorer at about 16 hours and care for the environment.

Small and compact, which makes it highly portable for easy carry.

Comes with an inbuilt LED flashlight to beat blackout by offering a backup option.

Explorer is very quiet and great for that serene relaxation on a campsite.

Disadvantages

It may not be the best when seeking high power output. Only suited for powering small devices.

Explorer 500 is not waterproof. Needs extra care when using it in highly wet environments.

A display backlight could be annoying to some people.

Requires USB-C ports
What Jackery Explorer 500 Review Is Perfect For
Jackery Explorer 500 is the perfect mate for a great camping day. You get all the small devices charged for an uninterrupted power supply. If you plan for a long holiday with bigger devices, the Explorer 500 may not be the best companion. It is also a perfect power backup plan at home.
Our Verdict for Jackery Explorer 500
No doubts that Jackery Explorer 500 is a top choice when looking for a flexible power station for running lower-power gadgets. With its various outputs and port types, you will get all your devices charged, almost all at the same time. You won't have to worry about the weight tool as Explorer 500 is one of the most lightweight power stations you will ever find. If you need a little upgrade, the Explorer 1000 will have the job done better, but you really don't need to for lower power needs.
The only issue with Jackery Explorer 500 is its inability to work for high-power needs. You may also need an alternative when working in rainy regions. Otherwise, Jackery Explorer 500 is an exceptional recommendation.
See also: Best Portable Power Station | Best Portable Solar Power Generators | Portable Power Station Reviews
SOLAR DIRECTORY
Solar Installers, Manufacturers