Italy's FuturaSun to construct 10-GW solar cell manufacturing facility in China
May 12, 2023 03:33 PM ET
Italian solar (PV) panel maker FuturaSun will certainly move into solar cell manufacturing, planning a factory in Huai'an, in the Chinese province of Jiangsu, which will at some point reach a yearly capacity of 10 GW.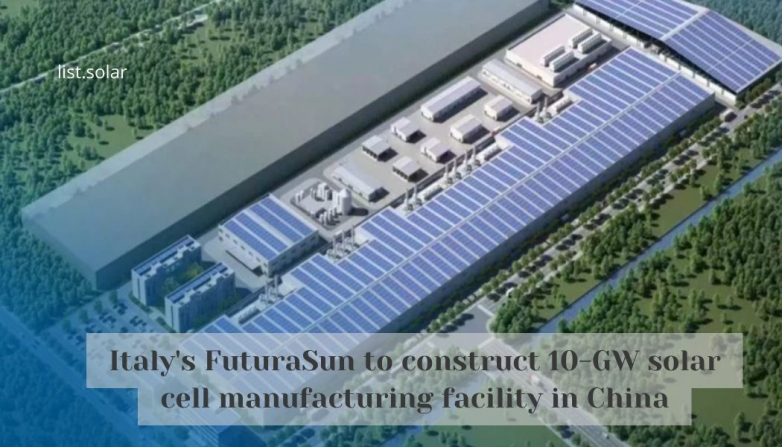 The firm stated today that on May 10 it signed a calculated agreement with the federal government of the city of Huai'an for the construction of the 266,000-sq-m gigafactory. The project will certainly call for a first investment of EUR 150 million (USD 164m) and also will certainly be understood in two phases, with production anticipated to begin in the springtime of 2024.
In three years' time, the manufacturing facility will certainly be able to generate 10 GW a year of N-type solar cells based on TOPCon innovation. It will supply FuturaSun's Chinese and Italian module gigafactories, the firm said.
FuturaSun established its first factory in Taizhou in 2020. According to its website, the plant has a yearly capacity of 1 GW. The company is presently developing a second gigafactory in Suzhou and recently introduced plans for a 2-GW plant in Cittadella, Italy.
The relocation towards vertical assimilation will improve quality assurance, improve supply autonomy, and also make the company much better matched to respond to future technological and also technical advancements, according to the news.
"This is a phenomenal and extraordinary project in which our Italian Group sets the goal of going into an arena that has thus far been controlled by Chinese big players," stated FuturaSun president and founder Alessandro Barin.
SOLAR DIRECTORY
Solar Installers, Manufacturers