Hyundai-made vehicle with solar rooftop charging
Nov 26, 2019 01:56 PM ET
Hyundai Motor has created the world's first vehicle equipped with solar roof-mount charging. The innovative solution is claimed to provide extra electrical power, maximize fuel efficiency and driving distance.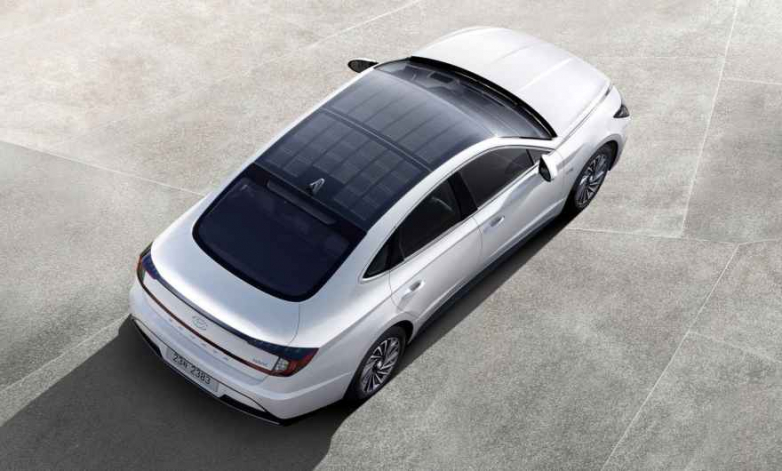 Hyundai has announced that the innovation will be first implemented to New Sonata Hybrid. Later on, it will be also applied to other models. The technology is predicted to improve the car's fuel efficiency and reduce harmful gas emission.
The solution comprises roof-mount silicon photovoltaic modules. The system can charge the battery in the process of driving. As a result, up to 60% of the batt can be charged daily. If you charge the vehicle during six hours a day, it is likely to add extra 1,300 kilometers to your annual driving distance.
The charging solution consists of a PV module and a controller. Electricity is generated when energy from the sun activates the surface of the solar cell. The latter converts the energy through the use of photons of sunlight, which generates electron and hole pairs in solar cells. This is how solar electricity is produced.
The controller is used to convert the solar electricity to the normal voltage suitable for battery charging. The developer took care of both efficiency and design. So far, this charging system is meant to support the car's power source. However, in the future it is likely to eliminate the necessity of fossil fuel for the vehicle operation.
Apart from the roof-mount charging, the latest Sonata Hybrid model features the industry-first ASC technology. The hybrid-exclusive design is supplemented by enhanced dynamic elements. The car is provided with six-speed transmission, the engine is Smartstream G2.0 GDi HEV. Besides, the vehicle can be accessed with a 'Digital Key' through a corresponding application.
As of today, the New Sonata is available on the Korean market. In the nearest future, it will also be commercially available in North America. So far, the manufacturer does not plan to sell the vehicle in Europe.
SOLAR DIRECTORY
Solar Installers, Manufacturers