Hanwha Q Cells Dedicates Largest Solar Panel Factory In Western Hemisphere
Sep 30, 2019 06:27 PM ET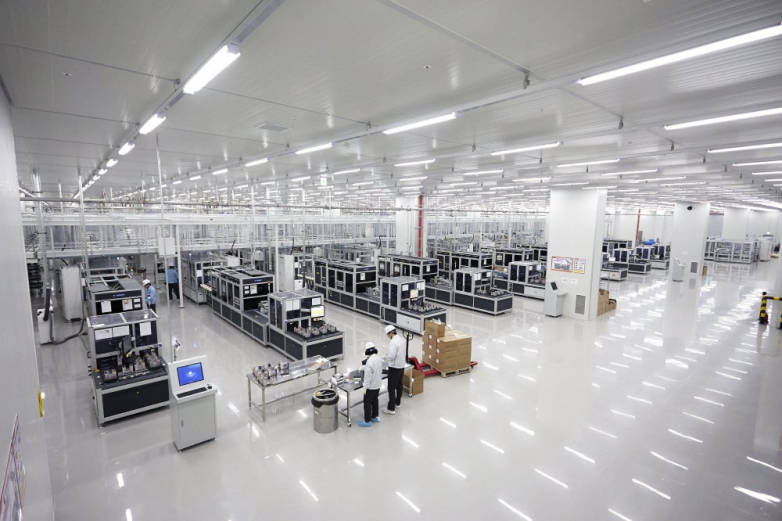 Hanwha Q Cells officially opened its 300,000 square foot solar panel factory in Dalton, Georgia last week, claiming it is the largest such manufacturing facility in the western hemisphere. The $200 million factory employs more than 650 workers and is capable of producing 12,000 solar panels a year — enough to generate 1.7 GW of electricity. Its standard production panel features six bus bars, has an efficiency of about 19%, and an output of up to 345 watts.
The Georgia factory began producing panels in January and and started shipping them to customers in February. At full capacity, it will have three production lines operating simultaneously. "The factory is currently producing over 10,000 modules per day and very close to the full 12,000-module-per-day capacity," Scott Moskowitz,director of strategy and market intelligence for Hanwha, tells PV Magazine. "We expect to be running at full capacity by the end of the year."
Politics & Power
Georgia Governor Brian Kemp, who stole the election last year by systematically denying access to the polls to African American voters while he was running for governor and serving as Georgia's secretary of state, trotted up to Dalton to say a few words about the new plant, claiming it makes northwest Georgia "a hub for the manufacturing of clean, renewable energy sources."
There are currently three other solar panel factories in operation or under construction in the US — LG's 500 MW factory in Alabama, Jinko Solar's 400 MW fab in Florida, and First Solar's 1.2 GW production line in Lake Township, Ohio. PV Magazine points out that the decision to move forward on all four came after the Republican-controlled Congress rammed through a massive tax cut for corporations in 2017.
Since then, Trump's tariffs imposed as part of his trade war with China have added an extra economic incentive to manufacture solar panels in America. But as PV Magazine points out, the total output of all four factories will be about 5 GW while the US as a whole is on pace to install 12 GW of solar power next year. Clearly lots of panels are still coming into the US from foreign countries.
We haven't forgotten about the Tesla/Panasonic factory in Buffalo, New York, but its production is negligible at present and there are concerns it may never begin producing more than a trickle of panels, so it is largely irrelevant to the conversation.
PV Magazine also points out that all the solar cells used in the Hanwha, LG, Jinko Solar, and First Solar are manufactured outside the US. Trump's tariffs on those cells are hurting America's quest to make its utility sector carbon neutral by driving up the cost of domestically manufactured solar panels no matter how you look at it.
Bear in mind that tax policies and tariffs can change quickly. If a future administration alters either or both, the long term prospects of these four factories could be in doubt as corporations continue to seek the lowest possible cost of manufacturing.
SOLAR DIRECTORY
Solar Installers, Manufacturers