Google bets on cheap solar via 'biggest' clean energy buy to date
Sep 20, 2019 09:15 PM ET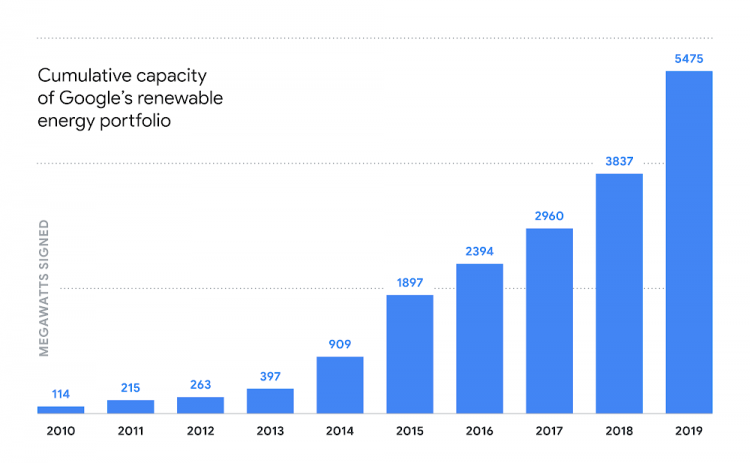 Tumbling solar costs have spurred Google on to a dramatic boost of its exposure to the technology, acting to line up supply from projects worldwide as part of a major clean energy push.
On Thursday, the technology giant unveiled plans to purchase a whopping 1.6GW of renewable electricity via 18 separate deals across the globe, featuring solar and wind projects.
The clean energy procurement ramp-up – reportedly the largest in Google's history – will see the firm double its existing global volumes of contracted solar power, according to CEO Sundar Pichai.
In a statement, Pichai explained 720MW of the worldwide 1.6GW will be secured from US solar projects, split between Texas (490MW), North Carolina (155MW) and South Carolina (75MW).
Where Google's US clean energy buys to date were "wind-driven", solar cost declines of 80% in the past decade have made "harnessing the sun increasingly cost-effective", Pichai said.
Lower costs whet PV appetite for cloudy Denmark
Google's solar appetites will also take the corporate to Chile, where a 125MW new venture will pair solar with wind in a bid to maximise clean energy power coverage.
The project – the firm's first such hybrid buy – will allow Google to match its Chilean data centre with carbon-free electricity for a "larger portion of each day", CEO Pichai pointed out.
The executive noted that 793MW of the 1.6GW will be supplied by European projects, planned in Finland (255 MW), Sweden (286 MW), Belgium (92 MW), and Denmark (160 MW).
Contacted by PV Tech today, a person with knowledge of the clean energy push said Denmark's 160MW – a five-project pipeline – is Google's only new PV deal in Europe, the rest being wind.
Google, this publication understands, has not historically seen cloudier Denmark as a prime solar location but technology cost drops have prompted a rethink.
In Denmark, where regulators foresee a multi-gigawatt solar boom within decades, the 160MW of PV will power Google's first data centre in the country, already being built.
All new plants, all set to go live in 2022
The 1.6GW move brings Google's cumulative clean energy portfolio up to 5.4GW, a marked jump from the procured volumes in 2016 (2.3GW), 2017 (2.9GW) and 2018 (3.8GW).
As noted by CEO Pichai, the corporate's long-running "additionality" principles mean the fresh 1.6GW in contracted supply will come exclusively from new plants.
Once all 1.6GW are live – all plants should be ready by late 2022, PV Tech understands – the resulting 5.4GW portfolio could power entire countries such as Lithuania or Uruguay, Pichai added.
Even before this week's major procurement effort, Google was with Amazon and Facebook one of top three clean energy offtakers in the US, where corporate PV appetite is on a sharp rise.
In Europe, all three technology a-listers added their names to a letter in June urging the bloc to enact PPA-friendly legislation, bringing down regulatory obstacles at national level.
SOLAR DIRECTORY
Solar Installers, Manufacturers