Goal Zero Yeti 1400 Lithium Portable Power Station Review
Aug 19, 2022 01:36 PM ET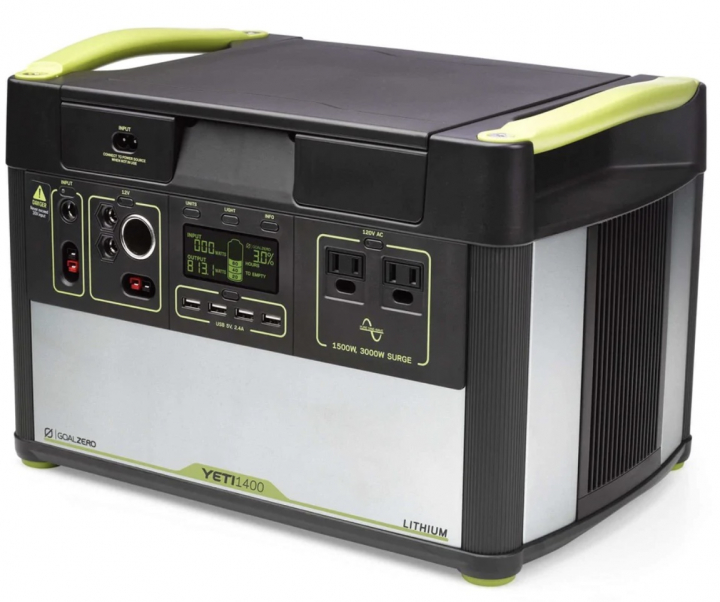 Overview
This Goal Zero Yeti 1400 Lithium is the champion in clean energy. This portable power station is a simple plug-and-play with no fumes or noise. Moreover, Goal Zero Yeti 1400 Lithium can be stored safely in your home with no fire hazards. It is specified for all off-grid power needs.
Goal Zero Yeti 1400 Lithium Portable Power Station Specification Review
| | |
| --- | --- |
| SKU | 38002 |
| Battery type | Li-ion NMC |
| Battery capacity | 1428Wh (10.8V, 132Ah) |
| Battery shelf-life | charge every 3-6 months |
| Dimensions | 10.1*15.3*10.4 in (25.7*38.6*26.4 cm) |
| Chainable | No. |
| Weight | 45.6 lbs (20.7kg) |
| Operating Usage Temp | 32-104 F(0-40 C) |
| Warranty | 12 months |
Zero Yeti can be recharged by plugging it into the wall. Here you get a full battery in roughly 25 hours. You can add an extra wall charger if you want a shorter re-charging time. Alternatively, you can use a separate solar panel. This model of Goal Zero Yeti power station has a strong power storage capacity.
Solar power station uses a Li-ion NMC battery with a peak capacity of 1428 Wh (10.8V, 132Ah). It stands 500 cycles to 80% capacity and a 3 to 6 months shelf life. Goal Zero Yeti 1400 Lithium is light at just 45.6 pounds (20.7kgs). Apart from portability, it is compatible with multiple devices.
Goal Zero Yeti Pros & Cons
Yeti is useful with devices like phones, fridges, bulbs, or even power tools. It makes it a must-have portable power generator when working on projects off-grid. With zero noise, zero emission, you can even take your office work or studies off the power grid!
To get an unbiased opinion, check the advantages and disadvantages below. The views are based on customer opinions.
| | |
| --- | --- |
| Advantages | Disadvantages |
| Comes in an easily portable design | Not easy to find replacement parts |
| Built for durability and longevity | May not power some heavy power tools |
| Safe to keep in the house | |
| Can be recharged with solar power | |
| Compatible with multiple devices | |
| Rechargeable with solar energy | |
| Clean energy free from pollutants and noise | |
Goal Zero Yeti 1400 Lithium comes with an output USB port of up to 2.4V. It also features a 6mm output port and a 12V car port. You can use the 12V power port with up to 10A (120W max) if you need a higher power output. The heavy-duty and light-duty power output will always take care of the power level you require.
Compatible Devices to Charge
Goal Zero Yeti 1400 Lithium is perfect in powering everyday appliances. It can power a smartphone more than 70 times, POV Camera more than 230 times, and a laptop more than 23 times. More importantly, the 1400 Lithium portable power station has multiple input and output ports.
Summary
What stands out in Goal Zero Yeti 1400 Lithium Portable Power Station is its versatility. It is light and the most convenient addition for off-grid work and entertainment. The power generator is the best in energy storage and efficiency.
What is more? Goal Zero Yeti 1400 Lithium Portable Power Station powers almost all devices you need outdoors. It is durable and has efficient power storage. So, if you need to beat power blackouts and extend life off-grid, Goal Zero Yeti 1400 Lithium Power Station got you covered.
See also: Best Portable Power Station | Best Portable Solar Power Generators | Portable Power Station Reviews
SOLAR DIRECTORY
Solar Installers, Manufacturers