First Solar completes manufacturing expansion in Ohio, now with total solar panel production capacity at 1.9 GW
Oct 26, 2019 07:25 PM ET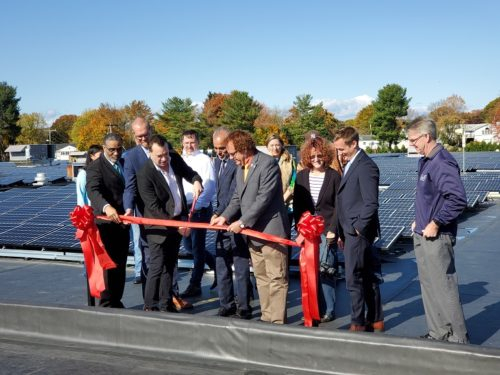 Thin-film solar panel manufacturer First Solar today announced the start of production at its new PV module manufacturing facility in Lake Township, Ohio — a few miles from its flagship 600-MW factory in Perrysburg, Ohio. With the completed addition, First Solar has a total annualized production capacity of 1.9 GW in the United States. The company also manufactures panels in Malaysia and Vietnam.
First Solar's new 1.3-GW manufacturing plant in Lake Township, Ohio.
First Solar's expanded manufacturing footprint in the United States, which represents over $1 billion in cumulative investment and directly created approximately 500 new jobs, makes it the largest solar manufacturer in America and the Western Hemisphere. Hanwha Q CELLS, which opened a 1.7-GW crystalline silicon solar panel production facility in Dalton, Georgia, earlier this year, is now the second-largest U.S. solar panel manufacturer.
First Solar's investment includes a new $265 million TCO (transparent conductive oxide) coated glass factory being built by the NSG Group in Troy Township, Ohio, its first new float glass line in the country since 1980.
"Eighteen months ago, we announced that we would expand our manufacturing footprint in the United States in response to demand. We have delivered," said Mark Widmar, Chief Executive Officer, First Solar. "The fact that we were able to transform a greenfield site into a high tech manufacturing facility in that time, and on time, speaks volumes about not just the scalability of our technology, and our ability to deliver on our commitments, but also the relentless energy of our people, our towering strength."
First Solar's new Lake Township, Ohio, facility produces First Solar's Series 6 module technology.
Both Ohio facilities produce First Solar's Series 6 module, which is a larger CdTe thin-film module comparable in size to traditional 72-cell crystalline silicon modules. Designed and developed at the company's research and development centers in California and Ohio, the module is produced in just 3.5 hours using sophisticated, fully-integrated manufacturing processes. With a carbon footprint that is up to six-times lower than crystalline silicon PV panels that are manufactured using conventional, energy-intensive production methods, Series 6 delivers a superior environmental profile and cleaner solar electricity, says the company.
"Our Lake Township facility is a marvel of modern manufacturing, a factory of the future, operational today. Its levels of automation, digitalization, machine learning, and artificial intelligence demonstrate that the ambitions of Industry 4.0 are not out of reach for the PV manufacturing industry," said Tymen de Jong, Chief Operating Officer, First Solar. "We're incredibly proud of what we have achieved, and we are proud to have achieved it in Northwestern Ohio, the technological home of American solar."
First Solar is also celebrating two decades since its founding in 1999, and 25 GW of PV modules shipped, making it the only American solar module manufacturing company to achieve this milestone. First Solar's global annual manufacturing capacity now stands at 6.7 GW.
SOLAR DIRECTORY
Solar Installers, Manufacturers