Enel Powers BXP with 202-MW Solar, Battery Deal
Sep 20, 2023 03:03 PM ET
Enel North America signs PPA to purchase 202MW solar energy from Texas solar park, generating 499 GWh of power for over 46,000 homes. Enel and BXP have existing partnership in utility bill management and 3.3GW of operational solar parks in Texas.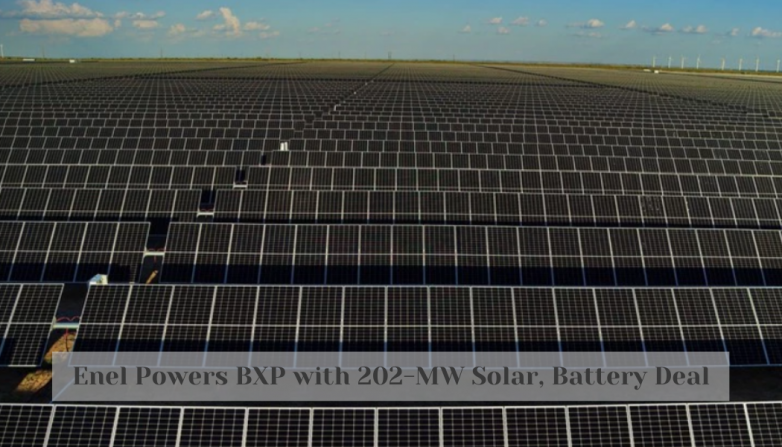 Enel North America has signed a power purchase agreement (PPA) with BXP (NYSE:BXP) to purchase electricity from a 202-MW solar park in Texas. The unit of Italian utility Enel (BIT:ENEL) will also cover its commitment under the deal from its Estonian solar project in Delta County, which will be coupled with a 104-MW battery system. When completed in 2024, the solar farm is estimated to generate 499 GWh of electricity annually, enough to power over 46,000 homes. The PPA is an addition to an existing partnership between BXP and Enel under which the latter provides utility bill management solutions. Enel currently has 3.3 GW of operational wind and solar parks and 607 MW/911 MWh of batteries in Texas and is constructing 1.8 GW of solar and 736 MW/1,103 MWh of energy storage systems.
What Benefits Does Enel's PPA Provide to BXP?
Enel's PPA provides BXP with a consistent supply of clean energy, reducing their carbon footprint.

The PPA will help BXP meet their sustainability goals, as they move towards net zero emissions.

The PPA will allow BXP to lock in energy prices for the next 20 years, creating cost savings and financial predictability.

With Enel's expertise in energy storage systems, BXP will benefit from reliable and efficient power delivery even during peak times.

Enel's existing partnership with BXP provides utility bill management solutions, making it easier to manage energy costs and optimize energy usage.
SOLAR DIRECTORY
Solar Installers, Manufacturers