Enel hits 1.3GW of Mexican solar with launch of first bifacial-only plant
Nov 29, 2019 02:16 PM ET
Enel Green Power hit a number of milestones as it switched on a large-scale solar plant in Mexico, taking its solar portfolio in the country past the 1.3GW mark.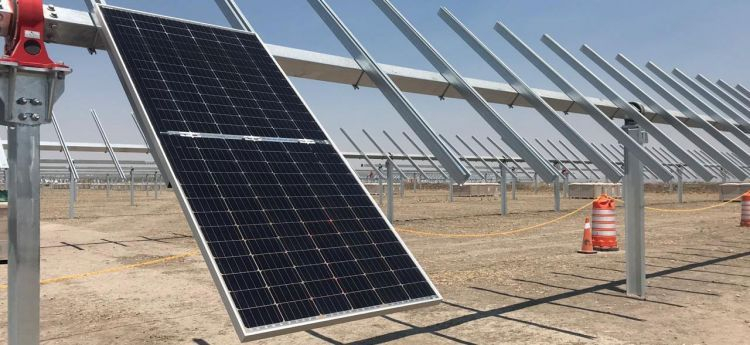 On Thursday, the renewable giant announced the operational launch of 220MW Magdalena II solar, a plant in the Tlaxco and Hueyotlipa municipalities – a two-hour drive east of Mexico City – that is the first renewable project to go live in the Tlaxcala State.
The solar venture is the firm's first to be fully powered by bifacial modules, said Enel Green Power CEO Antonio Cammisecra. As PV Tech observed in April, the 550,000-module installation also features advanced single-axis trackers – designed for bifacial – arranged in a 2x42 configuration.
The US$165 million project marks another debut for Enel as it will be the firm's first in Mexico to earmark its entire output for sales to the wholesale electricity market. The 640GWh-a-year plant will bring an annual 350,000 tonnes in CO2 savings, according to Enel.
The launch of Magdalena II, attended by Tlaxcala Governor Marco Antonio Mena Rodríguez, sees Enel's renewable portfolio pass the 2.3GW threshold in Mexico. The current up-and-running total is split between PV (1.3GW), wind (977MW) and hydro power (53MW).
Solar victories and trials in the AMLO era
In Mexico, the completion of a solar project targeting wholesale electricity sales comes as industry players increasingly eye the free-market approach, in response to policy uncertainty under president Andrés Manuel López Obrador (commonly known as 'AMLO').
AMLO's rise to power was followed by the freezing of renewable auctions – a core pillar of his predecessor Enrique Peña Nieto's energy reform – and the shelving of major transmission projects. The government's refocusing on fossil fuels earned it a rebuke from the UN just this week.
Policy u-turns have not majorly dented the utility-scale solar pipeline in the country, however. Projects making strides this year include Cubico's (350MWp), IEnova's (376MW), X-ELIO's (375MW-plus), EDF (119.6MW) and a 296MWdc bifacial venture FRV wants to operate on a merchant basis.
A recent PV Tech Power feature explored how solar players are navigating political headwinds in Mexico. Some, like Baker McKenzie partner Marco Nieto-Vázquez, urged to look beyond negative media headlines about AMLO. "Change does not mean opportunities are gone," he said.
As for Enel, the operational launch of the firm's first bifacial-only plant comes as the firm works to deploy the same technology in Chile. Construction of 382MW Campos del Sol in Atacama, underway since August, will incorporate autonomous drones to ensure the process runs smoothly.
SOLAR DIRECTORY
Solar Installers, Manufacturers