EDF Renewables Lights Up Nevada Solar-Storage Complex
Nov 10, 2023 02:00 PM ET
EDF Renewables North America unveils groundbreaking Arrow Canyon solar-plus-storage complex in Nevada with 275MW photovoltaic park and 75MW energy storage facility, providing clean energy for 57,600 homes. Construction complete in 2022.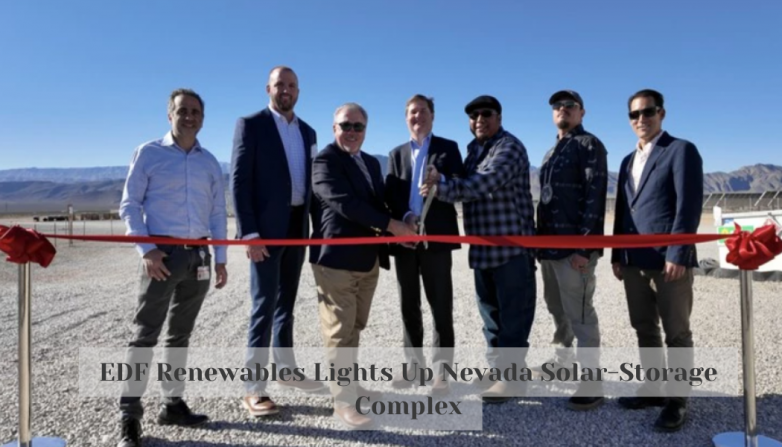 EDF Renewables North America has inaugurated the Arrow Canyon solar-plus-storage complex in Nevada. The project consists of a 275-MW DC photovoltaic park with 621,000 bifacial modules and a 75-MW energy storage facility with 564 battery units and a five-hour discharge duration. The solar farm will supply electricity to NV Energy under a 20-year power off-take deal and is expected to be enough to cover the consumption of 57,600 average homes in Nevada annually. Construction on the project began in September 2021 and was completed by the end of 2022. The company's asset optimisation unit will be responsible for the complex's operations and maintenance.
What Benefits Does EDF Renewables' Arrow Canyon Solar-Plus-Storage Complex Bring?
The Arrow Canyon solar-plus-storage complex is expected to reduce greenhouse gas emissions by 403,000 tons per year, which is the equivalent of taking 87,000 cars off the roads.

The solar-plus-storage project provides ancillary services such as ramping and frequency regulation services to NV Energy, providing more reliable grid operations.

By combining the solar farm and battery storage, EDF Renewables North America is also able to achieve greater capacity factor, reducing the overall cost of energy for consumers.

By utilizing bifacial modules, the solar farm is able to capture sunlight from both sides of the module, increasing efficiency and decreasing costs.

The battery storage system allows the solar farm to provide energy during peak hours, when electricity is more expensive, helping NV Energy to reduce its overall costs.

By utilizing solar-plus-storage, the Arrow Canyon complex is able to provide more reliable and efficient energy production, reducing the need for traditional fossil fuel power generation.
SOLAR DIRECTORY
Solar Installers, Manufacturers