Developers turn on Facebook's 102.5-MWac Georgia solar park
Dec 13, 2019 04:49 PM ET
Facebook's first solar project in the state of Georgia is currently functional in Early County. Facebook representatives joined Walton Electric Membership Corporation (EMC) and Silicon Ranch to "flip the switch" on the 102.5 MWac solar facility.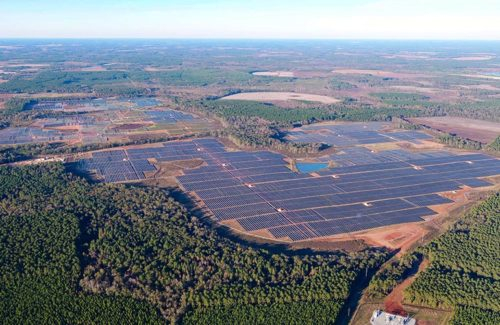 State and local officials joined over 100 guests to assist celebration of the landmark achievement.
Facebook picked Walton EMC as the power supplier for its data centre In Newton County as it announced the facility in March 2018. As a part of its agreement to provide 100% renewable energy to the Newton Data Center, Walton EMC announced a contract in December 2018 with Silicon Ranch, the United States solar platform for Shell and one of the country's largest independent solar energy producers.
The solar project has yielded concrete economic advantages across the state. To support Facebook's data centre and corresponding investments in Newton County, Silicon Ranch employed over 675 individuals in Early County within the past ten months to build and install single-axis trackers which use NEXTracker's TrueCapture intelligent control system, allowing over 350,000 solar modules to monitor the sun from east to west over more than 1,200 acres.
The locally-sourced modules were among the earliest produced by Hanwha Q CELLS at its new production facility in Whitfield County, that's the biggest of its type in the Western Hemisphere.
Besides sourcing locally-made solar modules, Silicon Ranch has introduced another special attribute for the project in Early County. The solar farm is Silicon Ranch's initial new-build site to integrate its holistic approach to land management, which it has trademarked as Regenerative Energy.
SOLAR DIRECTORY
Solar Installers, Manufacturers