Cero, Enso energise 50MW Larks Green
May 4, 2023 01:10 PM ET
PV site near Bristol will certainly feed power to National Grid via HV cable to a nearby substation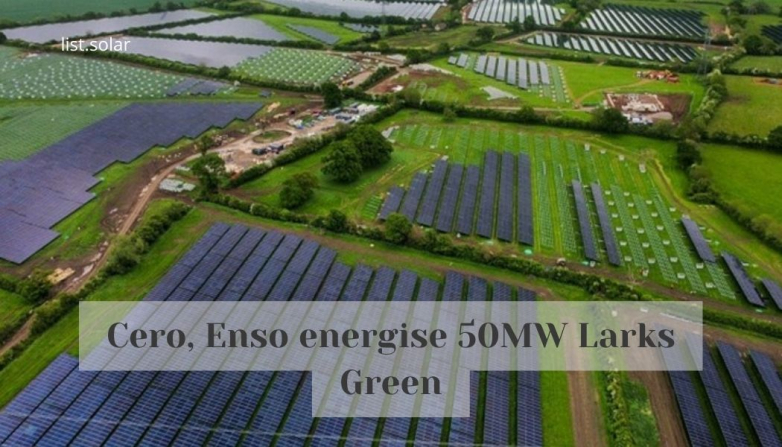 Cero Generation with UK advancement partner Enso Energy has completed the energisation of the very first solar farm to connect directly to the UK transmission network.
This complies with installment of new switchgear at the 50MW Larks Green solar farm site by Cero as well as Enso in collaboration with National Grid, and the running of a high voltage cable between the substation as well as solar farm, which has enabled connection to National Grid's Iron Acton substation near Bristol.
The solar plant makes up 152,400 solar modules mounted in a 200-acre plot.
The project will certainly be co-located with a 49.5 MW/ 99MWh battery energy storage system (BESS), which is expected to reach monetary close shortly.
By saving energy during peak power generation and exporting it back onto the grid when need is high, the BESS will certainly balance the intermittent energy production, maximise the site's effectiveness and permit a greater output of clean energy.
Previously, all of the UK's solar farms have connected to the country's distribution networks-- the lower voltage regional grids that bring power from the high voltage transmission network to houses as well as services.
Connecting solar energy straight to National Grid's transmission network allows clean energy to be moved over greater distances as well as opening a portal for larger projects to connect to the grid.
The statement marks development towards conference Britain's commitment to a totally decarbonised power system by 2035.
The government's recent Powering up Britain report reaffirmed its ambition for a five-fold rise in release of solar generation by 2035, with up to 70GW mounted.
The layout and layout for the co-located solar farm and also BESS will generate a net biodiversity gain.
This will be accomplished through the arrangement of a variety of resources for regional wildlife, including added timberland planting, that will supply sanctuary and food for a variety of secured species.
President of Cero Generation Marta Martinez Queimadelos: "The Larks Green project is not just a considerable milestone for Cero as well as a possibility to start our BESS pipeline, yet it represents a significant contribution to the UK's goals to get to net-zero."
Co-founder and director of Enso Energy Ian Harding added: "The connection of this solar farm at Larks Green is the culmination of a lot of effort by all the Enso, Cero as well as National Grid teams involved.
" Completion of this project is a major turning point for renewable resource in the UK and offers further proof that co-located solar and battery storage projects connecting straight to the transmission network will play an important role in the distribution of the UK's net zero plans."
Cero has 38 various other standalone or co-located BESS projects in its UK pipe within its collaboration with Enso.
The joint venture's existing pipe extends to 5GW, as well as an additional 5GW of early-stage opportunities.
SOLAR DIRECTORY
Solar Installers, Manufacturers