Bird-inspired plant becomes Taiwan's largest ground-mounted PV launch
Sep 18, 2019 05:34 PM ET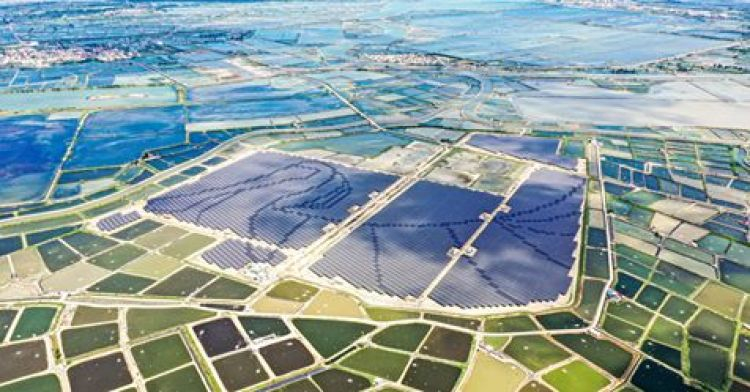 Taiwan is now home to what is being billed as the territory's largest ground-mounted solar plant, an installation modelled after an at-risk bird that migrates nearby every year.
Developer Vena Energy announced this week the operational launch of its 70MW Mingus solar plant in Chiayi County, a three-hour drive south from Taiwan's capital Taipei.
The 100GWh-a-year plant will, the firm said in a statement, bring enough power to sustain 28,000 homes and help slash greenhouse gas emissions by 60,000 tonnes per year.
"We are excited to continue supporting Taiwan's goals for reaching 20GW of renewable power generation by 2025" Nitin Apte, CEO of Vena Energy, remarked in a statement.
The project, meant to bring Taiwan an annual 380,000 litres in water savings, is not the first to lay claim to the top ground-mounted PV spot in the island territory.
Earlier this year, state-run utility Taipower broke ground on a 100MW plant by an industrial park near Taichung city. A separate 100MW pipeline by Sunseap and Pacific Green is in the works.
The downstream milestones come after upstream fortunes took a turn for the worse, with new government policies meant to help manufacturers catch up with rivals in mainland China.
Bird's-eye view on conservation challenges
The 195,000-module installation, covering nearly 80 hectares, was designed so that the silhouette of the black-faced spoonbill would be visible when observed from high above.
Construction of Mingus – requiring 600 local workers – was shortened to minimise the impacts over the spoonbill, classified as endangered by global conservation body IUCN.
The species, the IUCN fears, risks facing "very rapid" population decline over the next three generations as habitats are lost to industrial development, land reclamation and pollution.
Speaking after Mingus was powered up, Vena Energy Taiwan head Sam Ong – who is also group-wide CFO – said natural preservation had been an "utmost priority" with the 70MW project.
Vena, Ong claimed, had committed "significant resources" to speed up deployment and limit disturbances to the spoonbill's migration, which sees it reach the Chiayi salt plains every winter.
The firm explained it had cooperated with green groups to monitor resident and migratory bird species in the project's vicinity, to better map out migratory routes of the spoonbill.
"[We] reserved an area of approximately 24.1-hectares for the Ecological Conservation Area, so that local wildlife including waterfowls can flourish," Ong commented.
SOLAR DIRECTORY
Solar Installers, Manufacturers