Best Solar Powered Security Cameras
Sep 20, 2022 03:40 PM ET
Home security cameras are great for keeping watch over your indoors and outdoors. The peace of mind that comes with having a security camera cannot be overemphasized. Combined with solar powering, the cameras are great devices to enhance security off-the-grid.
Solar security camera: why is it so important?
Solar powered outdoor security camera can detect intrusion in your backyard The surveillance cameras deter wrongdoing before it happens by sending alerts to your smartphone. The solar cameras have been set to allow for surveillance of the most remote areas. Their motion control ability easily detects suspicious movements in your outdoor space. It is important to check out for this feature before settling for any security camera.
How long do solar-powered security cameras last?
Solar powered security cameras have a long life expectancy. Most vendors guarantee a lifespan of up to 25 years. The best outdoor wireless security camera system solar powered is fitted with batteries that can run for not less than 12 hours.
When fully charged, security cameras use battery power for up to 3 days without the need to recharge. For areas with less sunlight, choosing a camera with a long-lasting battery is crucial. In that case, longevity depends on the brand that you have selected.
Do solar cameras need direct sunlight?
Yes. Solar security camera system need sunlight to operate. They are fitted with solar panels that convert sunlight into direct current. The energy then charges an in-built battery that stores energy for powering the security cameras. For better performance, the solar must be charged for more than 6 hours.
Do solar-powered cameras need Wi-Fi?
Not all security cameras require a Wi-Fi connection to capture images or videos. However, internet connectivity is helpful for live feeds and instant alerts for a WiFi solar security camera. Nonetheless, regular solar cameras have an SD slot that records motion events.
Solar-powered outdoor security camera: what to consider
Budget
When purchasing a solar-powered outdoor solar security camera, you must consider how much you want to spend on the cameras. Different cameras have different costs, depending on the features and the brand you buy.
Placement
When placing solar powered wireless security camera, two things must be taken into consideration. First is whether the place you are placing them has sufficient sunlight and whether it is giving you the best coverage.
For places with inadequate sunlight, we recommend that you set the cameras on a wall facing southwards. The best solar security camera requires at least six hours of daylight to perform optimally.
Solar panel capacity
The best solar powered security camera requires one solar panel per security camera. The panels have photovoltaic solar panels designed to use the energy from the sun for powering an in-built battery. The energy conversion rate depends on the brand that you have selected.
As the innovation technology in solar energy continues to improve, the conversion rate is equally expanding. Solar cameras' capacity means you get a perfect field of view that covers the whole backyard or a section that you require surveillance.
Image resolution
The quality of the images you get from a solar powered security camera system is an important consideration. By definition, a security camera resolution is a metric related to the size of the image or video and the number of pixels. The best images should be consistent as you zoom in or out. The selected band plays a significant role in getting the best results and sharp images. A top camera will give you a high-definition image and clear videos, which is a critical aspect of security inspection.
Motion control
Solar powered security camera systems are integrated with motion detection. The technology can distinguish the motions of birds from that of intruders. The artificial intelligence in most security cameras prevents any activation of dummy alarms.
Weather protection
The best solar outdoor security cameras are made from weatherproof materials for the apparent reason they remain outdoors. The units work well under extreme temperatures, including heavy rains. For the best choices, it is important to note how well they can perform under different weather conditions. Their watertight nature of most security cameras ascertains that the water cannot leak into the fragile parts of the solar system.
Dust standards
Since the solar powered security cameras are designed to operate in remote areas, they must be dust resistant. The systems that cannot accumulate dust have a longer lifespan and remain perfect for off-grid security systems. Dustproof solar cameras also protect the unit from accumulating dust and subsequently rusting. As you add monitoring software to work and life, especially in rural areas, the hardware is equally important to enhance performance.
Smart features
The best solar security cameras have integrated multiple smart features to enhance their functionality. Such an important feature includes a real color and night vision capability powered by an in-built battery. The feature keeps a record of what is happening in your space.
The cameras can also be integrated into the doorbells and come with motion sensing and real-time viewing technology. Their smartphone alert feature instantly sends alerts of suspicious motions to your phone or that of a security firm.
Installation
Solar home security cameras are easy to install through simple DIY procedures. They do not require any cables or drilling of the wall during installation. The simplicity makes it easy when moving the unit from one place to another. The cameras also include a simple fixture guide.
Price
Solar power security cameras are relatively affordable compared to electrical ones. They have minimal installation costs that need no contractor to install. For as low as 100 USD, you can find a perfect unit for yourself. In the long-term, its affordability saves you more money since the cameras use free energy from the sun.
Warranty
When buying a solar-security camera, a warranty is important in case of malfunctions. The best outdoor solar security cameras have a performance warranty. Some brands give a 90% output warranty of more than 12 years and an 80% output of more than 25 years.
Reasons to install a solar security camera
Save money on electric bills
Solar security cameras are very affordable. They have no maintenance cost and use the freely available energy from the sun. Over time, the units will save you a considerable amount of money. The cameras are made from durable parts that do not require regular replacement.
No need to replace batteries
Solar-powered security cameras have batteries with a longer lifespan. The energy storage capacity lasts even longer since the amount of energy required for the security camera is minimal.
Safety and security
Security cameras play a key role in your homes and neighborhood's public safety and security. The best solar security cameras are equally paramount for personal safety, your property or even an ongoing construction project.
While the importance of solar-security cameras cannot be overlooked, getting a great brand is equally beneficial. Below are our top picks for security cameras.
Stress-free maintenance
Solar-powered security cameras are made of components that require almost no maintenance. Moreover, the cameras are durable and can work for longer.
Best Solar Powered Security Cameras
Reolink 2K Wireless Solar Security Camera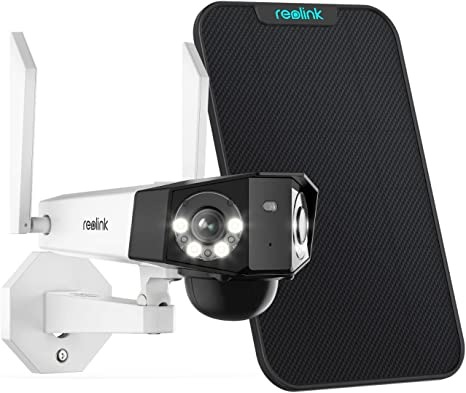 Specifications:
Connectivity protocol: Wi-Fi
4MP HD images
Field of view: 150°
8 pieces night vision spotlights
5V USB power adapter
Reasons to buy:
The system reduces instances of false alarms through a dual PIR detection system
The camera has versatile storage methods through an integrated micro SD card storage system
The camera is easy to install and requires no wires or cabling
It charges using energy from the sun and never pollutes the environment
The camera is light and cannot detach from the wall once installed
Reasons to avoid:
Some of its components made from plastic material are fragile and less durable
The amount of electric power is dependent on weather, with high performance possible during sunny days
Features
The solar powered security camera is fitted with a solar panel that powers an internal battery.
It comes with a battery for enhanced power storage.
It has a night vision capability for round-the-clock surveillance.
Reolink 2K Wireless features a motion sensor that detects human movements and forward alerts.
The camera system is integrated with an App for live images or camera feeds.
Ring Stick Up Cam Solar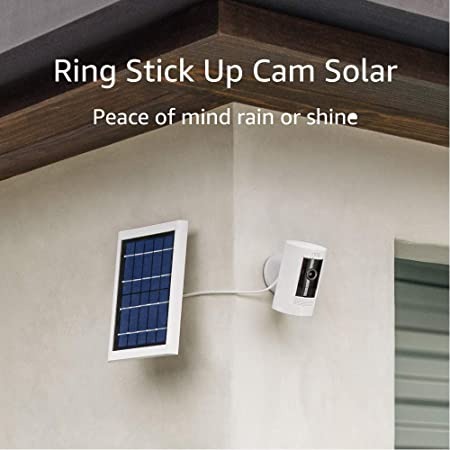 Specifications:
Field of view: 130° diagonal, 110° horizontal, 57° vertical
Video: 1080p HD
2-way talk, noise cancellation
Available colors: black, white
Reasons to buy:
Ring Stick Up Cam Solar is a perfect weather-resistant security camera that works well in temperatures between -20°C to 50°C
The camera is easy to install through a simple DIY process. They come with a mounting base and adjustable angle
Ring Stick Up Cam Solar works simply by plugging into a solar panel and connected to Wi-Fi
The camera uses solar energy, making them perfect for off-grid use
They have perfect energy conservation and efficiency capability with a longer battery lifespan
Reasons to avoid:
In the backcountry, the camera system can accumulate dirt which can hamper its functionality
Needs regular cleaning to maintain performance and increase the conversion rate
The product warranty time is short
Features
The unit features antennas used for a wi-fi connection of up to 2.4 GHz, with enhanced functionality possible at high-speed internet.
They come with a durable fast-release battery pack that can retain power longer.
Ring Stick Up Cam Solar is fitted with a solar panel.
The camera has a high conversion rate.
It is enhanced with a night vision capability for round-the-clock surveillance.
Ring Stick Up Cam Solar is incorporated with the Ring app that transmits real-time images and videos.
The camera includes privacy features like customizable privacy zones and an audio privacy mode that focuses only on what is important.
Dzees Solar Powered Security Camera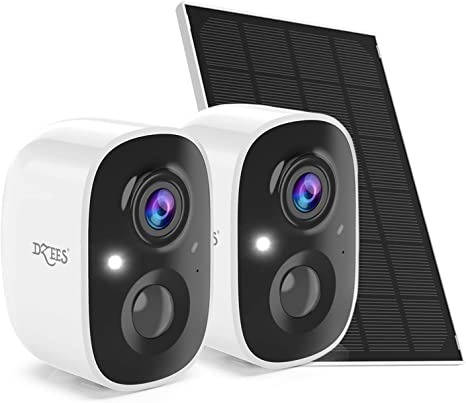 Specifications:
Wireless connectivity
1080p HD live video
Color night vision: up to 33 ft away
Multichannel software supporting 6 security cameras at once
Reasons to buy:
The camera uses the energy from the sun, making it a perfect saving for your electricity
The camera is easy to install and does not require any cabling or drilling during installation
The unit provides real-time alerts notification to your smartphones phones
The solar-powered camera is light and cannot fall off when fitted to the wall
Reasons to avoid:
Like any other security camera, you can run into privacy issues with the camera
The charge and performance are dependent on weather patterns and the amount of sun exposure
It can be hard to find replacement parts in the market
Parts of the camera system, like the antennas, are fragile and can easily break
The product has a shorter warranty time
Features
It is fitted with a photovoltaic solar panel for maximum solar energy absorption.
It has an in-built rechargeable battery that has a longer lifespan.
Dzees Solar Powered Security Camera is fitted with an antenna for the internet for Enhanced Wi-Fi connectivity.
It uses AI motion detection technology to prevent false alerts.
The unit supports iOS and Android mobile devices.
It is integrated with a Dzees Home app that sends a notification directly to a smartphone.
Xega Solar Security Camera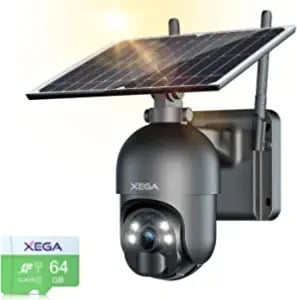 Specifications:
Wireless connectivity
4 times digital zoom
Field of view: 355 °, 100° vertical tilt
64GB SD card is included
Reasons to buy:
Xega solar security camera does not require Wi-Fi to operate. It has a multi-storage capability
The camera can instantly detect suspicious movements in your outdoor spaces and send alerts to your phones
The camera is versatile and can work perfectly with an app
It integrates a PIR motion sensor to prevent any form of false alarms
It is an economical unit that uses the free energy from the sun. The unit can still operate even during winter or when there is a minimal amount of solar energy
Reasons to avoid:
Xega solar security camera cannot work as an autonomous security feature and must be integrated with other units like a security firm
It is not easy to find replacement parts
The camera is largely dependent on weather patterns, and performance is affected by gray weather
The camera is made of fragile parts that can break under pressure
Features
Xega solar security camera is night vision-enabled
It is fitted with a motion sensor that uses AI technology to detect human movements.
It has a detachable solar panel of up to 5 wattage.
Xega solar security camera has a 14400mAh rechargeable battery.
It is an IP66 waterproof rating for water and weather element resistance.
Elemage Solar Security Camera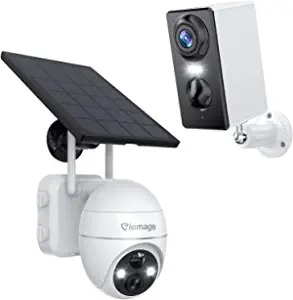 Specifications:
Elemage Cam app
2.4 GHz Wi-Fi camera
Camera siren
2-way audio system
4dBi dual antennas. wi-fi suitable.
Reasons to buy:
Elemage solar security camera produces quality images and videos that retain clarity when zoomed out
The camera is easy to install and requires no cabling
It uses free solar energy, making it an economical security surveillance system to have
It is super-efficient in converting the sun's energy into electricity and conserving the energy for longer
It has smart security features and real-time communication ability
The camera works Temperature range of -10°C to 45°C, making it ideal for use in areas with extreme weather
Reasons to avoid:
The performance of the solar-powered security unit is dependent on weather, with lower output during winter
Some of its components are hard to replace
They require regular cleaning to maximize output, especially in remote places
The camera has a shorter product warranty period
Elemage Solar Security Camera can't prevent theft and still requires other security systems to enhance its functionality
Features
Xega solar security camera has an IP65 waterproof rating that protects the unit against water leakages to the internal parts.
It comes with a detachable solar panel that powers an internal battery system.
It has an integrated AI human intelligence detection technology that prevents false security alarms.
The camera has a multi-storage capability, including a MicroSD card and cloud computing capability.
Summary
No doubt, security cameras are the best innovation that beef up security. Solar-powered security cameras have taken the innovation a notch higher. They are ideal for use in remote areas and when managing off-grid projects like construction work. For this reason, they have been built perfectly well to resist weather elements, dust, and rainy weather.
As a solar-powered device, solar-powered security cameras save money on electric bills. The cameras reduce the use of traditional grid power supply that can inflate your power bills. They are set-and-forget systems with no need for regular swapping of batteries as with an electricity-powered security light. When buying a solar unit, check its battery capacity, field of view, warranty, and the added smart features.
SOLAR DIRECTORY
Solar Installers, Manufacturers