Best Solar Powered Doorbells
Sep 6, 2022 09:59 AM ET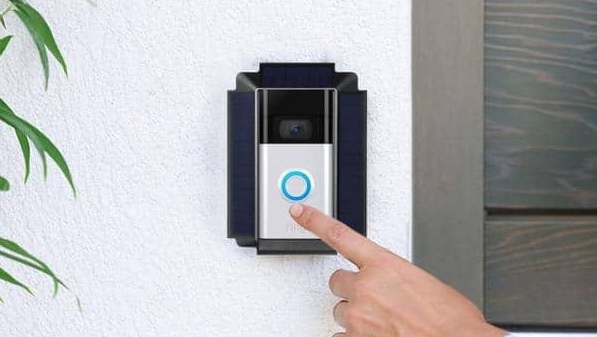 Doorbells are the norm for most homes nowadays. It is the medium that notifies us when a visitor wants to enter. Common tool, right? But what if you could charge it from solar power? Technologies overran our life intensely, so why not consider solar powered doorbells as good security companions? For whatever reason you are installing door bells, it is important to select the most efficient gadget with a climate-change adaptation perspective.
Solar powered doorbells are taking over in terms of technological innovation and the need for a green and clean lifestyle. They save the cost of having to rely on electricity, making them popular in the class. With growing technology, the doorbells are coming with sleek designs and remote control increasing their functionalities for the user. We dig deeper and bring you some of the ring doorbell solar charger reviews.
What is a solar powered doorbell ring?
A solar powered ring doorbell is a small and compact signaling device placed on an entrance to a building or a door. It alerts the occupations of a house or building of a visitor. It can also be a tool for communication or keeping logs of each person that enters the monitored space. With growing advancements, ring doorbell solar has made entry into the markets. The devices run on solar energy, eradicating the need for batteries.
How is the doorbell ring solar powered?
The solar charger is a mounting bracket that consists of solar panels inbuilt into the doorbell. The solar charger taps power directly from the sun. To ensure maximum power, the solar panels can be adjusted at a 360-degree mount angle. The solar panels consist of photovoltaic cells, which are highly efficient in taping solar energy. The solar energy keeps the doorbell charged and allows it to work around the clock.
Does a solar powered doorbell ring need direct sunlight?
Yes. Solar powered doorbells needs up to 4 hours each day of direct sunlight. Both the solar panel and solar charger need exposure to direct sunlight. If the devices are situated in a cloudy, wet, or rainy area, they may not receive sufficient sunlight to power the doorbell.
Does solar doorbell work in the shade?
Solar doorbells can work in a shade since they can tap the slightest of solar energy. However, direct sunshine is required for the optimal performance of the device. Normally, solar cells will need around 1000 W/m2 of solar energy for maximum output. In the shade, the device may experience a downgrade in performance or failure to work.
How does a solar powered doorbell work?
A solar powered doorbell works by drawing power from solar energy. The power is converted into electric energy and then stored in a battery. A micro connecting USB charging cable facilitates the transfer of power from the solar panel to the doorbell. The doorbells can function even when under little sunlight since they are designed to work in low-light environments.
Best solar powered doorbells
There are numerous options when selecting solar powered doorbells. Most will get the job done, but it is good to go for the options that bring the most convenience. Factors such as ease of installation, weatherproof features, battery type and capacity, range, and Google integration go a long way in helping to choose the right solar powered wireless doorbell. Other functionalities, including motion detection, charging time, and security system, should also be taken into consideration.
If you are stuck on which solar powered doorbell you should go for, the following list may help you get started.
Solar Powered Ring Video Doorbell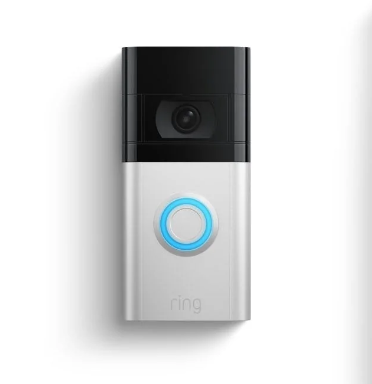 Specifications:
Dimensions: 126.5mm*62mm*28mm
Colors: Venetian Bronze, Satin Nickel
Works best: -20°C - 48°C, waterproof
Internet: High-speed connection
Motion detection: Advanced, with adjustable motion zones
Field of view: 90 degrees vertical and 155 degrees horizontal
Audio: Two-way, Noise cancellation
Video: 1080p HD, night vision, live view
Power support: The device runs on a rechargeable battery (built-in)
Reasons to buy:
Solar powered makes the doorbell eco-friendly
Highly convenient due to app control and real-time monitoring features
Flexibility in determining the areas of focus through motion control
A wide field of view allows complete home monitoring
Rechargeable batteries ensure an uninterrupted and low-cost power source
Reasons to avoid:
You need fast internet to be connected
It may require some technical knowledge to operate and benefit from it fully.
Features
Installation is under 5 minutes. Set up by connecting the Ring Video Doorbell to WiFi via a Ring app. Then mount.
The device has a Control Center for an added layer of privacy and security. One can add or remove authorized devices and shared users. There are further options to select linked accounts via a tablet, phone, or personal computer.
The solar powered video doorbell ranks top due to its remote support and hands-free monitoring with an Alexa integration. When the doorbell detects motion, you get alerted via a Fire TV or Echo device. Alexa support also lets you talk to the person on the camera.
Ring Protect is a comprehensive service that allows you to store and review items you might have missed. You can save and share photos and videos via the ring device. The Ring Protect is a paid service at around $3.99 per device each month.
With the Ring Video Doorbell, you get real-time notifications, facilitating a swift response. The notifications are activated when a visitor presses the doorbell or triggers its motion sensors. You can adjust the motion settings to focus on the key zones.
The Ring App for Video Doorbell offers complete control. Users can connect all their ring devices to view everything happening on a single dashboard. A Live View option can offer real-time monitoring of the situation at home.
MEKO Solar Wireless Doorbell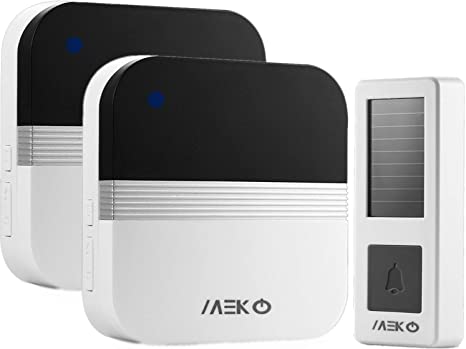 Specifications:
Weight: 9.6 ounces
Measurements: 3.2*3.2*1 inches
Colour: Black, white, and silver with a brushed nickel finish
Thickness: 0.65 inches
Battery: Built-in lithium battery for solar charger panel (no battery included or required)
Doorbell kit: Transmitter/1 push button, 2 AC door receivers
Wireless range: 1000 feet in open space
Reasons to buy:
No need to buy a battery, as the panel comes with an inbuilt storage
If staying in a place with no adequate sunlight, the MEKO doorbell serves well. The inbuilt lithium-ion battery eliminates the need for constant solar.
No impacts from harsh weather which replaces costs of replacement and repairs.
No technical know-how is required in the installation
Up to 300 meters of wireless distance
Guaranteed quality from its robust inner materials
Durable after charge, which contributes to a hassle-free use
Reasons to avoid:
Press button lacks a sleek design
Features
The MEKO system takes between 5 to 10 minutes to install fully. The installation is made easy with the wireless and compact design.
IP44 certification makes the MEKO doorbell system weatherproof. The system can work in harsh weather conditions.
Needs around 70 hours of solar for the built-in battery to be fully charged. The device does not require constant sunlight for charging. A fully charged battery will last more than 2 years.
The doorbell system has 4 volume ranges of 20 to 100 dB. MEKO also comes with more than 50 chimes, customizable to the user's preferences.
Qnigle Solar Powered Wireless Intercom Doorbells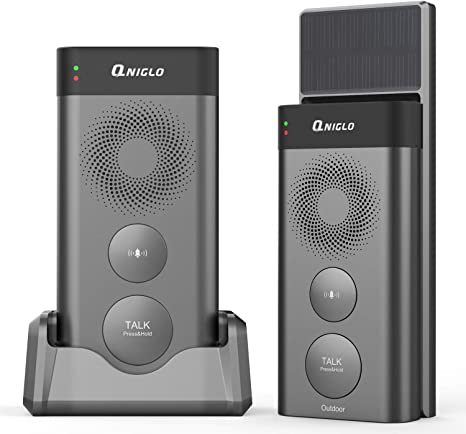 Specifications:
Weight: 1.12 pounds
Measurements: 8.58*7.05*1.81 inches
Colour: Silver-gray
Material: ABS
Voltage: 5
Waterproof: Yes
Battery type: Lithium-ion
Batteries included: Yes, 2 Lithium Polymer
Reasons to buy:
Longer use due to the strength of the battery
Best when looking for a doorbell with an emergency support
Moderately priced and good when on a low budget
A wide range of use allows a comprehensive monitoring
Reasons to avoid:
Not weatherproof despite the doorbell being waterproof
Features
IP55 waterproof and anti-theft is one of its key features. A double design makes Qnigle good for use in a wet environment. The wireless transmission comes with screws for fixing against the wall. It is an added security feature that ensures no one can unplug it.
Two-Way-Audio allows you to speak to visitors directly through the wireless intercom doorbell. The feature is enabled through an inbuilt speaker and microphone.
Qnigle comes with 2500mAh wireless doorbell kits. The lithium-ion battery is rechargeable, allowing continuous use. The battery can be removed and charged using a USB cable. Once fully charged, the outdoor doorbell offers service for up to 6 months.
Qnigle doorbells come at an ultra-long operating range. The doorbell covers over 2640 feet or 800 m in an open area, ensuring you don't miss anyone in range. The doorbell also uses a wireless intercom which protects it from WiFi disruptions.
The doorbell comes with a wireless SOS feature. The SOS is useful for emergency notification.
Users can pair the doorbell with the receivers by clicking a key on the same channel. You can also increase coverage by adding more wireless intercom receivers.
Racsoh Smart Wireless Doorbell Kit with Solar Powered Ring Button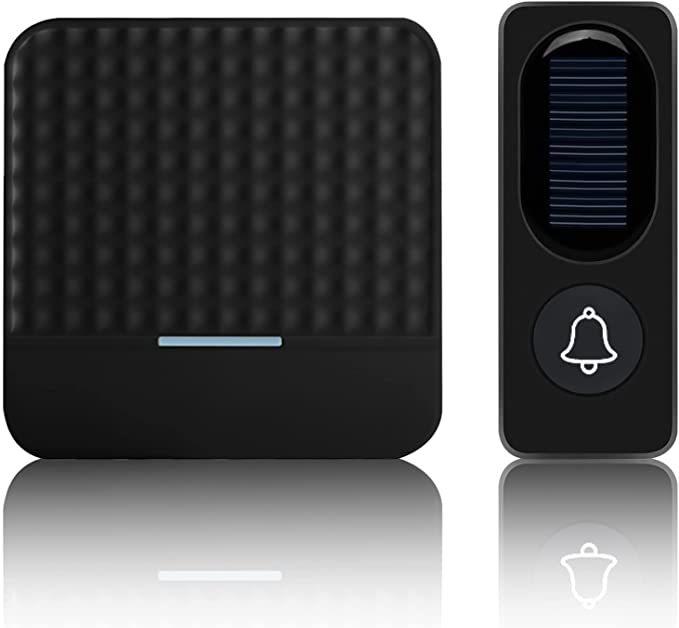 Specifications:
Measurements: 4.09*3.03 inch
Weight: 0.4 lb
Range: 200 – 300m
Waterproof: Yes, IP65 certification
Solar cell: 150mAh polymer (Lithium-ion)
Connectivity: Wireless
Reasons to buy:
Easy to install. The doorbell camera can be set up in under 5 minutes with simple tools.
Allows viewing of a wider area by a single transmitter
The elegant style makes it one of the sleekest solar doorbells
Can withstand very wet and humid conditions
Very light polymer solar cell makes it portable
Flexibility with a mute mode allowing varied use
Highly convenient due to a wireless technology
Reasons to avoid:
No Alexa or Google Assistant support
Features
Racsoh doorbell is designed with a solar powered ring button. The solar transmitter allows power saving. It has two tunes of varying styles and a 4-level volume adjustment feature, inclusive of the mute option.
The doorbell allows the user to pair one transmitter to several receivers.
The source of the power for the doorbell kit is solar. The connectivity protocol is also solar powered, making the kit environmentally friendly.
Light reminder by pressing the button for 0.5 seconds.
Pikewear Wireless Doorbell Kit with Solar Powered Ring Button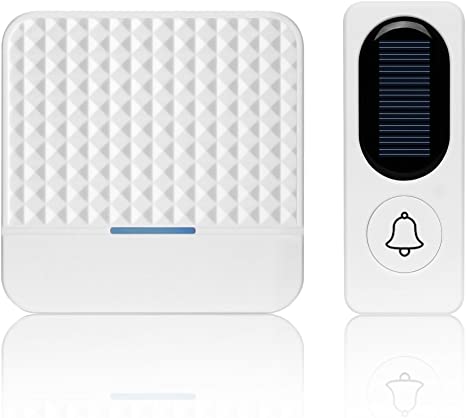 Specifications:
Measurements: 4.09*3.78*3.03 inches
Weight: 6.4 ounces
Color: White
Battery and type: 1 lithium battery included
Receiver operation voltage: 90-260V
Reasons to buy:
Allows you to save on power with the light sensing feature
Allows flexibility in pairing transmitters and receivers to the one most preferred
Long distance of signal transmission eliminates worries about not getting the notification
Adjustable volume allows the setting of the right one based on the circumstance or distance
Reasons to avoid:
No Alexa or Google Assistant support
Features:
The doorbell kit is solar charged, ensuring money saving while also helping the environment.
When there is a night light, intelligent light sensing prevents the daylight from lighting.
The chime and ring button are connected via a 433 MHz wireless signal
52 music tones with adjustable volumes
Free pairing – the doorbell allows one transmitter to be matched to multiple receivers. One receiver can as well be matched to multiple transmitters.
The device allows up to 300ft distance range from the chime and ring button.
What are the benefits of using solar powered doorbells?
Solar doorbells are a rare gem in an era the world is grappling with the effects of climate change. But besides the eco-friendly features, solar powered wireless doorbells deliver other critical benefits to the user:
Decluttering of the homestead
Solar powered wireless doorbells help remove unnecessary wirings around the homestead. Since most devices are wireless, you won't have to find a lot of space for the kits. The solar panel that comes with the solar powered doorbell allows you to shun conventional battery power systems. That frees up your compound of unnecessary clutter.
Convenience
Gone are the days someone had to make a knock on your doorstep before someone turns up to open it for them. With the solar doorbell, one has to simply press the button, and their presence is immediately felt.
Or, think of convenience this way; You are on a rented premise, and you need to move out with your solar powered smart doorbell. Due to their compact design and wireless features, ring doorbell solar can easily be detached and disassembled for easy uninstallation and carrying.
Security
The best solar powered video doorbell allows house monitoring. You can view the homestead via the video feature, which enhances security around the homestead.
There are further options for solar powered smart doorbells. The smart doorbells come with additional Alexa support. Security is enhanced through in-app control, allowing you to monitor your compound from wherever you are.
Two-way communication
Communication is one of the key elements factored in the solar powered doorbell camera. Two-way communication facilitates a quick relay of information and is an added layer of security and convenience.
Keep visitor information
A doorbell ring with a solar charger is the gadget you need if you miss an in-person caller at your gate or compound. The video doorbell keeps a shot of the person together with the date and exact time they appeared. That can allow you to follow up or just for purposes of maintaining data of each one that logs in at your place.
No monthly fees
Solar energy is free of charge. The solar powered doorbells are a great way to cut off the monthly power bill that would otherwise accrue for conventional doorbells.
Superb video quality even in the dark
Solar powered video doorbells come with night vision technology and a high-quality camera. The technology produces excellent footage even in the darkest time of the night. Coupled with a live feed functionality, you can easily monitor the compound at night.
Summary
The ultimate selection of the solar doorbells rests with the individual, their choices, and their intended use. Irrespective of the selection, solar powered doorbells are a go-for device if you want to exert full control of the home environment, office, or other premises. Using solar power by doorbell devices ensures a clean and sustainable energy source at a low budget.
A piece of advice is to go for the doorbells, which are already tested and proven as they offer a great starting point. We hope our review simplified the process of ascertaining the best solar powered doorbell. The ring doorbell solar charger review also offered great insights on what ring doorbells can do to your homestead. Our review came up with great options for ring doorbells in terms of quality, ease of use, and functionalities. Of essence is that a doorbell is a tool for convenience, security, and caller management. You will also find them convenient to move around and would do a good job in decluttering your compound.
SOLAR DIRECTORY
Solar Installers, Manufacturers