Best Solar Powered Irrigation Timers
Sep 6, 2022 09:30 AM ET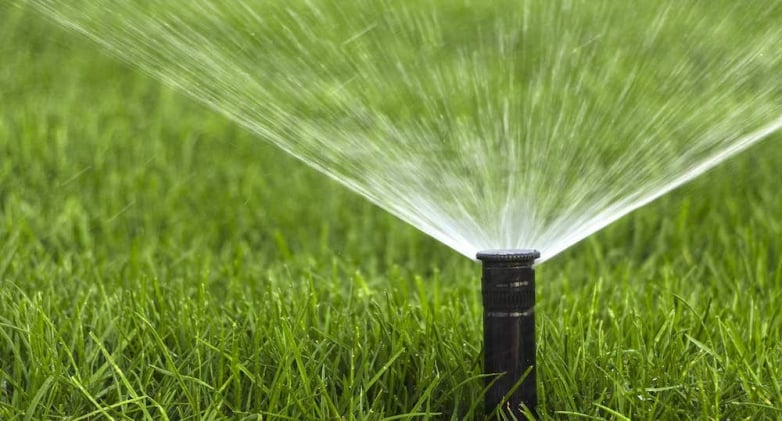 Solar powered irrigation timers are best suited when looking to irrigate a small area. They come with the latest technology features making them easier to use. They are great options when the energy source is insufficient or unreliable.
What are solar irrigation timers?
Solar irrigation timers are electronic devices that program an irrigation system to run at a specific time. The solar timers for irrigation are used to automate the solar powered watering system and are solar-charged.
Solar irrigation timers: how do they work?
While there can be some variability in how solar powered irrigation timers work, most of them share several features that determine their working.
Solar timers for irrigation work by using time measurements that facilitate the execution of schedules. The timers come with a calendar selector, which allows the operator to set the day(s) when the system should operate.
Besides, solar powered irrigation timers come with a station time setting. Its role is to allow the operator to schedule the time and duration for the system to run.
Solar powered watering timers also come with a manual start functionality. Its role is to allow one to start the system manually while still keeping the automated schedule. A master switch functionality can be used to prevent the running of the automated schedule.
Finally, solar powered irrigation times have a master valve that stabilizes the system when a malfunction occurs.
How long do solar irrigation timers last?
The lifespan of the solar powered watering timers will depend on quality and care of use. However, on average, the solar powered irrigation controllers will give up to 10 years of service. The irrigation timers will last 1-3 years under good maintenance.
When and how to use solar powered irrigation systems?
Solar powered irrigation systems are best used when the existing power source is unreliable or unavailable. Irrigation lands, nurseries, and farms can benefit from solar powered water pump systems. Other places you can use them conveniently include construction sites.
The average cost of a solar powered irrigation system
Solar powered irrigation timers on Amazon will average $30-$50. The irrigation controllers, solar powered, will average $120-$150.
Solar powered irrigation controller: features to look out
When shopping for an irrigation controller solar powered, it is important to understand your needs and what equipment suits them best. Having a checklist of product features can help overcome post-purchase dissonance. Here are the key features to look out for:
Endurance
The solar irrigation controller must serve the needs. Not all solar powered irrigation controllers can serve large watering zones. Some watering controllers cover a limited zone. Thus, you need to be aware of the number and size of zones being irrigated to determine the controllers that offer value for money.
Quality is another feature to check to ensure that the endurance of your solar irrigation controller is up to the task. You don't need to run back and forth each time to your store because of equipment breakdowns. In particular, check for solar irrigation timers with protection against weather conditions like rainfall, snow, and intense solar. The controllers must also be proof of wear, tear, and damage.
Things like certifications, customer reviews, and product features would go a long way in helping you ascertain the quality aspect of the solar powered irrigation controller.
Flexible timer function
A solar powered irrigation controller must have an adaptable timer. The feature is required as you need to adjust the duration and interval of watering to suit the requirements.
A flexible time function comes with several benefits for solar powered water pump systems. One is that it saves time as the sprinkler system can run on its own and switch off as per the schedule. The second benefit of the feature is that it enhances water management. Allowing the sprinkler system to run only when scheduled allows one to conserve water during rainy weather or after watering needs are met.
Battery lifespan
The importance of a longer-lasting battery cannot be overemphasized when choosing a solar powered water timer and controller. Since the irrigation controllers run on solar energy, you need to ensure that the storage batteries are of the right capacity. A battery that lasts many days is ideal when there is no sunlight.
Apart from the time a charge can last, go for irrigation controllers with batteries that are most long-lasting to minimize the replacement costs. Lithium batteries make good options for lifespan, but rechargeable ones also fit the bill.
Climate-change adaptation
Talking of solar powered drip irrigation, we are a step closer to meeting climate action goals. The use of renewable solar energy reduces reliance on fossil fuels, thus protecting the environment. But besides this feature, look for solar powered irrigation controllers with high efficiency. The irrigation controllers with auto and smart features are the best in terms of managing water and keeping an irrigation record. The outcome includes efficiency in water use, which is good in spearheading climate action goals.
Assimilation with smart devices
Smart device integration is an added advantage for solar powered irrigation controllers. The integration allows the user to connect the irrigation system to smart gadgets such as Google Assistant and Alexa. The benefit of the integration is enabling remote management of the system.
Best solar powered irrigation timers
DIG ECO1ILV.075 Solar Powered Irrigation Timer and Controller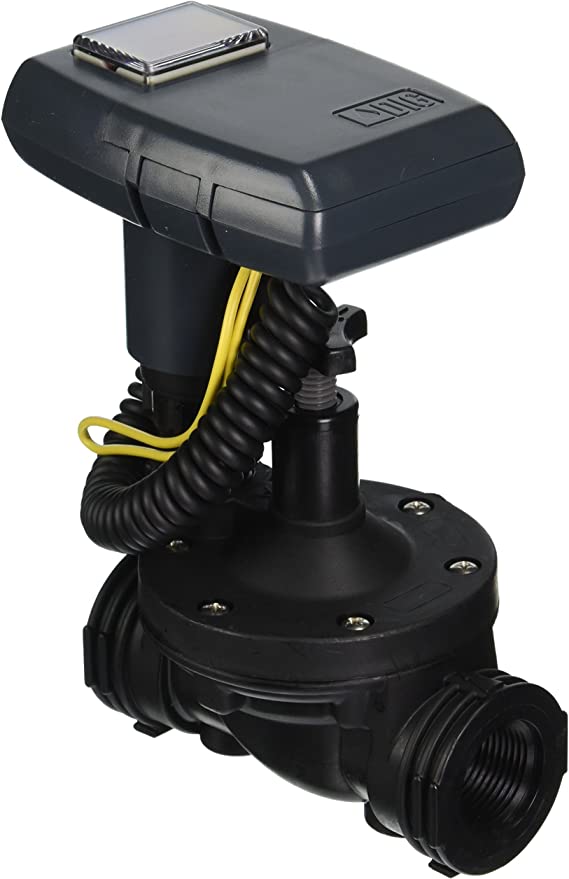 Specifications:
A solar powered irrigation timer with an anti-siphon valve
6*4*5-inch measurements
Has an integrated LCD for its seven buttons
LCD display for easy reading
AM/PM clock, icon-base programming
Reasons to buy:
Great solar garden water timer option when looking for a solar powered watering system with multiple drip and sprinkler support
The solar watering timer is suited for heavy travelers needing to automate their irrigation or in areas without a plug.
It comes with a weatherproof design and is best when operating in highly wet environments or areas of excessive heat.
It comes at a great price without a compromise on quality
Super easy to install and use
Reasons to avoid:
The DIG watering controller is not compatible with Richd or Lawn Genie
Incompatible with smart devices
Moderately durable
Features
DIG uses freely available clean solar energy.
Has 1-minute to 6 hours programmable run times for easy navigation. The turn time has 1-minute increments.
No need for an AC or backup battery since it uses renewable solar power. Environmentally friendly.
Long lasting battery and, once charged, can last up to a whole year. It has monocrystalline solar cells and uses high sun rays mostly.
It can be used for both sprinkler or drip irrigation.
It comes with a 3/4″ and 1″ inline valve, which enhances control.
Rain monitoring allows the irrigation system to delay sprinkling by at least 12 hours and 7 days.
High efficiency with controlled irrigation time ranging from 1 minute to 5 hours.
Netro Pixie solar powered Irrigation Timer and Controller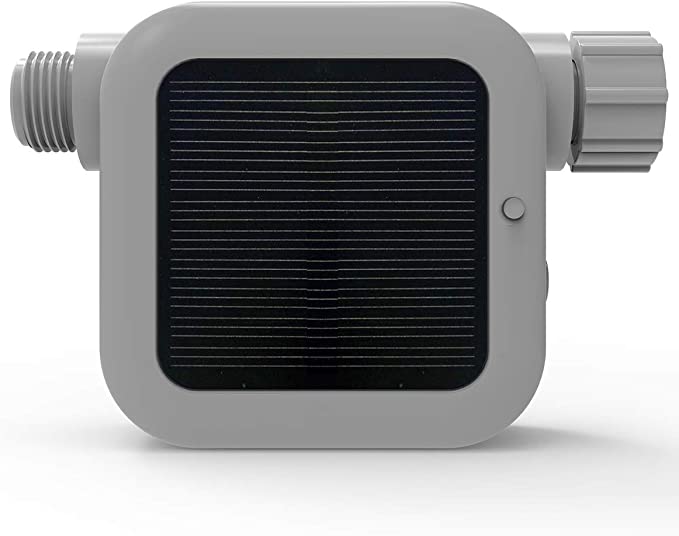 Specifications:
7.28* 5.34 * 2.36 inches
1.34 pounds
US standard 3/4" Garden Hose Thread
UV resistant exterior
EPA WaterSense certification
Reasons to buy:
Smart features make the irrigation system hassle-free
Best when looking for an irrigation system that can conserve water due to the water-saving technologies and weather forecasting
You do not need to worry about extreme heat or wet conditions
Easy to use and install in only 10 minutes
Cloud service lets you monitor watering history for water conservation and effective equipment use
Reasons to avoid:
It may require a converter or adapter for use outside the US
No flexible timing
Features
It is a smart solar powered watering system with water-saving technologies ensuring economical use. Weather forecasting features.
The system connects to 2.4G WiFi directly.
A cloud service is a lifetime feature to check watering histories from supported devices and web browsers.
Best outdoors since it is EV-resistant and has a waterproof design. Good in very harsh weather.
It is solar powered, ensuring a clean energy flow.
Quick installation in about 10 minutes.
An IP65 rating makes the solar irrigation system water, dust, and UV resistance.
Good battery backup of 1400mAh that can last between 2-4 weeks.
iMeshbean Solar Power Electronic Auto Water Irrigation Controller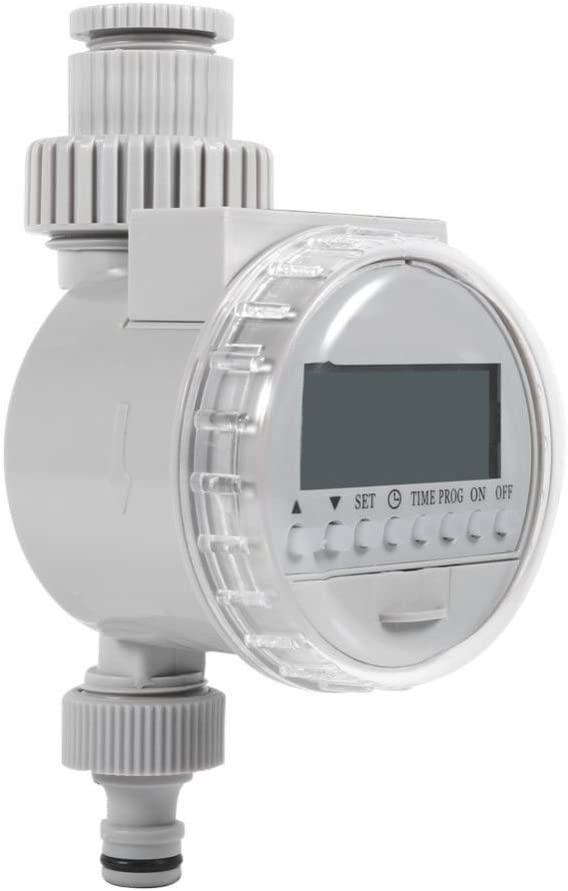 Specifications:
LCD display
Plastic material
Auto or manual operation
Solar powered watering timer
Hose connection of 13mm (1/2")
Water temperature 40-degree maximum
1-16 Set of water programs
Water pressures of 0-400KPA
Irrigation time 1 minute to a maximum of 10 hours
Irrigation frequency at 1-16 times a day or 1 time per 3 days
Program set at multi-days, one day, common program, single program, multi-program, and cycle program
2*1.5V rechargeable batteries (not included)
It needs clear fresh water
Reasons to buy:
Ease of installation and use – users can easily set the program they want. The total available programs are 16
Allows the user to control the watering situation via the LCD display
No need to be there all the time since auto watering brings all the convenience
The irrigation water timer is eco-friendly and can enable energy saving due to its solar panel design for fast absorption
Ample protection from the rainwater with its sealing cover which ensures durability
Reasons to avoid:
The solar power irrigation timer does not come with batteries
Features
A clear sealing cover ensures the irrigation controller is protected from rainwater.
A stainless filter net ensures that the device is free from blocking.
Comes with a solar panel design. That helps absorb solar energy for eco-friendly and energy-saving functionalities.
Auto watering – users can set watering time which can be per day or per month based on preferences.
An LCD display allows the user to control watering.
Watex Solar Powered Tap Timer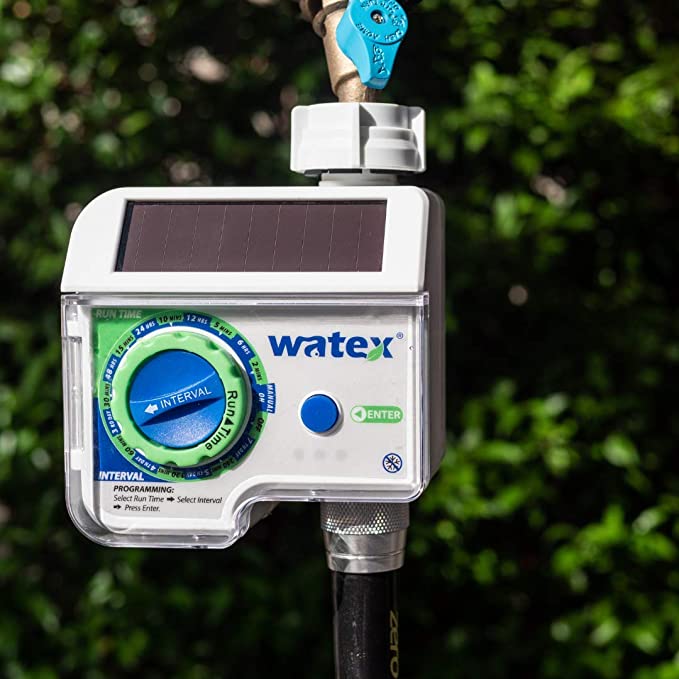 Specifications:
Weight of 2.38 pounds
Dimensions 9.65*81.5*5.55 inches
Color comes in brown, white
Power supply (not included): 2*1.5AA batteries
Watering time of 1s-59s
Cycle interval time of 1hr-72 hours
Special delay function, max. 9 hours of delay time
Working temperature 1 degrees celsius to 40 degrees celsius
IPX5 Ingress protection
Reasons to buy:
It runs on solar, which guarantees clean and inexpensive energy
Rechargeable batteries for uninterrupted power
A manual, in addition to auto watering, allows flexibility and allows varying irrigation to needs
A garden friend if you are traveling and need to keep your plants moisturized.
Reasons to avoid:
Batteries required
Best for home gardening use, not the best for large-scale application
Features
The solar timer runs on solar power for an eco-friendly energy source. A-Dial Tap time ensures automatic watering.
An intelligent power display can help remind when the battery is running low.
Flexible watering system. Users can set 2 mins to 240 mins runtime and a frequency of every 6 hours to 7 days.
Auto sleep function after 30 seconds if no operation ensures effective power management.
The irrigation tap time comes with a manual setting. That allows an instant manual watering without interfering with the automatic system.
Generic Solar Powered WiFi Water Timer with Gateway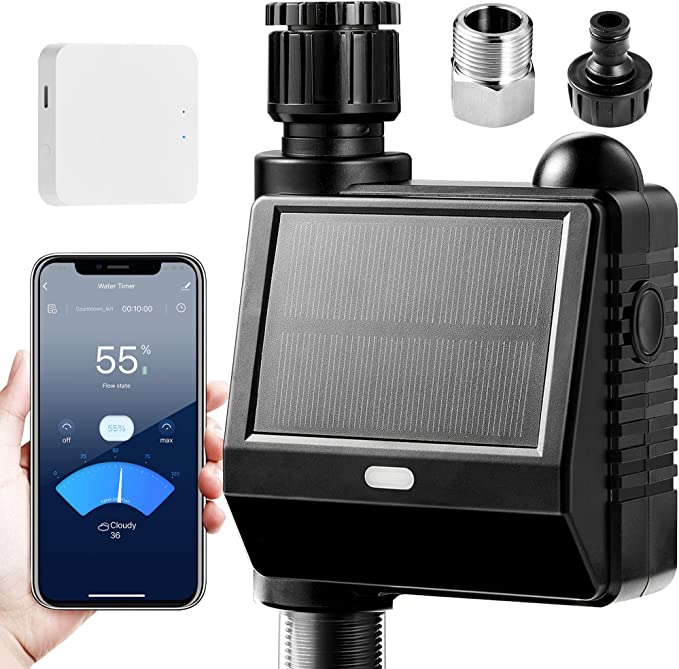 Specifications:
Waterproof IP66
Weighs 1.79 pounds
8.54*5.75*3.9 inches
Solar powered with requirements of 2*AA NI-MH batteries (Rechargeable)
Remote control via 2.4Ghz wireless connection and app
Connection distance of 0-200 FT/60 M
An inlet thread of 1/2" NPT adapter and 1/2" & 3/4" GHT
An outlet thread of 3/4" GHT
0-145 psi working water pressure
0-65.5 degrees celsius working temperature
Reasons to buy:
Very flexible in adjusting watering options to suit varying needs
A smart device for those seeking to get the Alexa and Google Assistant features
App control makes the equipment one of the easiest to use and control. One has access to real-time information on watering anywhere and anytime
Easy to manage and control breakages with the gadgets fault detection system, thus saving on costs
Very easy to set up by scanning a QR code to download the app and following a user manual for setting it up
Waterproof features will leave you less worried in case it gets wet
Reasons to avoid:
Battery not included
Not best if temperatures are below 0 degrees celsius
Features
Comes with a smart water time with options for timed or manual control. The smart control allows for unique watering options such as changing water flow, immediate watering starts or stops, and watering dates, times, and durations.
Compatibility with Google Assistant and Alexa for smart watering.
A fault detection system to inform valve failures, leaks, clogs, and equipment failures.
A WiFi-enabled hose time for customized watering depending on weather conditions.
It gives a watering history for irrigation monitoring.
A notification feature for low battery.
Advantages of solar powered irrigation timers
Solar powered irrigation timers are the right gadgets at a time the world is grappling with water issues and climate-related hazards. By tapping into the renewable energy source, the solar powered irrigation timers offer a perfect solution where the existing power is unreliable. They would be indispensable when seeking to ensure the economical use of water since most come with smart and auto-use functionalities. Below are some of the advantages that accrue from the use of solar garden water timers for irrigation system:
Being solar power means the irrigation timers have an inexhaustible and clean source of energy.
They are easy to install, with a user guide coming in hardy.
Most solar powered irrigation timers have weatherproofed properties. No need to worry about faulty equipment during rain or very wet/hot environments.
Cost-effective for most solar powered irrigation timers. Features for faulty equipment warning can go a long way in detecting faults to avoid costly equipment failure.
Water management through various watering options and schedules that allow switching off when raining.
Potential to reduce greenhouse gas by tapping into solar energy.
Keep your vegetable garden, lawn, or other small grounds healthy and watered.
It saves time as the solar powered irrigation timers allow automatic scheduling of watering and monitoring..
No need for heavy equipment for grid connection, no more power bills to run irrigation systems.
Disadvantages of solar powered irrigation timers
While the advantages of solar powered irrigation systems outweigh their downsides, few disadvantages can exist. One among them is the fact that they rely on solar energy. That can be a daunting task in winter, although rechargeable batteries make storage easy. But besides solar reliance, the following disadvantages can be faced.
Solar powered irrigation timers need appropriate care to avoid breakages and unsustainable replacements.
Most solar powered irrigation timers are used for low-intensive watering demands.
Production and use of solar power stations to fuel the irrigation timers can harm the environment through rare and mineral toxins on the materials.
Still, a sizable investment may be needed for small scale farmers.
Some bit of technical knowledge may be required, especially for smart and auto-run solar powered irrigation timers.
Summary
Solar powered watering systems are a perfect choice when looking to have total control of irrigation at different levels. A variety of options exist to automate and remotely control a solar powered garden irrigation.
The best advice is to consider your needs and select the best irrigation timers and controllers suited for the purpose. The selection must satisfy the requirements of endurance, flexibility, length of use, climate change adaptation, and control.
SOLAR DIRECTORY
Solar Installers, Manufacturers