Baldr 1000w, 933wh Portable Power Station review
Aug 28, 2022 04:52 PM ET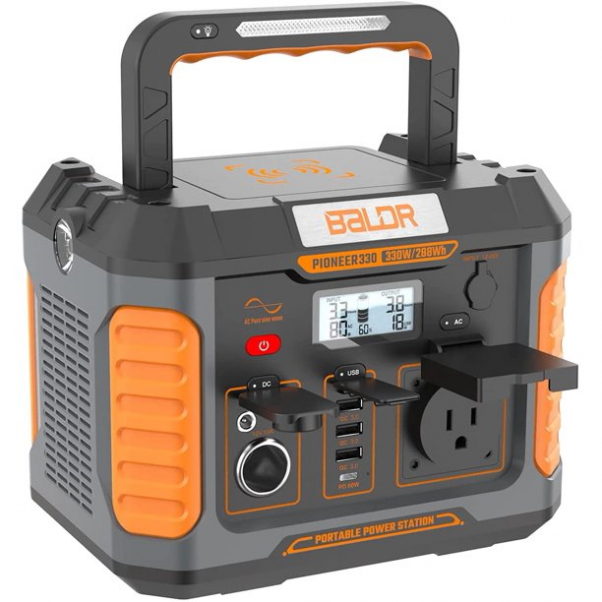 Do not let sudden power outages disrupt your schedule or limit your weekend trip. The 120V/1000W Baldr power station is the companion to run several devices simultaneously. The station has a 2000W surge with AC outlets guaranteeing energy flow to keep you on the light.
Other products in the range of Baldr power station come at 200W/173Wh, 330W/228Wh, and 500/400Wh.
Baldr Portable 1000w, 933wh Specification
| | |
| --- | --- |
| Battery type | Lithium battery |
| Battery capacity | 933wh |
| Lifespan | Charge after every 3 months |
| Dimensions | 11.4 by 7.9 by 7.8 inches |
| Design | Designed with an inbuilt LED flashlight, |
| Voltage | 120 Volts |
| Solar | 120W |
| Weight | 18.8 pounds |
| Inputs and outputs included | 2 AC outlets, 2DC ports at 12V, 1 Type-C port, 1 cigarette lighter port at 12V, 1 LED light, 1 LCD display, and 1 flashlight. |
| Panels Included | 1 car charger cable, an AC adapter, and a user manual |
Devices Compatible With Baldr Portable 1000w, 933wh Power Station
Baldr Portable 1000w, 933wh, is compatible with numerous devices. They are drones, cameras, mobile phones, in-car appliances, blenders, refrigerators, and CPAP machines.
Pros and Cons of Baldr Portable Power Station
Advantages/Reasons to run it

Fast charging. 2 Baldr solar panels at 120W will take around 6-8 hours to charge fully

It is moderately lightweight – can be efficient when a lot of movement is required and still needs that boost of energy to run a lot of gadgets.

Charging can be in three ways that guarantee flexibility – You may recharge through solar panels, a wall outlet, or a carport.

Comes with multiple output options ensuring that you can charge more than one device at a go

Eco-conscious? - The power generator can be recharged by a solar panel. It also comes with an inbuilt smart IC chip to match devices with the strongest charge ensuring clean energy at a go.

Disadvantages/Reasons to avoid it

It may not be the best when seeking the most optimal power for devices that need a lot of energy– Only small-medium devices could be recharged by the power station.

Not the most portable, although it ticks the boxes when considering lightweight power generators.

A little bit costly for consumers looking for the most budget-friendly power source.
What Baldr Portable 1000w, 933wh Is Perfect For?
Baldr Portable 1000w, 933wh is suitable when seeking to power multiple devices simultaneously for low to medium power needs. This can be at home during periods of unsustainable power or when travelling. You get clean power at a quick recharge. It is also a perfect option for emergency needs.
Baldr Portable 1000w, 933wh Summary and Verdict
Power is everything when it comes to running devices. However, your choice should be right for the power requirements. Baldr Portable 1000w, 933wh, can run medium power-use devices such as blenders that smaller power stations wouldn't. At the same time, you do not want to carry an intensive power station to run lower energy-intensive devices. Baldr Portable 1000w, 933wh, comes in the middle for such needs.
Besides, we highly recommend Baldr Portable 1000w, 933wh for its ability to get the job done. It comes at a strong capacity of up to 2000W surge and a pure sine wave power. That means your devices get recharged while taking care of the environment.
See also: Best Portable Power Station | Best Portable Solar Power Generators | Portable Power Station Reviews
SOLAR DIRECTORY
Solar Installers, Manufacturers