Badia Spices' Manufacturing Facility Receives Largest Solar Rooftop Install in Florida
Feb 16, 2023 11:28 AM ET
SALT Energy completes the installation of 3.24-MW solar project on Badia Spices' facility in Sweetwater, FL. Project offsets 80% of electricity consumption, marking the largest privately owned solar project in FL.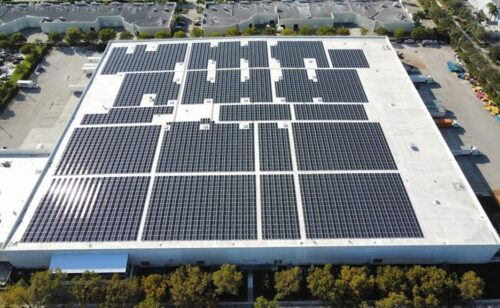 What happened?
SALT Energy, a Florida solar contractor, has completed the installation of the largest privately owned solar project in Florida. The 3.24-MW solar project was installed on the roof of Badia Spices' manufacturing facility, which spans 300,000 square feet in Sweetwater, Florida. This solar project is capable of offsetting approximately 80% of the facility's electricity consumption. Established in 1967, Badia Spices is a leading family-owned Hispanic food company that distributes spices, seasoning blends, marinades, sauces, teas, health items, and other products to more than 70 countries worldwide. The company has undergone a transition to solar power previously, having installed a 529-kW rooftop solar array at its 100,000-sq.-ft facility in Doral, Florida in 2019. SALT Energy was the contractor for both solar projects. The installation of the Sweetwater solar project required moving the HVAC system off the rooftop to remove significant shading effects.
Why does it matter?
The installation of the largest privately owned solar project in Florida marks a significant milestone for both SALT Energy and Badia Spices. This solar project will offset approximately 80% of Badia Spices' electricity consumption and help decrease the company's carbon footprint. The shift to solar power is also in line with Badia's commitment to building sustainable and environmentally responsible practices to green their supply chain. In addition, the installation of this solar project is a major step in Florida's transition towards clean and sustainable energy. The Solar Energy Industries Association (SEIA) has predicted that Florida will become a top-five solar state in the U.S. in the next five years. SALT Energy's successful installation of this project also highlights the company's expertise and experience in delivering complex solar projects.
What's next?
SALT Energy has used PanelClaw and SunPower products in the Sweetwater solar project. The project is a part of a larger trend towards sustainable energy and solar technology adoption. Florida has abundant sunshine, making it an ideal location for solar energy generation. According to a report by the Environment Florida Research and Policy Center, Florida has the potential to generate 105 times more solar power than the state currently produces. Therefore, the potential for future solar projects in the state is significant. The installation of this project may encourage more businesses in Florida to transition towards sustainable and renewable energy sources. Additionally, Badia Spices' commitment to sustainability and environmentally responsible practices may also influence other companies to follow suit and undertake similar initiatives.
SOLAR DIRECTORY
Solar Installers, Manufacturers