Azimuth Energy completes 1-MW community solar project at St. Louis International Airport
Aug 26, 2019 01:22 PM ET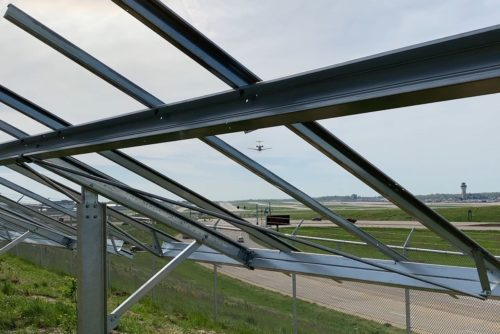 Azimuth Energy recently completed a 1-MW community solar project at St. Louis Lambert International Airport for Ameren Missouri. The project was first announced in 2017.
"This is a terrific first step into community solar by Ameren Missouri," said Azimuth Energy president Marc Lopata. "We see projects like community solar as a positive sign for the solar energy industry and related regional job growth, and a way to make this clean-generation source a significant contributor to Midwest greenhouse gas reductions."
The project covers three acres of land just northwest of the airport and is visible to arriving or departing flights. The 1-MW system will supply energy to 355 customer-subscribers that signed up for the program.
Although they have been developed in Illinois, community solar projects are new to Ameren Missouri customers. For this project, customers signed up to receive 100-kWh "blocks" of solar offsets for about $4 extra each month, in addition to a one-time base fee of $25.
"Opening the Ameren Missouri Lambert Community Solar Center is one of many steps we are taking toward bringing renewable energy to our customers," said Michael Moehn, chairman and president of Ameren Missouri. "Expanding our popular community solar program by developing additional solar facilities gives even more of our customers the opportunity to benefit from renewable solar energy and moves Ameren Missouri closer to its goal of providing 100 MW of solar energy by 2027."
Construction on the project started in March 2019 and the solar array was connected to the grid in August 2019. Based on the overwhelming success of this project, Ameren Missouri announced plans to develop more community solar for its customers in the future.
SOLAR DIRECTORY
Solar Installers, Manufacturers