Anker 521 portable power station Review
Aug 26, 2022 05:20 PM ET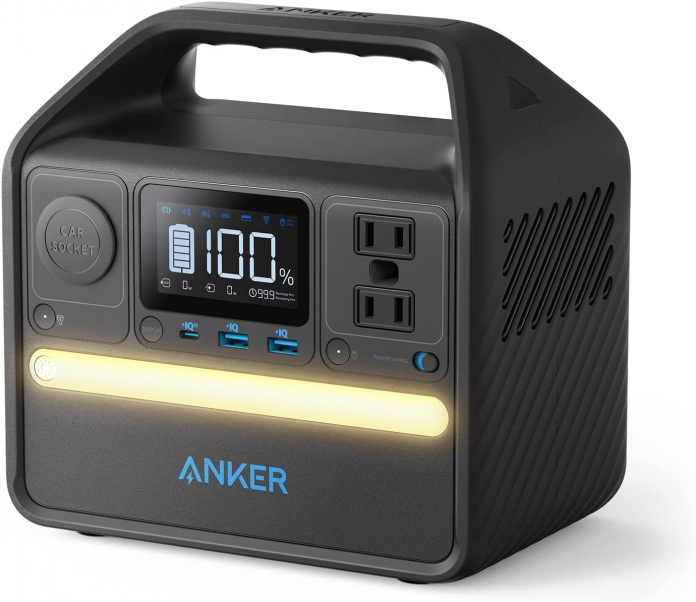 Anker is a trusted brand in solar power generators featuring 256 Wh capacity. The solar power station set is designed to cover your important power needs. Below is a detailed specification review of the 521 Portable Power Station by Ankerm, which has 398W power output.
Anker 521 Portable Power Station 200W/256WH Specification
| | |
| --- | --- |
| Battery type | LiFePO4 |
| Battery capacity | 256Wh |
| Lifespan | 3000 cycles to over 80% cap. |
| Dimension | 21.6x 21.14x14.4 cm |
| Design | Drop-proof |
| Solar | 200W |
| Input and outputs included | AC outlet, USB-A ports, USB-C ports, DC input |
| Weight | 45.6 lbs/20.7kg |
| Panels included/What's in a product kit | Anker 521 power station, DC Adapter, car charging cable, guide, 5-year warranty |
What stands out about this portable power generator is the ability to store energy longer. Its LiFePO4 battery has a six times longer lifespan than an ordinary power station. The battery capacity of 3000 cycles makes the solar generator a masterpiece. A suitable power generator must also be portable.
This specific model of portable solar generator by Anker weighs 45.6 pounds or 20.7 kg. Unlike other solar generators weighing tons, the 521 portable power station is easy to work and walk around with. The Solar Generator is also compatible with almost all your important devices.
What Devices are Compatible With Anker 521 Portable Power Station 200W/256WH?
It is compatible with phones, laptops, and any other lightweight device. The unit comes with six ports: a special one for a car, one USB-C port, two AC outlets, and two USB-A ports. All connected devices must be of 200W and below. It must not be used with appliances with heavy power needs like refrigerators, microwaves, or hair dryers.
Anker 521 rechargeable power set includes a DC adapter and a car cable. The cable can be plugged into a car power output or AC outlet. Check below the advantages and disadvantages of the Anker 521 Portable Power Station. They are based on transparent data online and customer feedback:
Anker's Portable Power Station's Pros & Cons
Advantages

Disadvantages

Clean energy

Efficient energy storage

Portable

Durable battery

Smart LED display

Charge several devices at once

Doesn't power heavy devices

Doesn't charge power tools

Relatively Expensive
From the review summary above, most users find Anker 521 Portable Power Station versatile in beating electricity disruptions. Its role as a clean energy alternative cannot be ignored. While conventional generators will irritate you with noise and fumes, Anker 521 Portable Power Station is quiet. It is perfect for most outdoor work and entertainment.
What Anker 521 Portable Power Station 200W/256WH is Perfect For
The solar generator is perfect for keeping your devices charged when there is a power outage or in an off-grid setting. If you are a photographer, this speaks volumes. It is zero-noise and lets you capture photo shoots like a pro. The 521 portable power station also features a smart LED display. It is an important addition that lets you monitor energy status.
Anker 521 Portable Power Station 200W/256WH Summary
A reliable energy supply means a lot in a world where we depend so much on the information. With Anker 521 Portable Power Station, you will never lose business or miss deadlines due to power outages. And if you work outdoors most of the time, you have every reason to grab this generator set.
See also: Best Portable Power Station | Best Portable Solar Power Generators | Portable Power Station Reviews
SOLAR DIRECTORY
Solar Installers, Manufacturers