Akuo enlists crowdfunding partner for 17MWp floating project in France
Oct 3, 2019 04:46 PM ET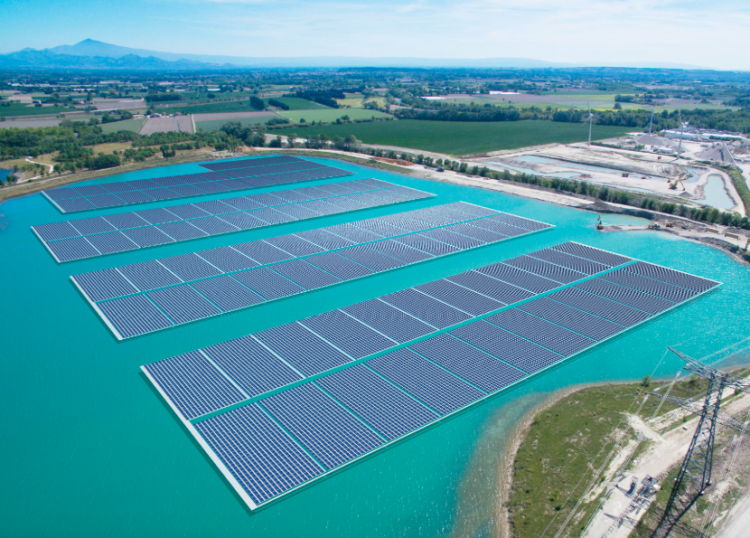 Individuals can now bankroll the deployment of a large-scale floating solar plant in France, a project by Paris-headquartered Akuo Energy.
On Wednesday, the developer announced its 17MWp floating project in Southern France will be backed by a fundraising platform run by asset manager Eiffel Investment Group.
Eiffel's so-called Allianz Crowdlending fund will inject capital into Akuo's own crowdlending platform, AkuoCoop, which in turn will channel the citizen loans towards the floating PV venture.
Known as O'MEGA1, the floating installation has been under construction in the Piolenc municipality – a one-hour drive north from Marseille – since last September.
Planned on a lake by an old quarry, the plant will boast the Ciel & Terre floating structures known as Hydrelio, designed for systems on irrigation basins, drinking water reservoirs and others.
Made from recyclable HDPE [high-density polyethylene], Ciel & Terre's Hydrelio platforms are manufactured at factories in Europe, China, India, the US, Brazil and other countries and regions.
The structures – supposedly designed to weather up to 210 km/h wind speeds and 20-plus years of UV corrosion – are exclusively made and distributed by Akuo in France.
France's 'first and largest' floating solar plant
The promoters of the floating project are describing it as France's first and largest of its kind. Natixis became its bank sponsor last year by pledging a contribution of €12.8 million (US$14 million).
Once fully built by EPC Bouygues Energies Services, O-MEGA1 will feature 47,000 solar panels across 17 hectares and bring CO2 savings equivalent to 1,093 tonnes, Akuo estimates.
The crowdfunded floating venture will sell its power directly to Swiss energy aggregator E6, with additional revenues set to come via France's premium tariff scheme, according to Akuo.
The global floating solar segment counted 1.1GW in installed capacity as of last November, and has since witnessed the advent of new projects in Asia but also Europe, America and the Middle East.
France aside, floating PV projects have come to the fore this year in Singapore (50MW), Thailand (45MW), South Korea (25MW), Malawi (20MW) Portugal (4MW), the Seychelles (3.5-4MW) and Brazil (2.5MW).
For Akuo, the floating work in France follows its success at solar-specific auctions in Portugal this summer, when it emerged as the developer behind a record-low bid of €14.76/MWh (US$16/MWh).
SOLAR DIRECTORY
Solar Installers, Manufacturers