ADB finances Vietnam's first large-scale floating solar plant
Oct 2, 2019 11:32 PM ET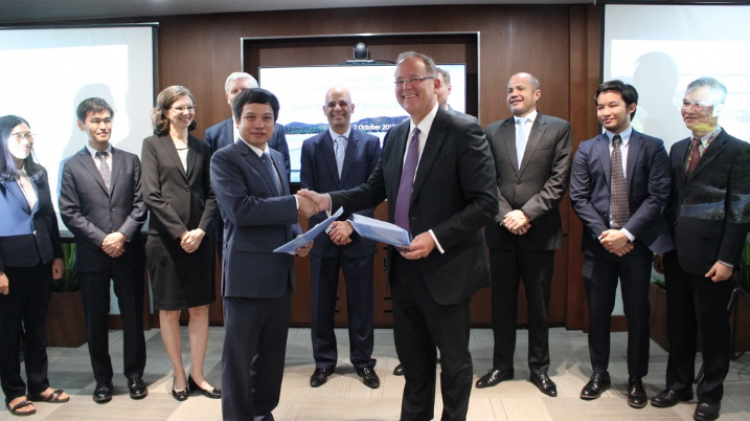 Vietnamese firm Da Nhim–Ham Thuan–Da Mi (DHD), a subsidiary of national utility EVN, has bagged a US$37 million loan from the Asian Development Bank (ADB) for a 47.5MW floating solar project that is claimed to be the first and largest such project in the Southeast Asian nation.
The project will be built on a man-made reservoir in Southern Vietnam where DHD operates its existing 175MW Da Mi hydropower plant, co-locating the two energy technologies in a manner that is expected to be replicated elsewhere in Vietnam and across the Asia Pacific region.
"This project will help to boost the share of renewable energy in Vietnam's overall energy mix and decrease the dependence on imported fossil fuels such as coal," said ADB Private Sector Operations Department deputy director general, Christopher Thieme. "The pairing of these two clean energy technologies—hydropower and solar—is a simple but a highly innovative achievement."
DHD currently owns and operates four hydropower plants: Da Mi (175MW), Ham Thuan (300MW), Da Nhim (160MW), and Song Pha (7.5MW), amounting to around 1.7% of Vietnam's total generation capacity.
The financing package includes:
US$17.6 million loan from ADB's ordinary capital resources
US$15 million of blended concessional co-financing from Canadian Climate Fund for the Private Sector in Asia and its follow-on fund, the Canadian Climate Fund for the Private Sector in Asia II
US$4.4 million parallel loan from Leading Asia's Private Infrastructure Fund (LEAP), which is backed by Japan International Cooperation Agency.
Financing cooperation
In related news, ADB and Singapore-based Infrastructure Asia have signed a cooperation agreement to help governments in Southeast Asia adopt green finance approaches for clean energy infrastructure in the region.
ADB director general for Southeast Asia Ramesh Subramaniam said: "Southeast Asia faces significant financing gaps in meeting its infrastructure needs, including for climate change mitigation and adaptation costs. We need innovative financing approaches to mitigate risks in infrastructure projects and better leverage public funds, so that many more funds are catalyzed from private and institutional sources to support greener, cleaner, and timely infrastructure development."
Through its collaboration with ADB, Infrastructure Asia will work in close consultation with the international financing, credit enhancement, and technology industries in Singapore to improve municipalities and state-owned enterprises' access to private capital.
Nauru
In other recent news, ADB and the Government of Nauru have signed a US$22 million grant for a project that will fund a solar-plus-storage project on the Pacific island nation helping it to reduce reliance on fossil fuel-based power.
SOLAR DIRECTORY
Solar Installers, Manufacturers