Adani puts ambitious Australia solar energy plans on hold
Oct 30, 2019 04:10 PM ET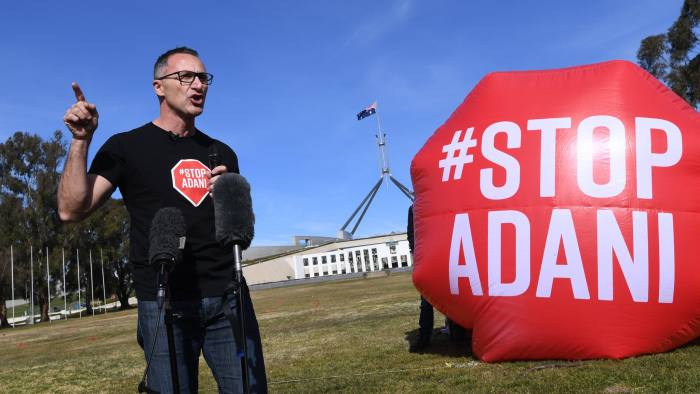 Adani has put on hold ambitious plans to invest A$2bn-A$3bn in solar plants in Australia, blaming regulatory hitches that it said were causing delays for renewable operators seeking to connect to the National Grid.
However, the Indian conglomerate said it would press ahead with the construction of a A$2bn ($1.4bn) coal mine in the Australian state of Queensland in spite of persistent opposition from environmentalists.
Adani's shift in strategy comes amid turmoil in Australia renewables industry, with dozens of projects facing delays due to concerns about the stability of the energy grid. The Indian company has also been targeted by green activists opposed to its Carmichael coal mine, which has become a totemic project for those hostile to the fossil fuel industry.
The company will formally launch its first Australian solar project — a 65-megawatt solar farm called Rugby Run — on Thursday, almost a year behind schedule due to delays after the energy regulator tightened rules in an effort to stabilise the energy grid. But the company, one of the biggest developers of renewable energy in India, is scaling back its more ambitious plans to build 1,500 megawatts of solar by 2022.
"We need to be able to work through and make sure that we've got the appropriate regulatory framework before we can make those [solar] investments," Lucas Dow, Adani Australia chief executive, told the Financial Times.
The country is in the midst of a "renewables boom", with 14.8 gigawatts of new generation under construction or financially committed, representing about A$24.5bn ($16.8bn) in investment, according to the Clean Energy Council.
Australia's Energy Market Operator, the regulator, warned in a report last year that a surge of renewable energy projects could destabilise the grid — an issue that took centre stage after a statewide blackout in South Australia in 2016 following a storm.
AEMO says the country is home to some of the highest levels of wind and solar generation in the world, following a surge in investment. "As renewable penetration increases, parts of Australia's network become increasingly constrained," said a spokeswoman.
However, Andrew Blakers, a professor at Australian National University, said state and federal governments were "asleep at the wheel", calling delays to renewable projects a monumental failure.
"Solar and wind farms are finding it difficult to connect. Those that do connect are finding their operations are curtailed due to overload concerns and this is deterring some companies from investing in new projects," he said.
Adani's second proposed Australian solar project in Whyalla, South Australia, is also behind schedule.
In contrast, its Carmichael coal project was making progress, said Mr Dow, with A$450m in contracts signed and construction taking place in the Galilee Basin in Queensland. He said the project was being fully funded by Adani and that coal would begin shipping in 2021.
Nevertheless, Mr Dow dismissed criticism that Adani's renewable plans were a public relations exercise when compared to its coal project.
"To put it in perspective, our global [renewables] portfolio is 2,385 megawatts . . . enough power to power the state of South Australia," he said. "We are certainly not playing around or engaging in some sort of green washing — this is an economically viable business."
SOLAR DIRECTORY
Solar Installers, Manufacturers