Abdul Latif Jameel unit launches solar plants in Jordan
Nov 4, 2019 05:54 PM ET
The four solar plants will supply more than 600 GWh per year in Jordan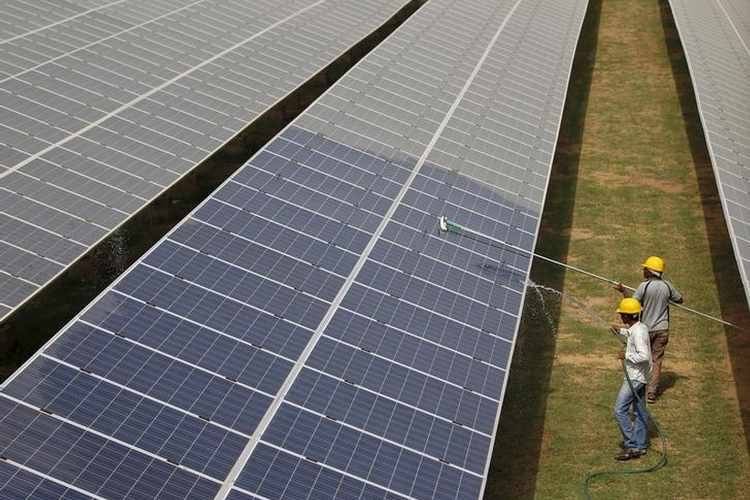 Fotowatio Renewable Ventures (FRV), part of Abdul Latif Jameel Energy and a leading global developer of utility-scale renewable projects, has inaugurated the Mafraq I and Empire photovoltaic solar plants of 50 MW AC each in Jordan.
The Mafraq I and Empire projects, awarded in the second round of the Jordanian government's solar programme, represent a total investment of $180 million and had created 500 jobs during their construction phase alone.
In collaboration with Abdul Latif Jameel Energy, FRV has developed three solar projects in Jordan to-date, Mafraq I, Empire, and Al Safawi (66.7 MW DC), and is continuing to expand its pipeline in the country as part of its commitment to developing renewable energy capacity in the region.
It was inaugurated by Jordanian Prime Minister Omar Al Razzaz in the presence of Hala Zawati, Minister of Energy and Mineral Resources, Arnzazu Ban Dvalos, Spain's Ambassador to Jordan and Engineer Amjad Rawashdeh, general manager of the National Energy Company (Nepco) who represented his company together with its chairman Engineer Sakhr Al Ajlouni.
In addition, officials and representatives from the Saudi Embassy, Mafraq's Governorate and some of the world's leading financial institutions attended the event along with Daniel Sagi Vela, chief executive officer of FRV and Raad Al Saady, senior managing director, Business Development, at Abdul Latif Jameel, said a statement from the company.
In line with Nepco's ambition to boost the role of renewable sources in Jordan's energy mix, Mafraq I and Empire photovoltaic solar plants which are already under operation, supply 1.5 per cent of Jordan's total power generation capacity: an important contribution towards Jordan's goal to deliver 10 per cent of the country's total power generation through clean energy by 2020.
The plants generate a total of 134 MW DC, which is enough to supply more than 40,500 households and avoid the emission of more than 200,000 tonnes of CO2 per year. This is equivalent to removing approximately 44,000 cars from the country's roads.
According to FRV, plans are already underway for its fourth 50 MW AC solar photovoltaic plant in Jordan, having won a competitive tender by the Water Authority of Jordan (WAJ).
The project will be located in Al Dulail Industrial Park and is expected to create 300 jobs in the construction phase. Once completed, FRV will develop 270 MW DC in the country, covering a land area equivalent to 885 soccer fields.
Altogether, the four solar plants will supply more than 600 GWh per year in Jordan, powering more than 83,000 Jordanian homes with clean energy and representing 3 per cent of the country's total electricity generation.
As a result, more than 425,000 tonnes of CO2 emissions will be avoided each year, equivalent to removing 90,000 cars from Jordan's roads or 4.3 billion km travelled.
COO Tristn Higuero said: "The opening of Mafraq I and Empire is undoubtedly a key milestone for the company. It not only represents the success of our projects in Jordan, but it is also evidence that the future of energy in the country is clean and renewable."
"Our commitment is clear and we will continue to support Jordan through long-term investments in its transition to a more sustainable energy model," he stated.
Sagi-Vela said: "The future is promising and that is why I would like to highlight the willingness and firm commitment of FRV and Abdul Latif Jameel Energy to continue investing in this region."
"We are determined to play a relevant role and we have the experience, track record and knowledge to lead this process," he stated.
Raad Al Saady, senior managing director, Business Development, Abdul Latif Jameel, said: "With power demand in the Middle East and North Africa (Mena) and Turkey region increasing by around 7 per cent annually, there is a pressing need to develop sustainable alternatives to traditional energy production."
"Our company as a whole, and its energy focused unit - FRV, are proud to be launching the Mafraq I and Empire solar plants today, joining hands with FRV and the Ministry of Energy and Mineral Resources in developing Jordan's solar power industry," he added.-TradeArabia News Service
SOLAR DIRECTORY
Solar Installers, Manufacturers