How to invest in solar energy stocks
Solar energy industry is growing and solar stocks are becoming more attractive for investors. What are the ways to profit from solar energy stocks? There are two main options you can choose: either investing in solar shares or trading them. Read the article to get to know the difference and to learn about derivatives.
Get Premium Solar Stocks Expert Analysis
Investing in Solar Energy Stocks
Renewable and alternative energy is gaining more and more interest. In this post, we explain how to invest in or trade solar stocks. So, let's consider what solar stock trading and investing is and how it works.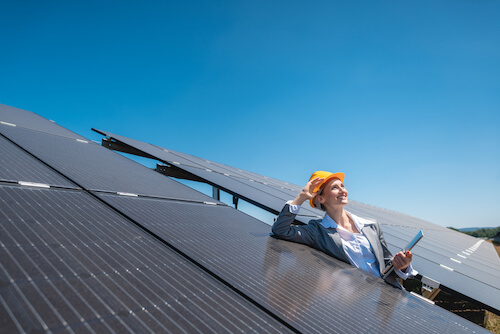 What Is Solar Energy Market
The demand for energy is constantly increasing. However, fossil fuels pollute the environment and lead to the climate crisis. That is why cleaner energy sources like wind, solar, hydro, tides and waves have become more attractive for investors. Solar energy sector has experienced fast growth over the latest decade. During 2010-2021 it increased by around 180 percent, constituting 243 thousand people engaged in the industry. The sector is forecasted to continue growing by almost 15% per year, and in three years its value is predicted to exceed 286bln USD.
As of 2018, EIA of the United States reported that solar and wind power constituted one tenth of the U.S.'s entire power supply. Solar industry can be described by the principle 'stuff today and starve tomorrow'. Variations depend on the availability of materials as well as consumer demands, both changing year over year.
Large-scale projects and considerable investments raise the revenues of solar companies. In case the demand is low or cheap materials are abundant, the firms stop growing. The sector has experienced series of crests and troughs, in particular after Trump and his government had raised tariff rates on the importing of solar modules by 30 percent. This step was taken to assist domestic manufacturers in competition against Chinese, Malaysian or other foreign companies. The tariff did not apply to all goods and manufacturers. As a result, shares of some American solar firms rose in price.
Most local firms supported the program, but lots of companies were skeptical about the new tariff scheme because many workers would lose their jobs and the future of clean energy seemed doubtful. Nevertheless, solar power sector grew by around 7 percent last year and consisted of over 259 thousand as of 2020.
Types of Solar Stock Investments
All solar companies that attract investors can be categorized as follows:
How to Make Money on Solar Stocks
It is up to you to choose among the two options for making money on shares of solar companies. Considering your strategy and needs, you can select one of the following:
In case you are not sure about live market trading, you may create an Seeking Alpha and get advices of your trading strategy with zero risk. Or you may get to know more about trading with the help of Interactive Brokers online courses.
Get Premium Solar Stocks Expert Analysis
Investing in Solar Stocks
Investing in solar stocks means purchasing a solar company's shares expecting that their prices will rise and you will be able to profit from selling them later. Buying shares gives you rights of a shareholder including dividends paid and the right to vote.
Investors have a long-term stock market view and plan to get profits not only from price fluctuations but also from yearly dividend payment.
Trading Solar Stocks
As an option, one can profit from speculation on stock prices by means of derivatives like spread betting and contracts for difference. Trading the stocks does not give you the rights of a shareholder. However, you can still profit from prices going up and down. Going both long and short provides you with many more opportunities compared to traditional investments.
Spread betting implies betting on whether solar share prices will rise or fall. How much you will gain or lose depends on how much the price will go in the direction you've selected. No stamp duties or CGT are levied on spread betting.
Trading contracts for difference means making an agreement for exchanging the asset price difference between the position opening and closing. Such contracts can help you to hedge your stock portfolio by offsetting the loss against profit for tax purposes.
Get Premium Solar Stocks Expert Analysis